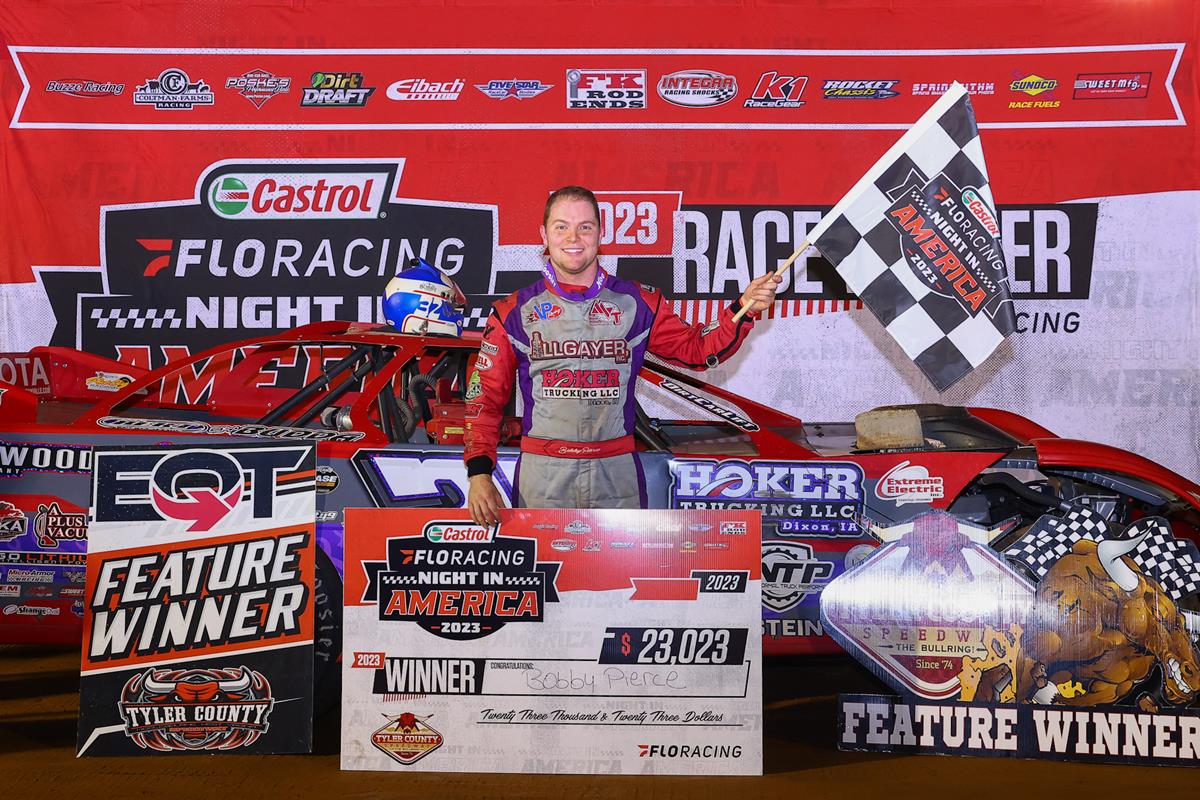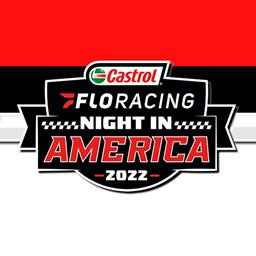 9/28/2023
Castrol FloRacing Night in America
---
Bobby Pierce Goes Back-To-Back
Middlebourne, W.Va. (Sept. 27, 2023) — Bobby Pierce raced to his second-straight Castrol® FloRacing Night in America's victory on Wednesday evening at Tyler County Speedway (Middlebourne, W.Va.).
With little racing experience at the West Virginia oval, Bobby Pierce wasn't particularly confident about finding success at the high-banked quarter-mile bullring when penciling it onto his 2023 racing calendar.
"You know, this is one of them racetracks we were looking at on the schedule saying, 'Man if we, if we get a top-five or something like that, that's a win,' " Pierce said.
But the Pierce who was crafting his 2023 schedule and the Pierce who's on the winningest stretch of his racing career is two different drivers, so no one was too surprised Wednesday when he led all 50 laps for his second consecutive Castrol FloRacing Night in America victory.
To take the checkers at Tyler County "is just unbelievable," the 26-year-old Oakwood, Ill., driver, but he added it to a list of unbelievable performances going back to Aug. 1.
Pierce, who has 31 victories overall in 2023, has 15 victories in 19 starts going back to the beginning of August, and Tyler County marks his sixth victory in his last seven feature starts (losing on at Eldora Speedway's World 100).
Even taking a 16-day break after his Sept. 12 Castrol victory at Fairbury — earning $23,023 just like he did at Tyler County — didn't slow Pierce's momentum.
Pierce turned back a late-race challenge from Hudson O'Neal of Martinsville, Ind., taking the checkers 0.931 seconds ahead of the West Virginia-based Rocket Chassis house car while Tim McCreadie of Watertown, N.Y., finished third. Ricky Thornton Jr. of Chandler, Ariz., who overcame a heat race wreck, was fourth and Jonathan Davenport of Blairsville, Ga., Castrol's 2021 winner at Tyler County, rounded out the top five.
Pierce deftly handled lapped traffic most of the way and adjusted his line to keep O'Neal at bay before a lap-45 caution that gave him some breathing room over the final five laps.
"I was a little nervous whole race because I don't have many laps here. The dirty air was really hard. When you get behind a (lapped car) it would just set your car over. It was tough, man. It was hard to see in a lapped traffic, the caution came out and had some clean air that kind of helped," Pierce said. "Hudson showed his nose and I was like, 'Man, I gotta keep blocking the slider, because it's possibly coming.' It was kind of hurting my lap times when I was doing that, but it's just kind of what I had to do there. I guess he eventually jumped the cushion a little bit and I got back away from him, but an awesome night."
O'Neal would've like to have had a shot at Pierce without the slowdown in the final stages.
"I didn't need the yellow. I felt like I had a better shot with him in lapped traffic. I felt like my car was really, really maneuverable everywhere and, yeah, once we had that caution, like (Pierce) said, just clean air and being able to predict your own line and keep your car loaded's everything," O'Neal said. "I thought I was gonna have a run at him, and then he moved down and took my line away from me just a little bit. And then that was it. ... This the best I've ever ran here, so I'll take it."
The most serious incident in Tyler County's 50-lapper drew a red flag when, following a lap-five restart, Shane Hitt barrel-rolled down the backstretch. Hitt's car ended up on its wheels and he wasn't injured. Hitt got out of shape exiting turn two, making contact with Mike Marlar and then sliding in front of Colten Burdette, who had nowhere to go in sending Hitt's car rolling.
Besides the red flag, three yellow flags slowed the action, including a lap-45 yellow when Burdette got into the turn-four fence.
The first start was called back, and another caution flew on lap five for debris that fell from Freddie Carpenter's car after hit got into the guardrail.
The 10th round of the 2023 Castrol® FloRacing Night in America will see a trip to Tri-County Racetrack (Brasstown, N.C.) on Thursday, Oct. 12 with a $23,023-to-win / $1,000-to-start event.
For more information on the facility, please visit www.TriCountyRaceTrack.net.
Tri-County Racetrack (Brasstown, N.C.) – Thursday, Oct. 12, 2023
Castrol® FloRacing Night in America Purse
1)$23,023 2)$11,000 3)$5,000 4)$4,000 5)$3,000 6)$2,500 7)$2,250 8)$2,000 9)$1,800 10)$1,500 11)$1,200 12)$1,150 13)$1,100 14)$1,050 15-22)$1,000
TOTAL - $68,573
Entry Fee: $50
Non-Qualifier Money: $50
Complete series rules can be found at www.FloSeries.com .
Drivers, who plan to compete in any of the 2023 season events, are encouraged to register via the site or directly at https://www.myracepass.com/series/1997/registrations/6834 .
Advance registration will make check-in on the day of the show easier.
For more information on Castrol® FloRacing Night in America sponsors, visit the company websites at www.castrol.com; www.integrashocksandsprings.com; www.k1racegear.com; www.buzzeracing.com; www.eibach.com; www.sweetmanufacturing.com; www.springrithm.com; www.sunocoracefuels.com; www.eibach.com; www.coltmanfarms.com; www.poske.com; www.rocketchassis.com; www.dirtdraft.com; www.hoosiertire.com; www.fivestarbodies.com; and www.fkrodends.com.
For complete Castrol® FloRacing Night in America details, visit the series website at www.FloSeries.com. For other questions, contact Ben Shelton at msrmafia@gmail.com or 901-335-3037.
Castrol® FloRacing Night in America Points
Tyler County Speedway (Middlebourne, W.Va.)
Sept. 27, 2023
A Feature 1 (50 Laps): 1. 32-Bobby Pierce[2]; 2. 1-Hudson O'Neal[3]; 3. 39-Tim McCreadie[4]; 4. 20RT-Ricky Thornton Jr[7]; 5. 49-Jonathan Davenport[9]; 6. 58-Garrett Alberson[1]; 7. 157-Mike Marlar[11]; 8. 39H-Henry Hornsby[6]; 9. 28-Dennis Erb Jr[8]; 10. 00-Kyle Hardy[15]; 11. 4S-Ryan Montgomery[5]; 12. 25-Mike Benedum[10]; 13. 18D-Daulton Wilson[18]; 14. K2-Kristopher Southern[20]; 15. 65-Derek Stefanick[22]; 16. (DNF) 28C-Tyler Carpenter[19]; 17. (DNF) 44-Colten Burdette[17]; 18. (DNF) 32B-Brian Baumberger[21]; 19. (DNF) 7T-Drake Troutman[14]; 20. (DNF) 5*-Shane Hitt[16]; 21. (DNF) C4-Freddie Carpenter[12]; 22. (DNF) 37-Jacob Hawkins[13]
DNS: Ryan Payne, Cody Rogers, Tim Dohm, Cory Lawler, Logan Roberson, Travis Brown, Steve Weigle, Trey Watson, Brandon Weigle
Entries: 31
Dirt Draft Hot Laps: Ryan Montgomery
Sunoco Race Fuels Qualifying Fast Qualifier: Ricky Thornton Jr. (12.368 sec.)
Integra Racing Shocks Heat Race #1 Winner: Garrett Alberson
K1 Race Gear Heat Race #2 Winner: Bobby Pierce
Buzze Racing Heat Race #3 Winner: Hudson O'Neal
Coltman Farms B-Main Winner: Tyler Carpenter
Trailer Queen Drive of the Night: Mike Marlar
Tezos Hard Charger: Derek Stefanick (22nd to 15th)
Series Provisional: None
Hoosier Tire Drawing Winners: Colton Burdette, Logan Roberson
$150 Cash Drawing Winners: Derek Stefanick, Garrett Alberson
Back to News