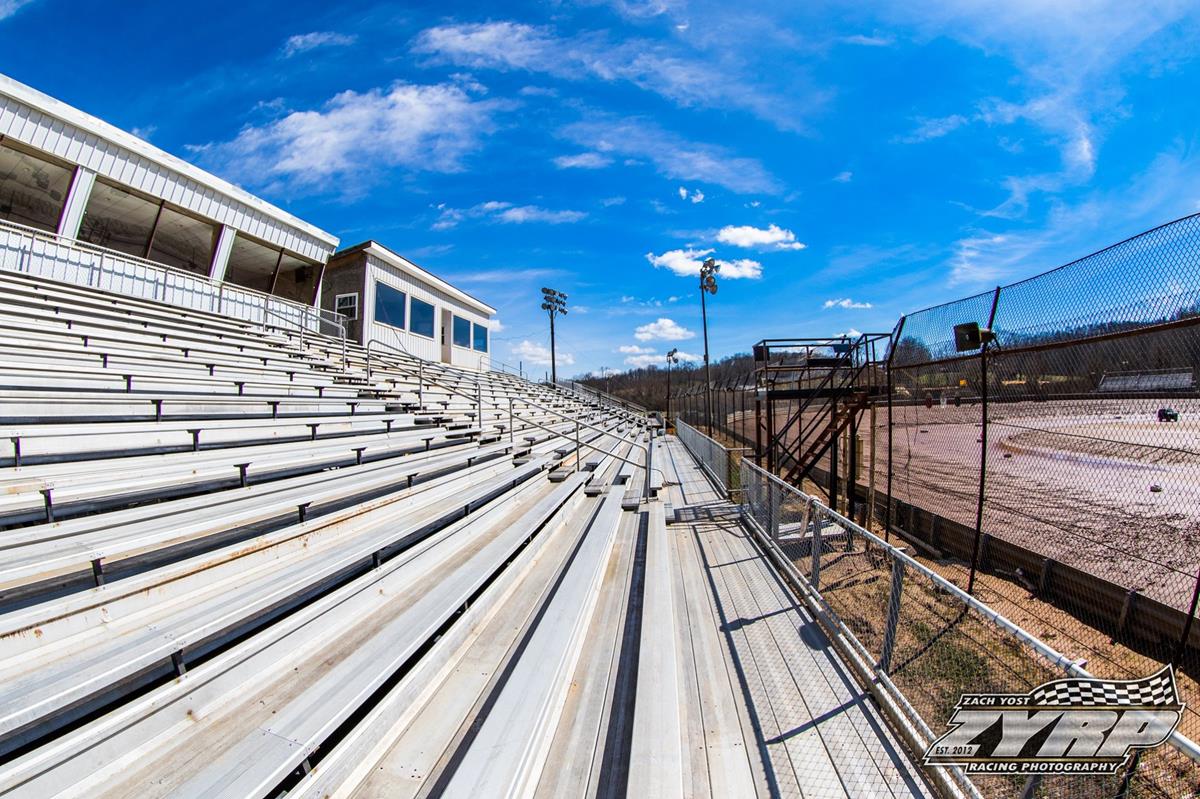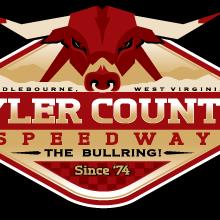 4/11/2020
Tyler County Speedway
---
Tyler County Speedway Bleacher Project Nears Completion; Bullring Booster Program Deemed Success
(Middlebourne, WV) Rich in tradition earned through the hard work of many men and women throughout four decades, the Tyler County Speedway remains as a perfect reminder of longstanding grassroots family entertainment. Since its inception in 1974, the Tyler County Speedway remains a local source of pride in the small town of Middlebourne, WV, intertwined among hillsides and hay fields playing home to one of the countries most nationally known dirt tracks.
As the track inches closer to celebrating five decades of continuous operation, a strong emphasis on upgrading the beloved speedway by the current management Hometown Racing Association has been at the forefront of their operational plan. Over the last seven years, multiple upgrades were accomplished consisting of new electric and track lighting, new press box, larger pit tower, fan pavilion, new guardrail, track lights for safety, infield drainage and much more.
Tyler County Speedway's tradition rich history and race night atmosphere has curated a fanbase featuring some of the most loyal and passionate in all of motorsports. So, when the Hometown Racing Association became serious about putting together a plan to replace the forty five year-old bleachers at the speedway, those same race fans were at the forefront of the discussions on how they could help.
With the Hometown Racing Association and the Tyler County Fairboard both in agreement, the time was right to move on such an ambitious project. Both parties would step up financially to the best of their capabilities to give the 'Bullring' the modernization it deserved. On top of that, the Hometown Racing Group would go to work with creating several unique fundraising ideas to help offset some of the additional cost of the monumental task. Some of those ideas included the usual Raffles, Driver 'Pie in the Face' Fundraiser at the Fair, and even several campers were 'flocked' all summer long, all in good fun, as part of the campaign.
But the real backbone of the initiative was the formation of the Bullring Booster Program. The purpose of the Bullring Booster Club is to help promote Tyler County Speedway's future, support and showcase the sport of short track racing, further initiate local community involvement and create fellowship among the racing community. For a $100 donation, fans, drivers, crews and sponsors of America's Baddest Bullring could carve out their niche at the Hometown track by reserving their very own seat. The Booster Program is good for three years and a personalized nameplate will adorn your favorite spot at the 'Bullring'. Not only guaranteeing your favorite seat, but several other perks are part of the Booster program including voting privilege in the Bullring of Honor, a Bullring Booster Night on the schedule, a Picnic during the Hillbilly 100 for 'Members Only' along with other fine benefits making a Bullring Booster membership a worthwhile contribution. The most rewarding part of the Bullring Booster Program has been seeing the outpouring of fan/driver/crew/sponsor support to help in continuing the effort led by the Hometown Racing Association and the Tyler County Fairboard as they continue to forge the Tyler County Speedway placement among the best facilities in the country.
For more information on the Bullring Booster Club, or how to become a member, we invite you to contact us anytime at 304-771-5661 or visit our website at www.bullringboosters.com or www.tylercountyspeedwayonline.com. Heading into the future, the Bullring Booster Program will continue to be an avenue with 100% of the proceeds going back to more improvements to the beloved 'Bullring'.
While the original bleacher renovation project was just for the purchase and erection of a 2500 seat aluminum section on the front-stretch grandstands, plans would change in the Fall of 2019. After fundraising and the 2500 seat section was secured, and after the season was over the Tyler County Speedway would welcome even more community support by way of the Tyler County Board of Education.
The Tyler County Board of Education would begin the process of renovating and turfing the Football field at the local Tyler Consolidated High School prior to the start of the 2020 season. A vote among the Board was approved to donate the School's bleachers to the neighboring Speedway. An unbelievably generous gesture on the Board of Education's behalf and very much appreciated from the Hometown Racing Association and Tyler County Fairboard. With the bleacher project nearing completion, every single bleacher at the 'Bullring' will soon to be all aluminum thanks to the Tyler County Board of Education.
The Hometown Racing Association would like to specially thank those who have dedicated the entire offseason to work at the track including the main workforce of John Watson, Bill Minger, Dave Palmer, Cody Watson, Tim Smith, Ed Probst and anyone else who have pitched in. Also to the members of the Tyler County Fairboard for their monetary contribution along with the Tyler County Board of Education for their generosity and the help from the many Bullring Boosters, this dream is now almost a reality.
With the help of a passionate fanbase and a supportive local community, a more comfortable fan friendly experience and most importantly safe weekly environment at Tyler County Speedway will welcome race fans from all-across the nation in 2020. Great things can happen when everyone pulls together and be sure to thank those that helped make it possible along the way!
Special Thanks to all those that made this project a reality Hometown Racing Association, Tyler County Fairboard, Tyler County Board of Education
Platinum Level: Appalachian Mineral Title Company, Gary Midcap, Irvin/Brown Racing, Stan Seckman & Family in Memory of Ernest Seckman, Dale & Sandra Deitrich in Memory of Gene Fiber, Sharon Thomas & Friends, J&R Excavating and Family & Friends in Memory of Ron Conley
Gold Level: Doug Smith/ Schaeffers Oil, Cody & Rachel Henthorn, Dennis & Debbie Strode, Blue Marathon, James Dudley & Family, Diana Stevens, Chad A. Smith, Lakeside General Store, Carl Short, Alan McMullen, Gene & Sandra Ferguson
Individual Booster Members: Sonny Spencer, Steve Davis, Daniel Patterson, Joe Travis, David Farhatt, Connie Rexroad, Mark Davis, Zach Yost, Tony Harris, Lawrence Smallwood, Bobby Keith, Arthur Payne, Mitch Wilcox, Francis Tippins, Jim Hileman, David Basalla, Richard Gorrell, Brent Yost, Ed Probst, Judy Probst, Aaron Yeater, Steve and Sharon McVey, Mark Robinson, Dan Sidwell, Lesa Sidwell, Randy Whaley, Sharon Smith, Tim Smith, Ray Brimmer, Deanna Brimmer, Sam Irvin, Veronica Stutler, Clista Bunch, Nichola Stewart, Jeff Stewart, Clayton Stewart, Mark Travis, Tammy Travis, Dreamland Carpets, John Staggers, Bradley Ledsome, Robert Butcher, Brian Lockhart, Melissa Lockhart, Zach Lockhart, Wilson Homes, Ronald Thompson II, Ashley Thompson, Chance Collins, Brock Collins, Jeff Mead, Tim Buskirk, Karen Buskirk, Ralph Sweeney, Roland & Becky Bell, Allman Racing, Rick Hissom, Linda Hinzman, Rocky Hinzman, Dale Hadley, James Bever, Mike Martin, Mike Hayes, Tammy Hayes, Pam Myers, Jack Myers, Joyce Mitchell, Don Mitchell, Duke Travis, Steve Davis, Greg Davis, Shane Davis, Brock Davis, Joe Hendrickson, Pam Hendrickson, Ronnie Stevens, In Memory of Carl Eddy, Twyla Forrester, Dean Forrester, Emma Davis, Aden Archer, Myah Archer, Ronald Holzopfel, Richard Grzeszczak, Chris Forrester, Brandi Smith, Corey Smith, Keith Smith, David Gump, Randy Butler, Seth Butler, Matt Bunner, Sandy Wilcox, Jeff McDonald, Brian Probst, Jerry Smith, Alicia Hissom, John Rowgh, Brian Smith, Eugene French, Hilda French, Kemper Jacobs, Davina George, Denise Gorby, Larry Hawkins, Gary Hawkins, Tyler Gump, Dave & Diane Palmer, Dave Weekley, Diana Weekley, Lew Gray Sr., Dwayne Daggett, Jennifer Daggett, Linda Kernan, Stanley Watson, Paul Watson Jr., Kevin Bee, Don Props, Denny Klug, Ed Underwood, Peter Collins, Travis Minor, Steve Magyar, Alan & Debi Hill, Beverly Maloney Skelton, Brittany Pellen, Colt Davis, Robby Archer, Chris Snodgrass, Terry Snodgrass, Jerry Duelley, Chad Smith, Carol Coleman………And still growing!
---
Back to News