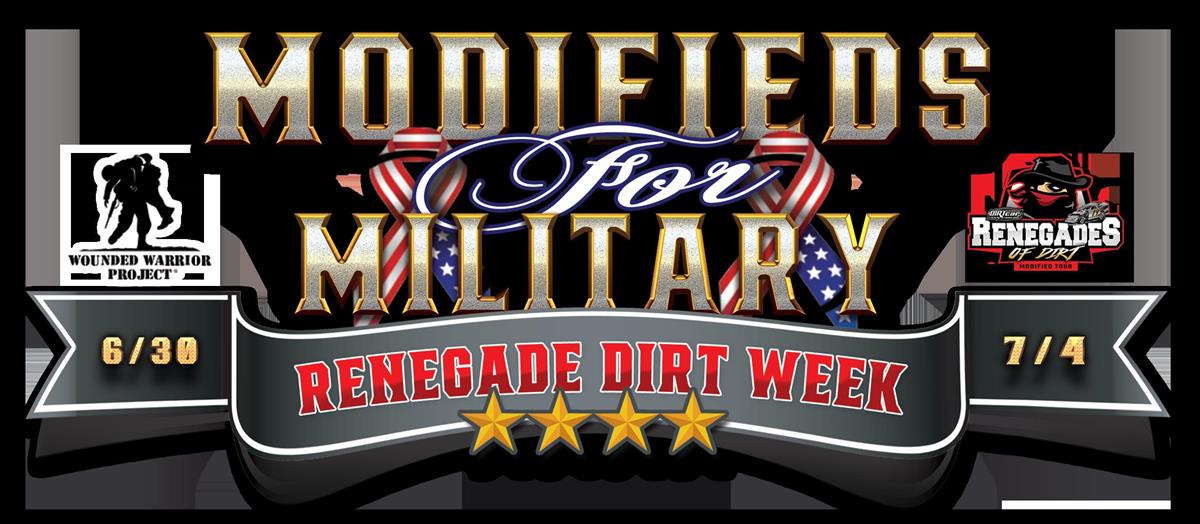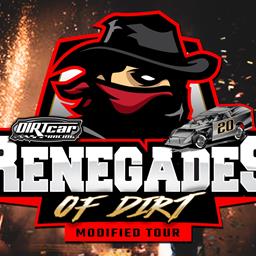 2/2/2020
Renegades of Dirt Modified Tour
---
Renegades Of Dirt Proudly Launches "Modifieds For Military" Renegade Dirt Week!
Renegades of Dirt PR
February 2nd, 2020
www.renegadesofdirt.com
For Immediate Release:
Renegades Of Dirt Proudly Launches "Modifieds For Military" Renegade Dirt Week!
A 'four wide' salute to the men and women who serve our nations military!
(Middlebourne, WV) – It's official, this season will be the biggest in Renegades of Dirt history to date! A savory schedule of high dollar events awaits teams as they depart in April for what will now be the absolute biggest season for modifieds in the East EVER. The 2020 docket is dotted with high dollar paydays including an astonishing ten races over $4,000 to win! It is with outstanding pride and joy the Renegades of Dirt Tour unveils its all new Renegade Dirt Week dubbed "Modifieds For Military!"
The Inaugural "Modifieds For Military" Renegade Dirt Week will feature the nations most wanted modifieds slinging dirt June 30th – July 4th for over $100,000 in total purse with a $6,000 dollar week long point fund paying ten total positions including a minimum $1,500 to the dirt week champion! The five nights of consecutive action marks a first for the Renegades of Dirt as the "Modifieds For Military" Dirt Week treks through WV, OH and VA to crown its first ever speed-week style champion.
The action will kick off at America's Baddest Bullring, Tyler County Speedway on a rare weekday Tuesday June 30th paying $3,055 to win the 9th Annual "Let It Ride 55". The tour travels west to Waverly, OH to duel for $4,067 to win at the 3/8 mile Atomic Speedway, Wednesday July 1st. Furthermore, on Thursday July 2nd the series slides into a first time venue, Princeton Speedway for a $4,000 to win at the Bishop owned oval in Southern WV. Friday night July 3rd the series battles it out at Beckley Motorsports Park in Mt. Hope, WV for a $4,000 to win payday. Lastly, "Modifieds for Military" Renegade Dirt Week reaches its epic conclusion in Rural Retreat on Saturday night for a $5,000 to win finale in the Commonwealth State.
The biggest week in Renegades of Dirt history by the numbers; ($100,000) in total dirt week purse! ($23,055) in possible race and point fund winnings, ($6,750) total week long point fund, ($1,500+) guaranteed money if driver starts all five shows, (175+) feature laps, (5) amazing dirt tracks ready to witness the nations biggest modified names visit their dirt oval and (1) great cause... to honor the biggest and baddest military in the world!
"Modifieds For Military" Renegade Dirt Week Point Fund; 1) $1500, 2) $1200, 3) $1000, 4) $800, 5) $600, 6) $500, 7) $400, 8) $300, 9) $250, 10) $200 – Total $6,750
Extra bonuses will be added as sponsors are brought on board the week.
Event Schedule;
Tuesday June 30th – Tyler County Speedway - $3,055 to win – 55 Laps – U.S Navy
Wednesday July 1st – Atomic Speedway - $4,067 to win – 40 Laps – U.S Army
Thursday July 2nd – Princeton Speedway - $4,000 to win – 40 Laps – Coast Guard
Friday July 3rd – Beckley Motorsports Park - $4,000 to win – 40 Laps – Air Force
Saturday July 4th – Wythe Raceway - $5,000 to win – 40 Laps – Marines
"This is impressive on so many levels. Racing five straight nights for $3-5K to win is massive in the modified world!" stated director Cody Watson. "Renegade dirt week to support our military is something I've wanted to do for a long time. It's going to put a fresh, prestigious spotlight on these modified events. I truly believe this going to be huge and rightfully just 'feel different'. For race teams who love to race this is as rewarding of a week as you'll see and will be a blast for a mid summer racing vacation" added Watson.
"We are developing some awe-inspiring things for this deal to really honor our active military. Initial plans are to give something big away to an active service member. Plus, monetary donations will be raised throughout the week to benefit the Wounded Warrior Project. Military pace vehicles, fly overs, fireworks they are all in our early plans" continued Watson. "It's going to be a exceptional and unprecedented week of modified racing for the military, modified teams and track/series officials" concluded Watson.
An official dirt week Facebook page is in the works with additional details/information forthcoming as the Renegades of Dirt and speedway officials launch this reputable and rich week of racing to honor our nations military, modified style! Entry fees, merchandise, sponsorships and donations will be collected before and during the event to raise money for the Wounded Warrior Project. To donate now visit; https://communityfundraising.woundedwarriorproject.org/campaign/RenegadeDirtWeek.
For more information regarding the Renegades of Dirt Modified Tour visit the Renegades of Dirt online at www.renegadesofdirt.com. You can also call Renegade Offices anytime for further information @ 304.771.5051. Like us on Facebook at www.facebook.com/rodconnect.
– End of Release –
Back to News