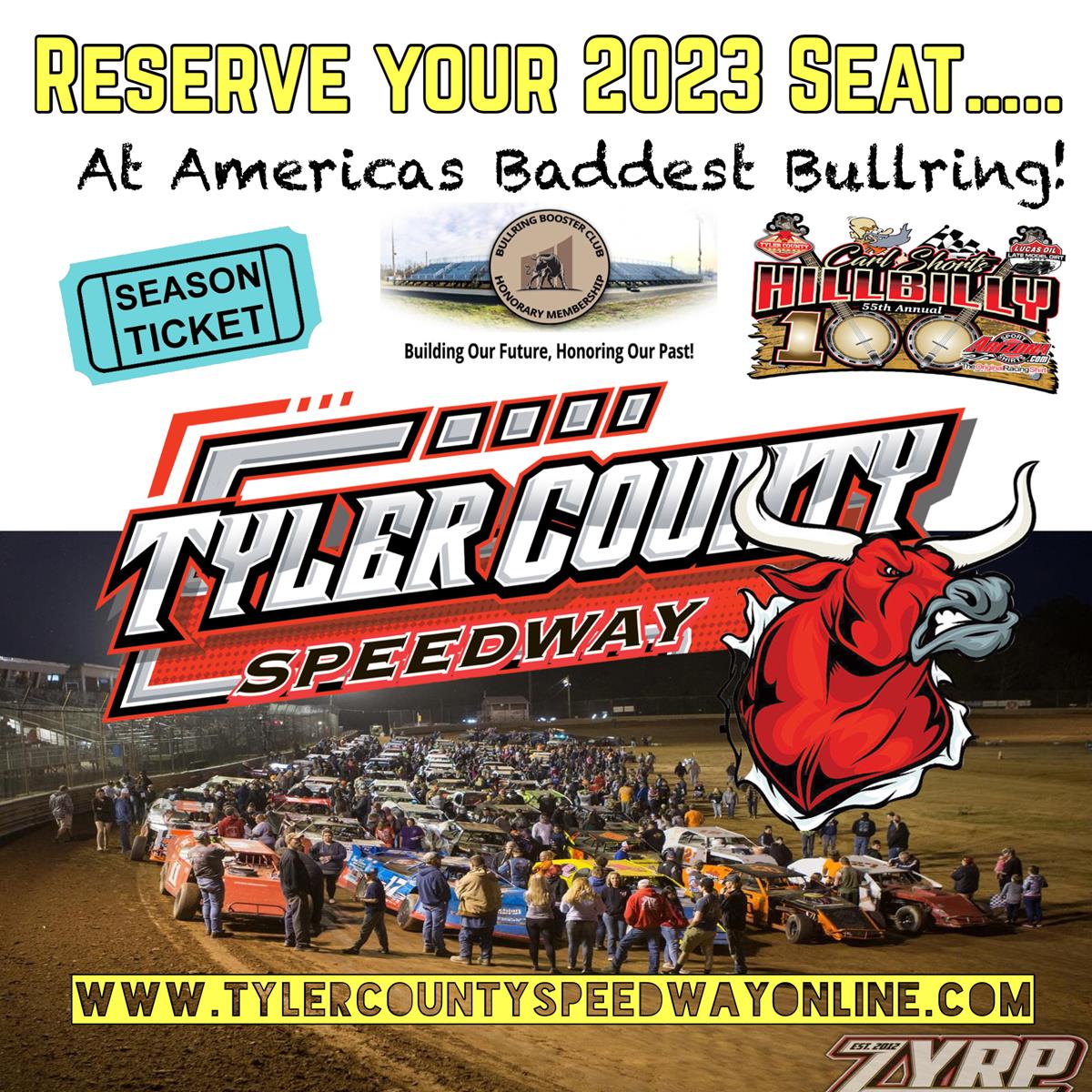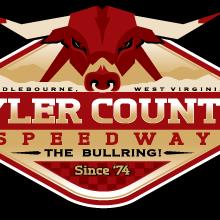 3/1/2023
Tyler County Speedway
---
SECURE YOUR FAVORITE SEAT AT AMERICA'S BADDEST BULLRING FOR A SUMMER OF FUN
Take advantage of great early season deals on SEASON PASSES, BULLRING BOOSTER MEMBERSHIPS, and HILLBILLY 100 ADVANCE TICKETS!
Have your favorite spot at the Bullring? Want your own piece of real estate to get cozy every Saturday Night? Want one of those top four rows for the Hillbilly 100? There are several different ways to do so. With a purchase of a Season Pass or a Bullring Booster Membership, a Reserved Seat comes with each.
While we patiently await the 2023 racing season, race fans are encouraged to include the Tyler County Speedway into your summertime plans. America's Baddest Bullring celebrates its 49th year and continues to be a mainstay among family friendly motorsports venues. It's our hope that you'll take full advantage of many great offers we have available to get you a front row seat to all the action.
$225 2023 General Admission Season Tickets (includes Reserved Seat)
$500 2023 Pit Season Tickets (includes Reserved Seat)
$100 Bullring Booster Membership (includes Reserved Seat for 3 Years)
Advance Tickets to all events including the Hillbilly 100 & Castrol FloRacing Night in America available online at www.tylercountyspeedwayonline.com.
Just want a spot guaranteed for the Hillbilly 100 weekend? Those may be purchased by calling 304-771-5661 for just $10 on top of your Hillbilly Ticket.
All Reserved Seats with the exception of Hillbilly Reserve Seating will come with a name tag adorned to your seat at your location of choice depending availability.
2023 SEASON TICKETS
Tyler County Speedway's season ticket plans put you in the driver's seat! Don't miss one exciting moment at the 'Bullring and get your front row seat to all the excitement that Tyler County Speedway produces. Get your Ultimate General Admission Season Pass for just $225 or the Ultimate Season Pit Pass for $500, a 25% percent discount!
A Tyler County Speedway Ultimate Season Pass Plan will provide great entertainment value in a fun and friendly family atmosphere. The Ultimate Season Pass Package is truly a great value for all race fans.
A season pass package will include admission to all events with the exception of the 'Hillbilly 100'. Not only do you receive a discount on admission with banked rain outs, but purchase the Ultimate Season Pass and receive a Reserved Seat for every race (including Hillbilly 100). A seat of your choosing will be marked with a name tag, so you can arrive whenever is convenient for you.
2023 BULLRING BOOSTER MEMBERSHIP
The Hometown Racing Association, the current promoters of the Tyler County Speedway, have created an initiative called the Bullring Booster Club to help build the future of America's Baddest Bullring while also paying homage to the history of the Tyler County Speedway.
The purpose of the Bullring Booster Club is to help secure the Tyler County Speedway's future, support and promote the sport of short track racing, further initiate local community involvement and create fellowship among the racing community. The #1 goal of the Bullring Booster Club is raising funds for continuous upgrades and necessary improvements needed for a fan friendly and comfortable experience at Tyler County Speedway.
The Bullring Booster Club will offer several benefits to club members including the 'Buy A Bleacher' Reserved Seat, ensuring a personalized reserved seat for a three-year period. Additionally, member only functions such as Booster Night at the Speedway, Booster Club Picnic, voting rights in the Annual Bullring of Honor, plus other fine benefits making your membership a worthwhile contribution.
COST OF A BULLRING BOOSTER MEMBERSHIP IS $100 (3 Year Benefits)
2023 ADVANCED TICKETS INCLUDING HILLBILLY 100!
Thanks to our friends at MyRacePass, race fans can be sure to get ahead of the game and get your advance tickets for all 2023 events on our fan friendly website at www.tylercountyspeedwayonline.com.
Be a part of the most talked about must see race weekend of the summer as America's Baddest Bullring presents the 55th Annual Hillbilly 100. West Virginia's biggest Motorsports event and longest running Dirt Late Model Crown Jewel event will take center stage, Labor Day weekend, Sept. 1-3. The Granddaddy of all dirt late model events will feature the $30,000 to win Lucas Oil Dirt Car Series and three fantastic days of racing action.
3 DAY General Admission $70 (Kids 10 and under Free)
3 DAY Pit Pass just $80!
HOW TO ORDER? Contact the Speedway Office at 304-771-5661 or send check or money order to Tyler County Speedway, PO Box 475, Middlebourne, WV 26149.
Visit the official Tyler County Speedway website at www.tylercountyspeedwayonline.com for all the news, schedule and ticket info for the season and 'LIKE' us on Facebook at www.facebook.com/thebullringwv/, follow us on Twitter @The_Bullring.
About the Bullring: Built and opened in 1974 by the Tyler County Fair Association, Tyler County Speedway is a motorsports complex affectionately known as the 'Bullring' and features a ¼ mile high bank clay oval. The facility is promoted by the Hometown Racing Association, and located 3 ½ miles south of Middlebourne, WV on State Rt. 18 at the Tyler County Fairgrounds approximately an hour from Wheeling, Clarksburg & Parkersburg. Featuring a spacious scenic campground along the Middle Island Creek with hookups, shelters, playgrounds, shower and bathroom facilities among other amenities to enhance the racing experience at America's Baddest Bullring. Weekly Saturday night racing program runs from April to September each year, featuring Super Late Models, RUSH Late Models, UMP Modifieds, EDGE Hotmods, Sportmods, SCDRA 4 Cylinders and Mini Wedges.
---
Submitted By: Dan Patterson
Back to News