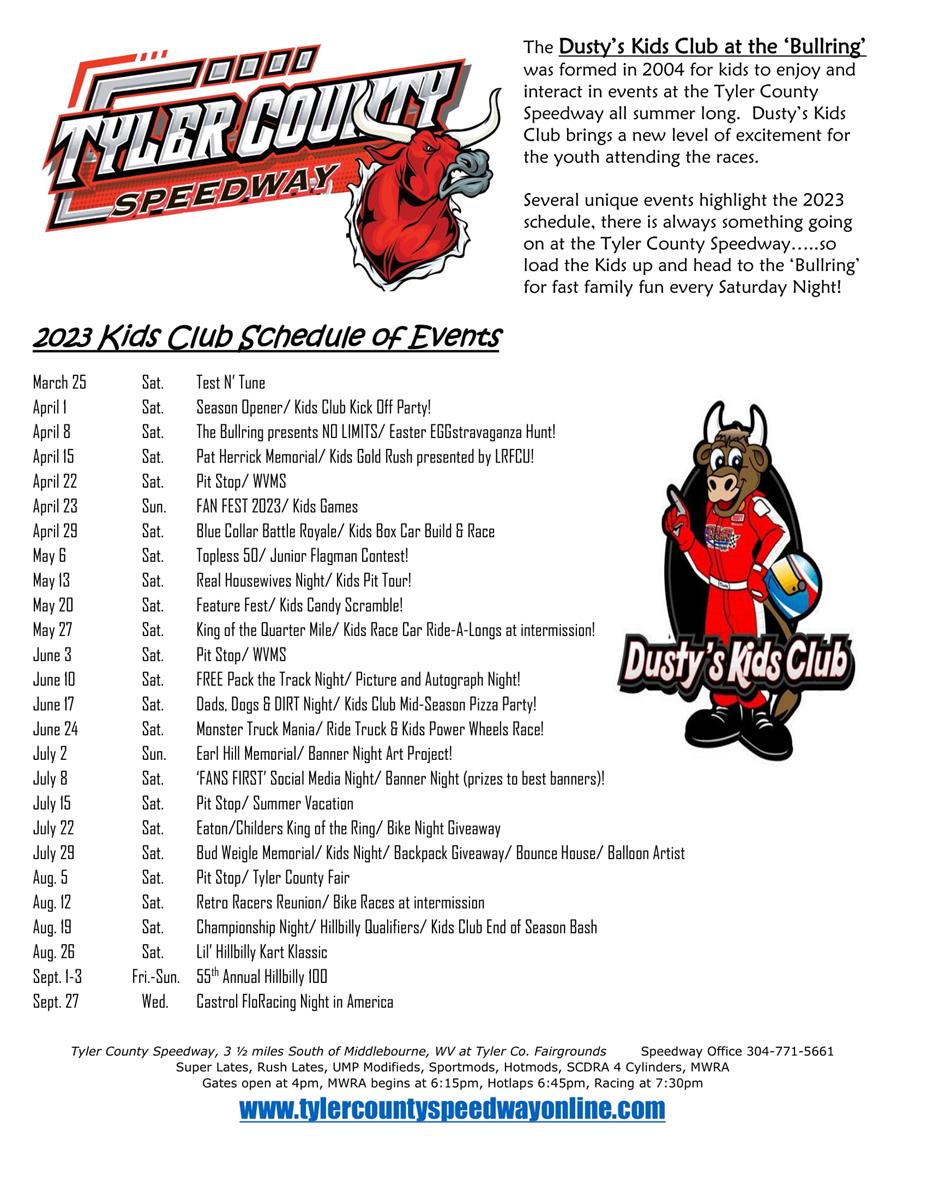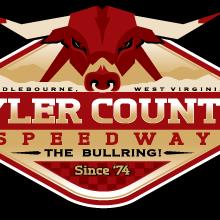 2/6/2023
Tyler County Speedway
---
Dusty's Kids Club Celebrates 20 Years of Fun at Tyler County Speedway
(Middlebourne, WV) Started with great success by BDS Racing Promotions in 2004 and continued over the years by the Hometown Racing Association, Dusty's Kids Club has been an integral part of the Saturday Night experience at America's Baddest Bullring. With the upcoming 2023 season, Dusty's Kids Club will turn 20 years old and we are excited to celebrate this milestone with a very special season planned for our young race fans.
What is Dusty's Kids Club? Each week at the track upon arrival kids are encouraged to sign up for the evenings supervised activities, which feature a fun filled time for the young race fans at Tyler County Speedway. The best part? It's 100% free! Several popular events are planned such as Gold Rush, Autograph Night, Bike and Backpack Giveaways, Banner Night, Pit Tour, Box Car Build and Races, Race Car Rides, Parties and much more!
Several new initiatives will be launched in celebration of the upcoming season and the Club's 20th year. The Hometown Racing Association is super excited to debut the 'COOL BUS', where Kids Club members will get a chance to cruise the Pit Area and around the Tyler County Speedway racing surface in our 'COOL BUS' filled with the 'COOL CREW'. It's a safe and exciting way for our Kids Club members to experience the thrill of America's Baddest Bullring!
Looking for a new, exciting and affordable way to celebrate a young race fans special birthday? Starting in 2023, the Tyler County Speedway has you covered with an unforgettable 'Bullring' experience of offering up a pre-race 'Birthday Party at the Pavilion' including Pizza, Drinks, Birthday Sundaes from our Trackside Treats booth, Favorite Driver Meet and Greet, Special Recognition by track announcer and much more! Give us a shout for more details.
Wanting to keep up to date on Dusty's Kids Club happenings? Be sure to be on the lookout for the launch of a new Kids Club Facebook page where kids will have the opportunity to interact with Tyler County Speedway like never before and stay up to date on the latest news, upcoming events and catch photos and videos from each week.
"Getting and keeping our young fans more involved in Tyler County Speedway is something that is very important to us, and our Kids Club program has done a great job with that over the years," Promoter John Watson said. "Our young fans are the future and making sure they have an enjoyable experience at the races is a top priority as we pride ourselves on offering a family friendly program week in and week out."
The 2023 season officially kicks off on Saturday, March 25th for the annual Test N' Tune session beginning at noon and finishing up at 4pm with the running of the $500 to win Joe Dirt 100 Enduro race. Come on out and get the first glimpse of all the new rides as the areas best racers get ready for the 49th Annual Season Opener on Saturday Night, April 1st.
Visit the official Tyler County Speedway website at www.tylercountyspeedwayonline.com for all the news, schedule and ticket info for the season and 'LIKE' us on Facebook at www.facebook.com/thebullringwv/, follow us on Twitter @The_Bullring. Contact the track by calling 304-771-5661 or 304-771-6874 or on raceday @ 304-758-2660.
About the Bullring: Built and opened in 1974 by the Tyler County Fair Association, Tyler County Speedway is a motorsports complex affectionately known as 'America's Baddest Bullring' and features a ¼ mile high bank clay oval. The facility is promoted by the Hometown Racing Association, and located 3 ½ miles south of Middlebourne, WV on State Rt. 18 at the Tyler County Fairgrounds approximately an hour from Wheeling, Clarksburg & Parkersburg. Featuring a spacious scenic campground along the Middle Island Creek with hookups, shelters, playgrounds, shower and bathroom facilities among other amenities to enhance the racing experience. Weekly Saturday night racing program runs from April to September each year, featuring Super Late Models, RUSH Late Models, UMP Modifieds, EDGE Hotmods, Sportmods, SCDRA 4 Cylinders and Mini Wedges.
---
Submitted By: Dan Patterson
Article Media
Back to News