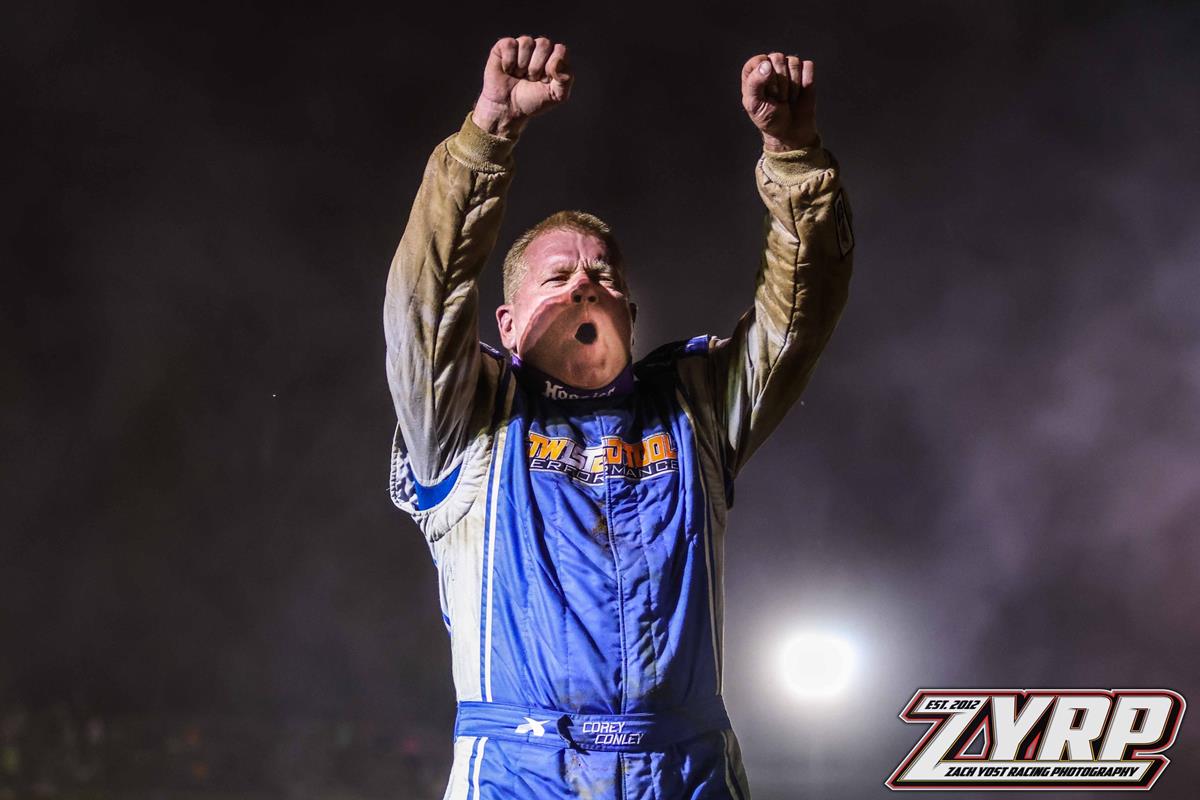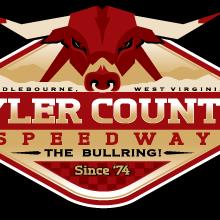 9/5/2022
Tyler County Speedway
---
Hillbilly 100 Weekend Results
Thanks to all the fans and teams that came out for the 54th Annual Hillbilly 100 weekend....wish it would have ended a little drier but we will try again on Thursday Night, Sept. 29th! Over 300 entries over 2 days would take to America's Baddest Bullring and congrats to all of the weekend feature winners including:
Junior MWRA Feature Winners: Cruz Thomas, Bryson Long (2), CJ Craver
Senior MWRA Feature Winners: Mack Brookover, Blake Tasker
Hillbilly Qualifier Makeup Feature Winners: Kyle Thomas (Super Late), KC Burdette (UMP Modified), Jeff Gorrell (Hotmod), Bill Tennant (SCDRA 4 Cylinder)
UMP Modified Tuneup: Chad Smith
Street Stock 'Moonshiner 20': Michael Ayersman
Steel Block Late Model 'Hillbilly 50': Corey Conley
Sportmod 'Moonshiner 20': Cruz Vandall
Super Late Model Hillbilly 100, UMP Modified White Lightnin' 35, and Hotmod Lil' Hilly 20 to be made up on Thursday, Sept. 29th.
Friday, Sept. 2nd Tyler County Speedway Feature Results ??
Junior MWRA Feature #1: Cruz Thomas, CJ Craver, Kyndi Glover, Kamdin Bryan, Walker Slayton, Peyton Gibson, Kristoff Kieper, Jaelee Green Trophy Sponsor West Virginia University of Parkersburg
Junior MWRA Feature #2: Bryson Long, Nelson Herron, Owen Sobota, Bryar Glover, Jake Herron, Kameron Zegarsky, Rowen Brightwell, Wyatt Yeager Trophy Sponsor MWRA
Senior MWRA Feature: Mack Brookover, Gunner Binns, Peyton Baker, Leah Brightwell, Carson Whetzel, Bryson Roberts, Avie Sprouse, Kyler Lyons, Kaden Sexton, Blake Tasker, Addison Tasker Trophy Sponsor West Virginia University of Parkersburg
Stutler Motorsports Super Late Model Makeup Feature from 8/20: Kyle Thomas, Brian Baumberger, Cody Rogers, Josh Tonkin, Ryan Saffell, Wayne Francis, Tyler Riggs, Shawn Jett, Josh Baldwin, Steve Weigle, Trey Watson
Jenkins Auto Parts UMP Modified Makeup Feature from 8/20: KC Burdette, Chad Smith, Kyle Bond, Daniel Hill, Danny Thomas, Jeff Fornash, Kurt Rogers, Justin Hart, Lance Weppler, Jamie McCloud, Doug Carson, Travis Thomas, Larry Bond, Ryan Jones, Kyle Thomas
Sigler Fabrication EDGE Hotmod Makeup Feature from 8/20: Jeff Gorrell, Steve Magyar, Brian Probst, Tim Spencer, Mackenzie Dotson, Carson Thomas, Tripp Perine, Natalie Hibbard, Nik Keller, Kevin Dotson, Eddie Probst, Crash Craddock, Kenny Isner, Josh Sigler
SCDRA 4 Cylinder Makeup Feature from 8/20: Bill Tennant, Philip Bubeck, Jacob McDaniel, Timothy Harlan, Patrick Willbarger, Mitch Eddy, Kevin Criswell, Joe Price, Ryan Spencer, Ethan Drain, Mike Todd, Travis Corbin, Joey Price
Jenkins Auto Parts UMP Modified Feature: Chad Smith, Kyle Bond, Travis Dickson, Cole Perine, Kenny Johnson, Lance Weppler, Phil Jeffries, Danny Thomas, Jamie McCloud, Justin Hart, Daniel Hill, KC Burdette, Drake Troutman, Seth Daniels, Kurt Rogers, Brandon Patton, Jesse Wisecarver, Jeff Fornash, DNQ JP Roberts, Tyler Misner, Josh Rovello, Travis Thomas, Robin Lashley, Tom Sigler, Jayden Ritchea, Robin Ours, Kyle Thomas, Larry Bond, Vincent Dipezzo, Mark Baier, Brett Mellor, Ryan Jones, Doug Carson, Andy Taylor, Brian Clegg, Anthony Arbogast, Paul Baker, Gerald Deitch, Derek Deusenberry, Austin Wilson, Curtis Griffin, Brayden Berry, Jayson Spaur, Troy Frazier
Street Stock Moonshiner 20 Feature: Michael Ayersman, Brad Hensel, Bryan Mitchell, Todd Weldon, Bartley Grant, Jason Ammons, Cody Koteles, Luke Sprouse, Randy Bohan, Ralph Nine, Rusty Ball, Dawson Roton, Rodney Cole, Mike Martin, Virgil Masters, David King, Chris Smith, Rob Pugh, Todd Simmons, Freddy Mooney
Tyler County Speedway Hillbilly 100 Night #2 Feature Results, Saturday, Sept. 3rd
Junior MWRA Feature #1: CJ Craver, Owen Sobota, Walker Slayton, Nelson Herron, Kameron Zegarsky, Jake Nelson, Cruz Thomas, Wyatt Yeager Trophy Sponsor Carter Lumber
Junior MWRA Feature #2: Bryson Long, Kamdin Bryan, Kyndi Glover, Bryar Glover, Rowen Brightwell, Jaelee Green, Kristoff Kieper, Eli Smith Trophy Sponsor Carter Lumber
Senior MWRA Feature: Blake Tasker, Erickson Smith, Gunner Binns, Kaden Sexton, Leah Brightwell, Addison Tasker, Carson Whetzel, Peyton Baker, Mack Brookover, Bryson Roberts, Ethan McCune, Kyler Lyons Trophy Sponsor Carter Lumber
SteelBlock Late Model Hillbilly 50 Feature: Corey Conley, Jared Hawkins, Tyler Riggs, Daniel Hill, Corey Delancey, BJ Gregory, Donnie Dotson, Lucas McDonald, Zach Milbee, Pete Crum, Luke Hyre, Ryan Hare, Josh Tonkin, Joseph Harper, Glynn Booth, Bub Crum, Wayne Francis, Eric Monk, Mike Sprouse, Troy Frazier, Dustin Sprouse, Michael McGinnis, Rex Frohnapfel, DNQ: Seth Daniels, Kevin Davis, Dustin Booth, Tommy Powell, George Casto, Matt Melvin, William Rose, Dustin Sprouse, Marshall Wiblin, Collin Holmes, Rick Conley, Ted Johnson, Dustin Luzier, Chris Williams, Joey Lattea, Freddie Duncan, Corey Workman, Justin Bradford, Chad Tasker
Sportmod Moonshiner 20: Cruz Vandall, Rex Frohnapfel, Steven Dotson, Josalyn Hibbard, Brandon Davis, Levi Nolan, Nick Parsons, Tim Siddle, Zack Barr, Allen Clark, Randy Bise, Nic Green, Tyler Spencer, Al Smith, Andy Green, Aaron Patton, Sonny Leek, Nick Oxley, Ron Pickens, DNQ Chris Howerson, Tyler Headley, Dakota Carpenter, Mike Smith, Mike Mason, Dave Loudin, Matthew Honeycutt, Colby Amos
UMP Modified White Lightnin' 35 Feature Running Order to be made up on Sept. 29 (4 laps down): Chad Smith, Jesse Wisecarver, Kyle Thomas, Drake Troutman, Cole Perine, KC Burdette, Travis Dickson, Kyle Bond, Cody Brightwell, Larry Bond, Doug Carson, Brandon Patton, Randy Bohan, JP Roberts, Tyler Misner, Danny Thomas, Phil Jeffries, Mark Baier, Justin Hart, Bobby Bagley, Gerald Deitch, DNQ Travis Thomas, Jayden Ritchea, Robin Ours, Andy Taylor, Brett Mellor, Tom Sigler, Lance Weppler, Mitch Ward, Austin Wilson, Robin Lashley, Dakota Carpenter, Jamie McCloud, Jayson Spaur
Hotmod Lil' Hilly Feature Lineup to be made up on Sept. 29: Steve Magyar, Mike Harter, Jeff Gorrell, Josh Mullinex, Brian Probst, Kip Swiger, Eddie Probst, Tim Spencer, Carson Thomas, Kenny Isner, Josh Sigler, Roger Hull, Kenzie Dotson, Michael Simpson, Natalie Hibbard, Mickey Thorpe III, Crash Craddock, Jason Todd, Tripp Perine, DNQ Jim Long, Josh Simpson, Jason Phillips, Mickey Thorpe Jr., Brett Weekley, Nik Keller, Kevin Dotson
SCDRA 4 Cylinder NE Tour Participants (not to be made up): Dennis Adkins, Jacob McDaniel, Chris Wise, Josh Frantz, Shawn Hadden, AJ Hoffner, Noah Bubeck, Bill Tennant, Hunter Stephenson, Kevin McKenzie, Brandon Hoffner, Will Rogers, Greg Kiehl, Jamie Harper, Mitch Eddy, Jeff Huber, Travis Corbin, Kevin Criswell, Bill Doll, Patrick Willbarger, Ryan Spencer, Mark Lawrence, Joey Price, Joe Price, Bobby Rymer, Robin Maxson, Timothy Harlan, Mike Todd, Randy Wise
---
Submitted By: Dan Patterson
Article Media
Back to News