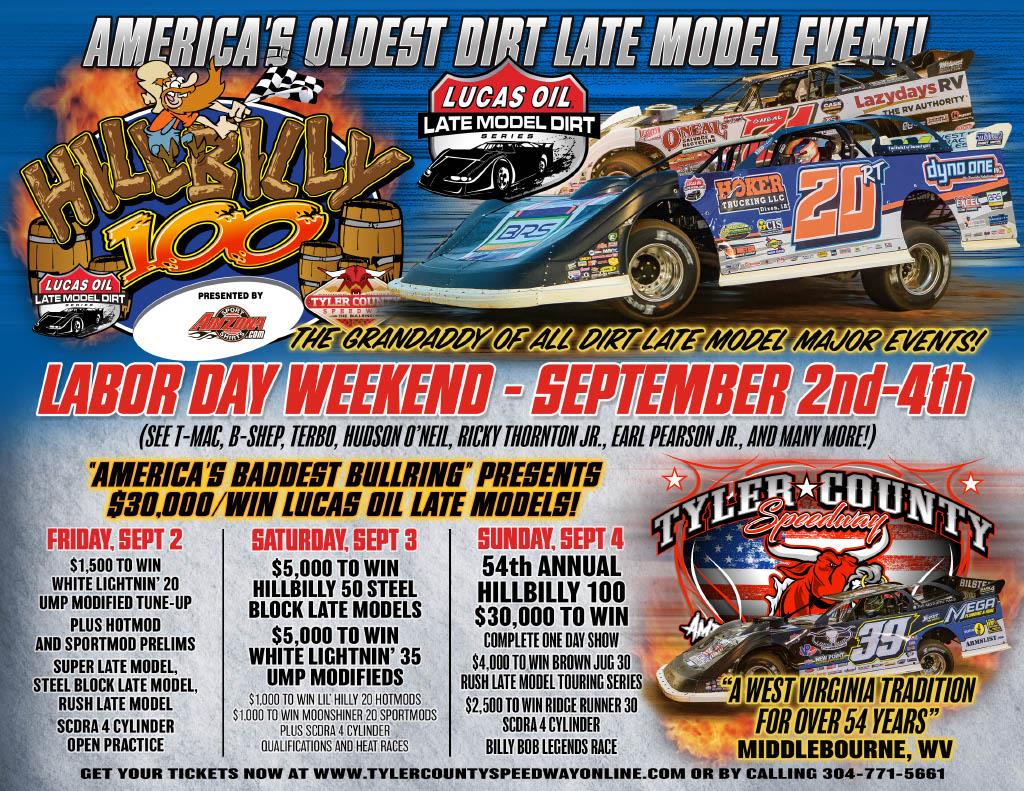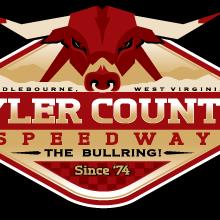 8/29/2022
Tyler County Speedway
---
2022 54th Annual Hillbilly Hundred Survival Guide
Don't miss Hall of Fame Promoter's Carl Short's "HILLBILLY 100" at the Tyler County Speedway in 2022! Join us Labor Day Weekend, Sept. 2-4th for the 54th running of this West Virginia tradition!
WHAT: The "HILLBILLY HUNDRED" is one of dirt late model racing's true 'crown jewel' events. It's highlighted by the $30,000 to win 54th Annual Hillbilly 100 presented by Arizona Sport Shirts featuring the Lucas Oil Dirt Car Series. Promoter Carl Short will once again bring America's oldest dirt late model major event and a West Virginia tradition for five decades back to the 'Bullring' where it achieved record success from 1998 thru 2009, brought back again in 2016 to another packed house and celebrated 50 years in 2018 and continues in 2022 after the race was not ran in 2020 due to the Covid Pandemic and officially rained out after two attempts in 2021. The 2022 edition looks to be another one for the record books as the 'granddaddy' of all major events pays a hefty $30,000 to win the one day show at the Hometown Racing Association promoted Tyler County Speedway.
The 2022 race will welcome fans and drivers from all over the country to do battle on Tyler County Speedway's infamous ¼ mile 'Bullring', against the regions most talented hot shoes, for an astounding total purse in excess of $150,000 up for grabs on Labor-Day weekend!
WHEN: Labor Day Weekend, Friday, Saturday & Sunday Sept. 2-4th! The action will kick off in the campground on Thursday Night, Sept. 1st with early Pit Parking and Will Call/ Tickets on Sale from 4-7pm along with plenty of Hillbilly extra curriculars happening throughout the campground. The on-track action gets underway on Friday Night, Sept. 2nd with the Mini Wedges and the UMP Modifieds taking center stage in a $1,500 to win 'White Lightnin' Tune-Up complete show along with the Street Stock $750 to win 'Bootlegger 20' plus make-up features for the Super Lates, UMP Modifieds, Hotmods and 4 Cylinders from 8/20/22. Plus its preliminary night for the EDGE Hotmods and Sportmods along with Open Practice for the Super Late Models, Steel Block Late Models, RUSH Late Models and SCDRA 4 Cylinders at the conclusion of Friday Nights action.
On Saturday Night, September 3rd the legendary 'Hillbilly 50' will highlight the action with a $5,000 first prize on the line in the 50 lapper. Plus the best UMP Modified racers will return for a $5,000 payday in the 'White Lightnin' 35'. Plus rounding out Saturday's program will be qualifications and heat races for the SCDRA 4 Cylinders along with feature events for the EDGE Hotmods and Sportmods. Then on Sunday, September 4th the 54th edition of the Hillbilly Hundred will take center stage featuring the Lucas Oil Dirt Car Series paying $30,000 to win along with the RUSH Late Model Touring Series $4,000 to win 'Brown Jug 30', $2,500 to win SCDRA 4 Cylinder 'Ridge Runner 30' and Ohio Valley Roofers Legends Car Series 'Billy Bob 20' complete show.
2022 54th Annual Hillbilly Hundred Schedule of Events
Thursday, September 1st
4-7pm Ticket Office Open: Will Call / Tickets On Sale
4pm Pit Gates Open for Early Pit Parking
(No Reserved Parking….First Come First Serve)
Friday, September 2nd
3:30pm Clear Pit Area
4pm Gates Open
4pm – 6pm Registration / Transponder Sign In
6pm Mini Wedges
Super Late, UMP Mod, Hotmod, 4 Cylinder Make-Up Features from 8/20/22
$1,500 to win UMP Modified 'WHITE LIGHTNIN' 20 Tuneup Complete Show
$750 to win Street Stock 'BOOTLEGGER 20' Complete Show
Hotmod, SportMod Qualifying and Heat Races
Super Late Model, Steel Block Late Model, RUSH Late Model & SCDRA 4 Cylinder Open Practice
After Races Pit Party
Saturday, September 3rd
Morning Breakfast at the Fairgrounds Food Court
Noon Cornhole Tournament ($10 per team) at the stage area
2pm Hillbilly Mullet & Best Beard Contest at Pavilion at Racetrack
2:30pm Clear Pit Area
3pm Gates Open
4pm – 6 pm Registration / Transponder Sign In
6pm Mini Wedges
$5,000 to win Steel Block 'HILLBILLY 50' Complete Show
$5,000 to win UMP Modified 'WHITE LIGHTNIN' 35' Complete Show
$1,000 to win EDGE Hotmod 'LIL' HILLY 20' Feature
$1,000 to win SportMod 'MOONSHINER 20' Feature
Qualifications, & Heat Races for the SCDRA 4 Cylinders
Sunday, September 4th
Morning Breakfast at the Fairgrounds Food Court
11am Vendor Row Open All Day
1pm Best Hillbilly Themed Campsite Judging
1:30pm Clear Pit Area
2pm Gates Open
4:30pm Best Dressed Hillbilly Contest Sign In at Pavilion at Racetrack
Contestants will be judged by the crowd @5:30 pm
6:00pm Lucas Oil Dirt Car Series Hotlaps and Qualifications
Opening Ceremonies for the Hillbilly 100/ National Anthem
Lucas Oil Dirt Car Series Heat Races and B-Mains
100 lap 54th Annual $30,000 to win Lucas Oil Dirt Car Series 'HILLBILLY 100'
$4,000 to win RUSH Late Model 'Brown Jug 30' Complete Show
$2,500 to win 'Ridge Runner 30' SCDRA 4 Cylinder Feature
'Billy Bob' 20 Legends Car Complete Show
RACING….& LOTS OF IT! One thing the great fans of the Hillbilly 100 have become accustom too and that is lots of racing during the Hillbilly weekend. Not only is the build up to the Lucas Oil Series 100 lap Hillbilly Hundred epic but the racing that goes on the nights before the Hillbilly is legendary. The wildly popular Steel Block Late Model 'Hillbilly 50' on Saturday, always produces a huge car count and features the regions best as the winner grabs the $5k to win first place loot. Past winners of the Hillbilly 50 include names such as Corey Conley, Doug Horton, Paul Wilmoth, Mike Benedum, Norm Aaronhalt, Freddy Carpenter, Chris Carpenter, Tyler Carpenter, Jacob Hawkins and Colten Burdette.
Also on the racy prelim night of action will be the UMP Modifieds vying for a $1,500 payday in a White Lightnin' tune-up race on Friday before taking to the 'Bullring' for a Saturday Night $5,000 to win 'White Lightnin' 35 complete show. The mid-ohio valley is blessed with one of the stoutest fields for open wheel modified racing on the east coast and with Tyler County Speedway's unique configuration makes it the perfect venue for open wheel modified action.
Also on the star studded weekend card will be the EDGE Hotmods, SportMods, and SCDRA 4 Cylinder divisions, who will be after the Lil' Hilly 20, Sour Mash 20, and Ridge Runner crowns. Three great support divisions looking to add their name to the Hillbilly Hundred record books.
For the first time ever in Hillbilly history the RUSH Late Model Series will join the main card on Sunday and shoot out for the $4,000 top prize. The RUSH Late Models are a strong weekly division at the 'Bullring' and with the huge Hillbilly windfall of cash up for grabs should see the likes of the divisions strongest competitors from the North and the South converge on the ¼ mile 'Bullring' for an epic battle. Plus the return of the Ohio Valley Roofers Legends Car Series will be back for their traditional slot on Sunday in companion to the Lucas Oil Dirt Car Series $30,000 to win Hillbilly 100.
HOW DO I GET THERE?: Tyler County Speedway is located 3 miles south of Middlebourne, WV at the Tyler County Fairgrounds on State Route 18. A mere 18 miles east of the Ohio River, half way between Parkersburg in the south and Wheeling in the North. We are two hours from Pittsburgh, PA, three hours from Columbus, OH, and two hours from Charleston, WV.
From Clarksburg: Follow Route 50 W to West Union, WV and turn right on WV 18 to Tyler County Fairgrounds.
From Parkersburg: Follow Route 2 North to Sistersville, WV, turn right on WV 18 to Tyler County Fairgrounds.
From Wheeling: Follow WV Rt. 2 South thru New Martinsville, WV turn left on WV 180, go to end of 180 and turn left on WV Rt. 18 to Tyler County Fairgrounds.
GPS: One Boreman School Rd., Middlebourne, WV 26149
GOTTA GET TICKETS: Be a part of the most talked about weekend of the racing season. You can assure that you'll be a part of the excitement by purchasing your tickets in advance and save money by doing so! Featuring one of the best deals in all motorsports as advance 3-day ticket prices are just $70 for adults, with children 10 and under FREE. Advance three-day pit passes are just $80.
Get your tickets online at the Tyler County Speedway website @ www.tylercountyspeedwayonline.com or contact the speedway ticket office at 304-771-5661.
Save Money by getting your 2022 Hillbilly Tickets in Advance: 3 day GA just $70 with 3 day Pit Passes just $80! 3 Day Armbands from 2021 are good for Sunday's event only. 2 day GA (Fri. & Sat.) $40, 2 day Pit Pass (Fri. & Sat.) $60!
Gate Prices: Friday, Sept. 2: $15 General Admission adults, Kids 10 and under FREE; $30 Pit Pass, $75 3-day general admission; Kids 10 and under FREE; $85 3-day pit pass.
Saturday, Sept. 3: $25 General Admission adults, Kids 10 and under FREE; $40 Pit Pass
Sunday, Sept. 4: $40 General Admission adults, Kids 10 and under FREE; $50 Pit Pass
Reserve seating is also available as the top 4 rows of the grandstands can be purchased for the weekend at just $10 on top of ticket price. Race fans can reserve their seat or purchase tickets with credit card by contacting the Tyler County Speedway ticket office at 304-771-5661. Checks or money orders may be sent to Tyler County Speedway, PO Box 475, Middlebourne, WV 26149 as well. * Many Bullring Booster Seats have been purchased and are marked with a Bullring Booster name on purchased seat, please do not sit in any of these reserved spots.
ATMOSPHERE…..MORE THAN JUST A RACE: From its humble beginnings at the Legendary Pennsboro Speedway to todays version of Americas oldest late model major event the Hillbilly 100 features an atmosphere unlike any in motorsports today. From its traditional format featuring an overload of action, to the camping and the Mountain State hospitality, to the often talked about legendary pit party, to the down home feel of old school racing like it used to be, make the annual pilgrimage to the Hillbilly a must among race fans. From the likes of Rodney Combs, Bob Wearing, Freddy Smith, Jack Boggs, Charlie Swartz to the more recent Scott Bloomquist, Jimmy Owens, Brandon Overton, Jonathan Davenport and Josh Richards, all have carved out a place in history by hoisting the one-of-a-kind Hillbilly 100 trophy and adding their name to the record books of the oldest major dirt late model event in America.
CAMPING: Join us for an end of summer camping vacation and make some memories that will last a lifetime at the 54th Annual Hillbilly Hundred. Enjoy an extended stay in the beautiful and scenic hills of the mountain state at WV's Premier Entertainment Facility, spending the weekend camping out with family and friends and enjoying good times.
The Tyler County Fair Grounds offers plenty of camping space for race fans wishing to spend the weekend at the Speedway. Camping lots lay all over the grounds perfect for picking the right spot for your weekend getaway. Camping is reserved on a first come/first serve basis, and costs just $20 per night.
Tyler County Speedway camping features limited water and electric hookups, with an endless amount of primitive camping so there will always be room for your adventure. Showers are available on the grounds and an outside vendor is on the grounds to pump and fill tanks during major event weekends.
The grounds feature:
— A playground for kids of all ages.
— Two large shelters for picnics.
— Several access gravel roads to and from the grounds to Rt. 18.
— Dump stations for waste water prior to leaving the grounds.
— Vending machines throughout the grounds as well as ICE by the bag.
— On-Site Shower Facility.
— One of the premier racing venues in the country, "America's Baddest Bullring!'
LODGING:
Holiday Inn Express Hotel & Suites located at 1202 North WV Rt. 2, New Martinsville, WV 26155, give them a call at 304-455-0033.
Microtel Inn & Suites by Wyndham located 410 North State Rt. 2, New Martinsville, WV 26155, 304-455-6223.
Travelers Inn located at 519 N. St. Rt. 2, New Martinsville, WV, 304-455-3355
The Amerihost Inn in New Martinsville, WV 304-455-6100
The Wells Inn located at 316 Charles St., Sistersville, WV 304-652-1312
The Sleep Inn in Ellenboro, WV located 29 South Main St., Rt. 16 & Rt. 50 844-799-2799
The Sleep Inn & Suites located 8 Wal Mart Dr., Moundsville, WV 304-810-4000
HISTORY OF THE HILLBILLY 100:
PAST WINNERS: 1967 Don Gregory , 1968 Ray Neece, 1969 No Race Held, 1970 Clate Husted, 1971 Danny Dean, 1972 Dorus Wisecarver, 1973 Bob Wearing Sr., 1974 Bob Wearing Sr., 1975 Bob Wearing Sr., 1976 Bob Wearing Sr., 1977 No Race Held, 1978 Gene McNeely, 1979 Danny Dean, 1980 Rodney Combs, 1981 Freddy Smith, 1982 Charlie Swartz, 1983 Freddy Smith, 1984 Larry Moore, 1985 Jack Boggs, 1986 Jack Boggs, 1987 Jack Boggs, 1988 Donnie Moran, 1989 Donnie Moran, 1990 Buck Simmons, 1991 Rodney Combs, 1992 Rodney Combs, 1993 Davey Johnson, 1994 Bill Frye, 1995 Bart Hartman, 1996 Todd Andrews, 1997 Rod Conley, 1998 Steve Shaver, 1999 Davey Johnson, 2000 Davey Johnson, 2001 Donnie Moran, 2002 Billy Moyer, 2003 Chub Frank, 2004 Mike Marlar, 2005 Clint Smith, 2006 Earl Pearson Jr., 2007 Eddie Carrier, 2008 Jimmy Owens, 2009 Ray Cook, 2010 Scott Bloomquist, 2011 No Race Held, 2012 Mike Marlar, 2013 Jimmy Owens, 2014 Don O' Neal, 2015 Scott Bloomquist, 2016 Scott Bloomquist, 2017 Jonathan Davenport, 2018 Brandon Overton, 2019 Josh Richards, 2020 Covid, 2021 Rain, 2022 ???????
Some of the greatest legends of dirt racing have battled for the HILLBILLY 100 crown. Ohio has ten wins, Pennsylvania has ten, West Virginia has seven, Tennessee has six, Kentucky has four, North Carolina and Georgia has four, Arkansas has two with Michigan, Florida and Indiana checking in with one win each.
WHAT HAPPENED LAST YEAR? Tyler Carpenter, Zack Dohm and Rich Dawson Star in Hillbilly Hundred Preliminary Action; Over 300 entrants compete during the Mountain State's biggest racing weekend of the season!
The Tyler County Speedway would welcome the racing nation to America's Baddest Bullring for the 53rd edition of the famed Hillbilly 100 weekend. While the weekend started off great with exceptional fall like weather featuring beautiful skies and ideal temps for the first two days of action, an overnight and all-day rain would force the postponement of the final day to Friday Night April 8, 2022. However, Mother Nature would win that battle as well officially claiming victory in the 53rd edition of the Hillbilly 100.
Even though the final day was postponed it is the support of the regions best fans and race teams that continue to make the Hillbilly 100 a special weekend. Featuring a plethora of race cars, fantastic side by side racing, and an old-time atmosphere second to none.
A whopping 305 entrants participated in the first two days of the 2021 Hillbilly event and congrats to those that took coveted Hillbilly 100 weekend wins including:
Tyler Carpenter – Hillbilly 50 Steel Block Late Model winner (Sat.)
Zack Dohm – Brown Jug 30 FASTRAK Late Model winner (Fri.)
Rich Dawson – White Lightnin' 35 UMP Modified winner (Sat.)
DJ Cline – White Lightin' 20 UMP Modified tuneup winner (Fri.)
Jeff Gorrell – Lil' Hilly 20 EDGE Hotmod winner (Sat.)
Cruz Vandall – Moonshiner 20 Sportmod winner (Sat.)
Jacob Hughes – Sour Mash 20 SCDRA 4 Cylinder winner (Sat.)
Timothy Harlan Jr. – Ridge Runner 20 Bullring Bomber winner (Fri.)
Cruz Thomas – MWRA Junior Mini Wedge winner (Fri.), Carson Thomas – MWRA Senior Mini Wedge winner (Fri.), Jake Casto – WRA Young Guns winner (Fri.), Gunner Binns – WRA Veteran winner (Fri.), Cruz Thomas – MWRA Junior Mini Wedge winner (Sat.), Peyton Baker – MWRA Senior Mini Wedge winner (Sat.), Blake Tasker – WRA Young Guns winner (Sat.)
ABOUT THE BULLRING: Warning - This speedway is designed for the die-hard race fan! The bleachers are located so close to the speedway, if you were any closer to the racing action, we would hand out lap belts and harnesses at the gate. Three and four wide racing is the norm not the exception on the Middlebourne ¼ mile. Truly a unique crown jewel event that continues to grow in stature as an old school feel will greet race fans as the racing action, atmosphere and tradition are second to none. So if you are ready for some racing action the way it was meant to be - side by side, full throttle, hammer down and wide open then join us Labor Day Weekend for the 54th Annual Hillbilly 100!
ABOUT THE LUCAS OIL LATE MODEL DIRT SERIES: The Lucas Oil Late Model Dirt Series is the premier national touring sanctioning body for dirt late models. These Lucas Oil Late Model Dirt racecars are on the cutting edge of technology in construction and are powered by 800 horsepower V-8 engines based on the Chevy, Ford and Mopar power plants. Nothing is "stock" about these $70,000 machines that provide dirt slinging, sideways, door-to-door racing action lap after lap. The in your face excitement of a Lucas Oil Late Model Dirt Series event is second to none in motorsports!
For more information about the Lucas Oil Dirt Car Series log onto www.lucasdirt.com or hit them up on social media @ https://www.facebook.com/lucasdirt/ and tweet them @ https://twitter.com/lucasdirt.
GET SOCIAL: Fans are encouraged to use the hashtag #HillbillyHundred on social media to tell their stories of the weekend and help promote the event. #HillbillyHundred is a focal point for fans on social media who love the Tyler County Speedway and Hillbilly Hundred. By using the hashtag in Facebook, Twitter and Instagram posts, fans may check out what else is happening around the track and share their own experiences.
To stay up to date on all things Hillbilly follow us online at www.tylercountyspeedwayonline.com, Facebook: thebullringwv
Twitter: The_Bullring
Look for several share and like contests leading up to the event as well be sure to share all your photos of the historic Hillbilly Hundred.
HILLBILLY VENDORS ROW: Be sure to shop on Vendors Row and be sure to grab your official 2022 54th Annual Hillbilly Hundred event shirt by Arizona Sport Shirts as Gerald Newton will be on hand selling all your Hillbilly apparel and Gotta Race necessities. Many others will be on hand including the Official Lucas Oil Late Model Dirt Series gear along with Tyler County Speedway Apparel at the Trading Post located right behind the main grandstands. Plus many of the stars of the Lucas Oil Dirt Car Series T-Shirt trailers will be on hand making the Hillbilly Vendors Row your one stop shop for all your dirt wear needs.
IN CLOSING: There's too many reasons to list why you should attend 'Hillbilly Weekend' at Tyler County! But a short list includes three and four wide racing, legendary 'hillbilly party', 54 years of West Virginia tradition, best racers in the nation, beautiful spacious camping area, gorgeous scenery in the small town of Middlebourne, making for a great race-cation as the leaves begin to fall on the 2022 race season!
Considered one of dirt racings most prestigious national level events, be a part and experience the excitement of 'America's Oldest Dirt Late Model Major event, the Hillbilly Hundred. A West Virginia tradition for five decades as the hills will roar with the sound of horsepower this Labor Day weekend. It's an action filled racing weekend like no other, where grass roots racers meet the sport's professionals. Don't miss the chance to enjoy dirt racing history when the one & only 'Hillbilly Hundred' returns to the Tyler County Speedway!
---
Submitted By: Dan Patterson
Back to News