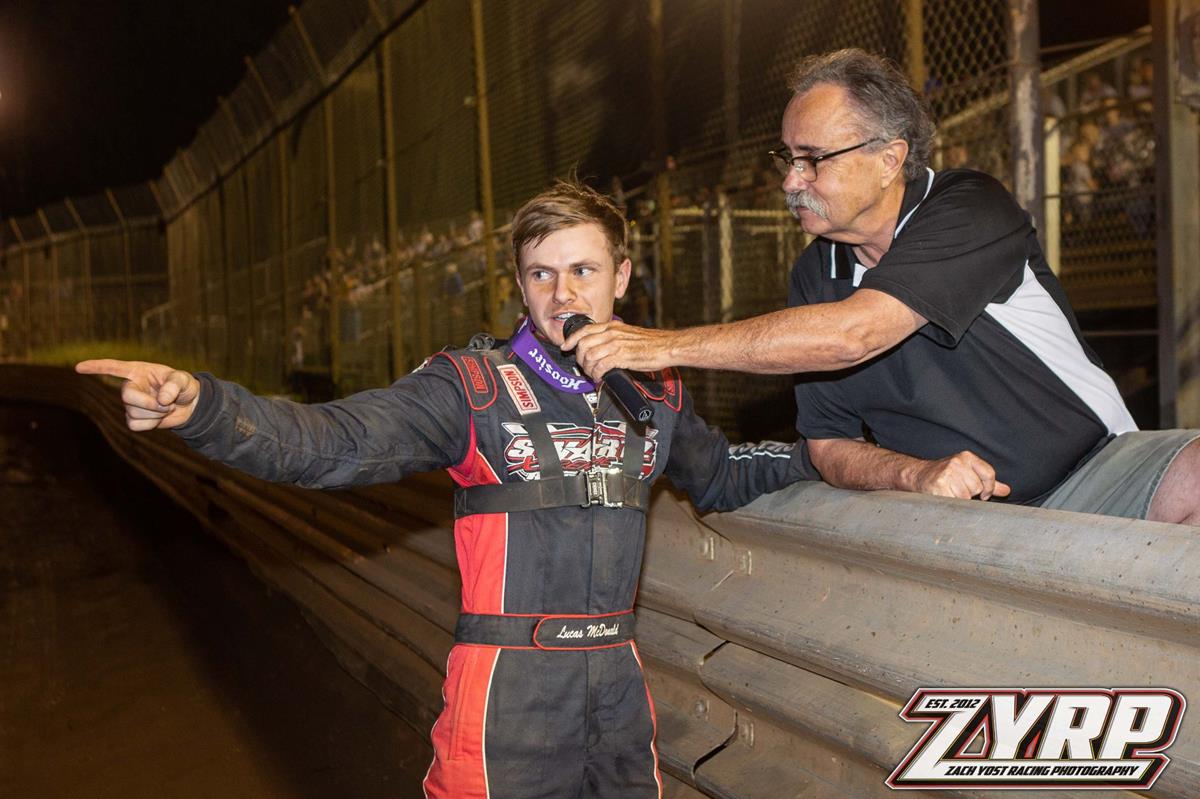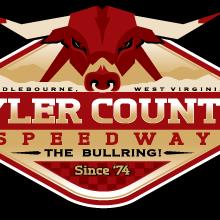 8/22/2022
Tyler County Speedway
---
Lucas McDonald & Cruz Vandall Score First Wins of Season at Bullring Before Monsoon Strikes
The Tyler County Speedway welcomed over 120 race teams to the Bullring for the Season Championship and Hillbilly Qualifiers. With all heat race action and two feature events in the books the sky would open up in a monsoon washing away the rest of the program. Picking up feature wins included Lucas McDonald, Cruz Vandall, Cruz Thomas and Wyatt Demoss in the abbreviated show.
A week after witnessing another first time win in Logan Reed scoring the McClinton Chevrolet Mitsubishi RUSH Late Model feature it was yet again another youngster tasting the thrill of victory for the first time. Lucas McDonald of Goodhope, WV piloting the Buccaneer Hauling/Upshur Ultra Power/ McDonald Farms/ Xtreme Design and Graphics/ Mountain State Transportation Consulting/ EMT Logistics/ TG2 Motorsports/ AccuForce Dynos and Testers/ Swartz Race Car would park his sharp looking #44 machine in the West Virginia University of Parkersburg Victory Lane in the RUSH Late Model division. McDonald would run a flawless race holding off newly crowned track champion Donnie Dotson, Hayden Jacobs, AJ Spagnuolo and George Casto to garner the popular victory.
A strong field of twenty three Middlebourne Galaxy Food Center Sportmods would see Charleston, WV's Cruz Vandall pick up his first win of the season at the 'Bullring'. A great weekend for the pilot of the #00 machine that would see Vandall score a weekend sweep after his win at Ohio Valley Speedway on Friday. Following Vandall to the pay window was Tyler Spencer, Sonny Leek, Marcus Collart and Jeff Burdette.
Kicking off the evening in the Mini Wedge class it was Cruz Thomas getting win #10 in the Junior class and wrapping up the track championship. Following Thomas to the line were Kyndi Glover and Bryar Glover. In the Senior division it would be Wyatt Demoss saving his best for last as the youngster scored his first win of the season ahead of Jake Casto and Erickson Smith.
The four rained out features including the Super Lates, UMP Modified, EDGE Hotmod and SCDRA 4 Cylinder will be made up during the Friday Night portion of the 54th Annual Hillbilly 100 on Sept. 2nd.
The Tyler County Speedway takes off this Saturday Night, August 27th in preparation for the huge Labor Day weekend racing extravaganza known as the Hillbilly 100 on Sept. 2-4th. The little 'Bullring' will officially kick off Hillbilly week with a Sunday, August 28th Flat Kart and Mini Wedge matinee with gates opening at 1pm and racing getting underway at 3pm.
Tyler County Speedway Feature Results for Saturday, August 20
McClinton Chevrolet Mitsubishi RUSH Late Model Feature: Lucas McDonald, Donnie Dotson, Hayden Jacobs, AJ Spagnuolo, George Casto, Brandon Weigle, Ryan Hare, Logan Reed, Jarrett Spencer, Jim Gray, DNS Garrett Paugh
Middlebourne Galaxy Food Center Sportmod Feature: Cruz Vandall, Tyler Spencer, Sonny Leek, Marcus Collart, Jeff Burdette, Josalyn Hibbard, Steven Dotson, Nic Green, Jimbo Wheeler, Allen Clark, Tim Siddle, Nick Eing, Al Smith, Colby Amos, Pat Garrett, Brandon Davis, Rex Frohnapfel DNS Mike Smith, DNQ: Tyler Headley, Mackinsey Thomas, Brad Lucas, Conner Blair
Junior Mini Wedge Feature: Cruz Thomas, Kyndi Glover, Bryar Glover, Rowen Brightwell, Remi Demoss, Kylee Thomas, Nathan Powell, Eli Smith, Josh Baldwin, Karson Burdette Trophy Sponsor: Ryan Hare Racing
Senior Mini Wedge Feature: Wyatt Demoss, Jake Casto, Erickson Smith, Bryson Roberts, Leah Brightwell Trophy Sponsor: Ryan Hare Racing
---
Submitted By: Dan Patterson
Article Media
Back to News