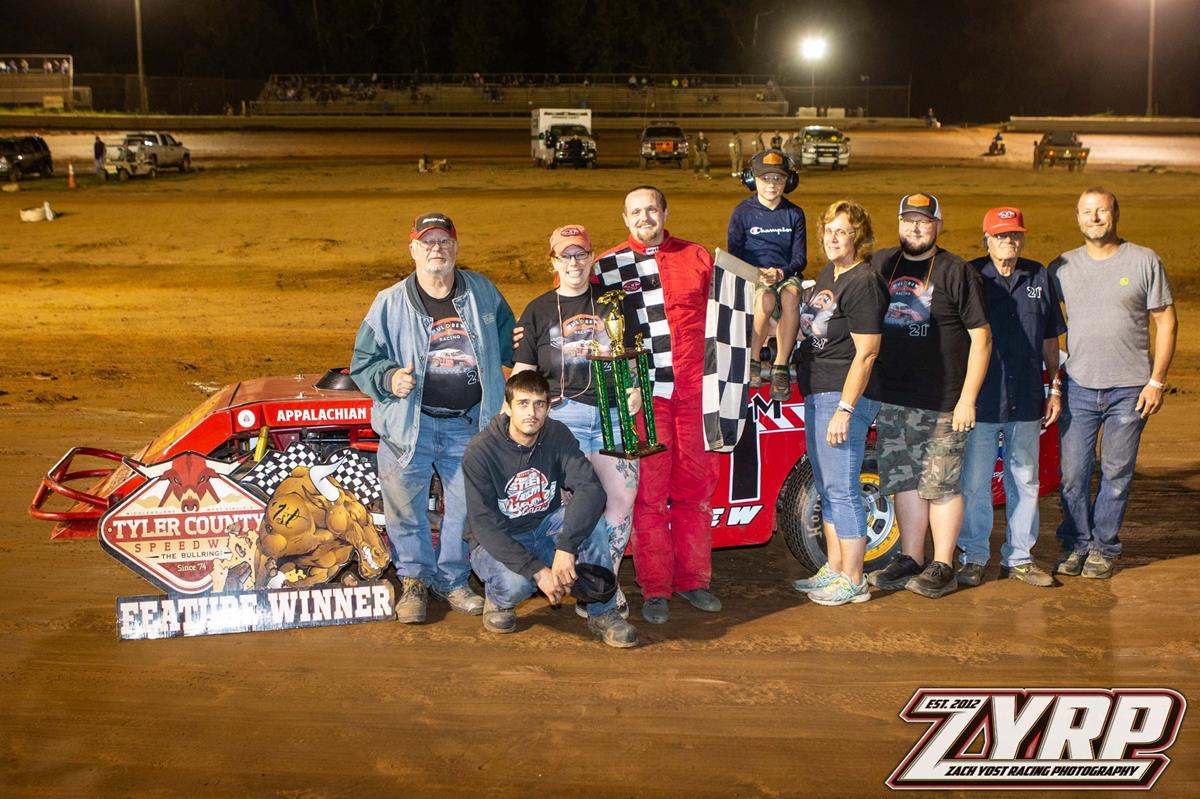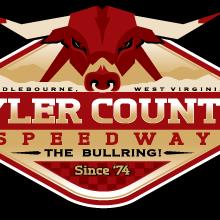 8/15/2022
Tyler County Speedway
---
Daniel Muldrew Wins Workin' Man World Championship; Logan Reed Scores First RUSH LM Win at Bullring
Tyler County Speedway would welcome the 'Bullring of Honor' Inductees along with hosting the Bullring Booster Club Night and highlighting the show was the annual Workin' Man World Championship for the EDGE Hotmod division. A great deserving class of 'Bullring' icons including Denny Klug, Charlie Maloney, Gib Patt, Norman Jackson, Carl Short and Steve Davis would be inducted at intermission into the 'Bullring of Honor' in front of the appreciative crowd. A fast racing surface would be in store for the Hino Pit Area as Daniel Muldrew, Shawn Jett, Logan Reed, Cody Brightwell, Rex Frohnapfel, Jacob McDaniel, Cruz Thomas and Leah Brightwell would pick up trips to the West Virginia University of Parkersburg Victory Lane.
In the seasons biggest event for the Sigler Fabrication EDGE Hotmod division it was Daniel Muldrew going back to back in the Workin Man World Championship as the talented racer claimed the 2021 edition as well. The driver of the 21m would run a flawless race with a hooked up car as a host of the divisions top runners would pursue throughout but had little for Muldrew. Following Muldrew in the J&L Auto Body/ Big Red's Shanty/ Denny's Blue Angel/ Appalachian Merchantile/ Ohio Valley Awards/ Emerald Waves Photo/ Sigler Chassis to the pay window was Jeff Gorrell, Brian Probst, Steve Magyar and Eddie Probst.
Always great to see a young racer pick up a first and on Saturday Night, Pennsboro, WV's Logan Reed would garner his first ever McClinton Chevrolet Mitsubishi RUSH Late Model feature win. The young talent would run a flawless race not wilting to the relentless pressure from AJ Spagnuolo throughout. Reed would park the Hawkins Towing/ Palomino Pastures/ Willow Land Surveying/ Rocket Chassis in the West Virginia University of Parkersburg Victory Lane ahead of AJ Spagnuolo, Donnie Dotson, Ryan Hare and Garrett Paugh.
Pennsboro, WV's Shawn Jett would drive the Sam Irvin #11j to his second win of the year against a tough field in the Stutler Motorsports Super Late Model division. Jett would best Daniel Hill in the 1GRS machine, current point leader Brian Baumberger, Steve Weigle and Mike Benedum. Jett wheels the J.A.M. Oil and Gas/ Dr. Howard Shackelford/ Slicks/ Longhorn Chassis.
Defending track champion Cody Brightwell appears to be warming up as we head down the stretch towards Hillbilly weekend. Brightwell would see early season gremlins hamper the popular driver but hopping aboard the Paul Baker owned 8x has seen back to back trips to the winners circle in Jenkins Auto Parts UMP Modified division presented by J&R Excavating. Brightwell would secure the win ahead of Doug Carson, Chad Smith, Jeff Fornash and newcomer Mark Baier.
St. Clairsville, Ohio's Rex Frohnapfel would put the Hathhorn Race Engines/ KMJ Graphics/ QuickTime Performance Parts/ Eaton Bodies/ Poppe Truck Service and Towing/ Next Level Designs/ R&D Trucking #14 Sportmod in the winners circle. Frohnapfel would score his second Middlebourne Galaxy Food Center A Main of the season ahead of Steven Dotson, Allen Clark, Tyler Spencer and Sonny Leek.
It's starting to sound like a broken record in the Dual Threat Sports Cards SCDRA 4 Cylinder division as Jacob McDaniel is dialed in at the 'Bullring'. The driver of the McWilson Performance #22 would snare win #9 on the season ahead of Joey Price, Mitch Eddy, Bill Doll and Timothy Harlan.
In the evenings opening events it was current point Leah Brightwell scoring her 5th win of the season in the Veteran Mini Wedge division over Peyton Baker and Kaden Sexton. Cruz Thomas would capture win #9 in the Junior division ahead of Kyndi and Bryar Glover. The evenings trophy sponsor was Glover Strong.
Join us next Saturday Night, August 20th as the Tyler County Speedway will play host to its last regular season race before the Labor Day weekend Hillbilly 100. A big night of action will await as we host the Season Championship in all classes along with Hillbilly Qualifiers in the RUSH, UMP, Sportmod, Hotmod and SCDRA divisions.
Tyler County Speedway Feature Results for Saturday, August 13th
Sigler Fabrication EDGE Hotmod Workin' Man World Championship Feature: Daniel Muldrew, Jeff Gorrell, Brian Probst, Steve Magyar, Eddie Probst, Tim Spencer, Zack Robinson, Mike Harter, Tom Sigler, Darren Glover, JJ Arnold, Kenzie Dotson, Carson Thomas, Crash Craddock, Kevin Dotson, Josh Mullinex, Mickey Thorpe, Josh Sigler, DNQ Brett Weekley, Natalie Hibbard, Tripp Perine, Robin Maxson
McClinton Chevrolet Mitsubishi RUSH Late Model Feature: Logan Reed, AJ Spagnuolo, Donnie Dotson, Ryan Hare, Garrett Paugh, Zack Herring, George Casto, Brandon Weigle
Stutler Motorsports Super Late Model Feature: Shawn Jett, Daniel Hill, Brian Baumberger, Steve Weigle, Mike Benedum, Ed Shuman, Joey Harper, Josh Baldwin, Ricky Conley, Tyler Riggs, Ryan Saffell, Travis Brown, Corey Conley, Kyle Thomas
Jenkins Auto Parts UMP Modified Feature presented by J&R Excavating: Cody Brightwell, Doug Carson, Chad Smith, Jeff Fornash, Mark Baier, James Schnegg, Danny Thomas, Travis Thomas, Jayson Spaur, Bruce Takach, Roland Fulmer, Andy Taylor, Justin Hart, Lance Elson, Mark Dickson, Kurt Rogers, Jay Hearn, Kenny Johnson, Ryan Jones
Middlebourne Galaxy Food Center Sportmod Feature: Rex Frohnapfel, Steven Dotson, Allen Clark, Tyler Spencer, Sonny Leek, Nic Green, Randy Bise, Andy Green, Al Smith, Jimbo Wheeler, Josalyn Hibbard, Brad Lucas, Mackinsey Thomas
Dual Threat Sports Card SCDRA 4 Cylinder Feature: Jacob McDaniel, Joey Price, Mitch Eddy, Bill Doll, Timothy Harlan, Toby Wilson, Ryan Spencer, Mike Todd, Mason Wolfe
Junior Mini Wedge Feature: Cruz Thomas, Kyndi Glover, Bryar Glover, Eli Smith, Rowen Brightwell, Walker Slayton, Josh Baldwin, Remi Demoss, Kylee Thomas, Kameron Zegarsky Trophy Sponsor GloverStrong
Senior Mini Wedge Feature: Leah Brightwell, Peyton Baker, Kaden Sexton, Eli Smith, Bryson Roberts, Jake Casto, Wyatt Demoss, Kyler Lyons Trophy Sponsor GloverStrong
---
Submitted By: Dan Patterson
Article Media
Back to News