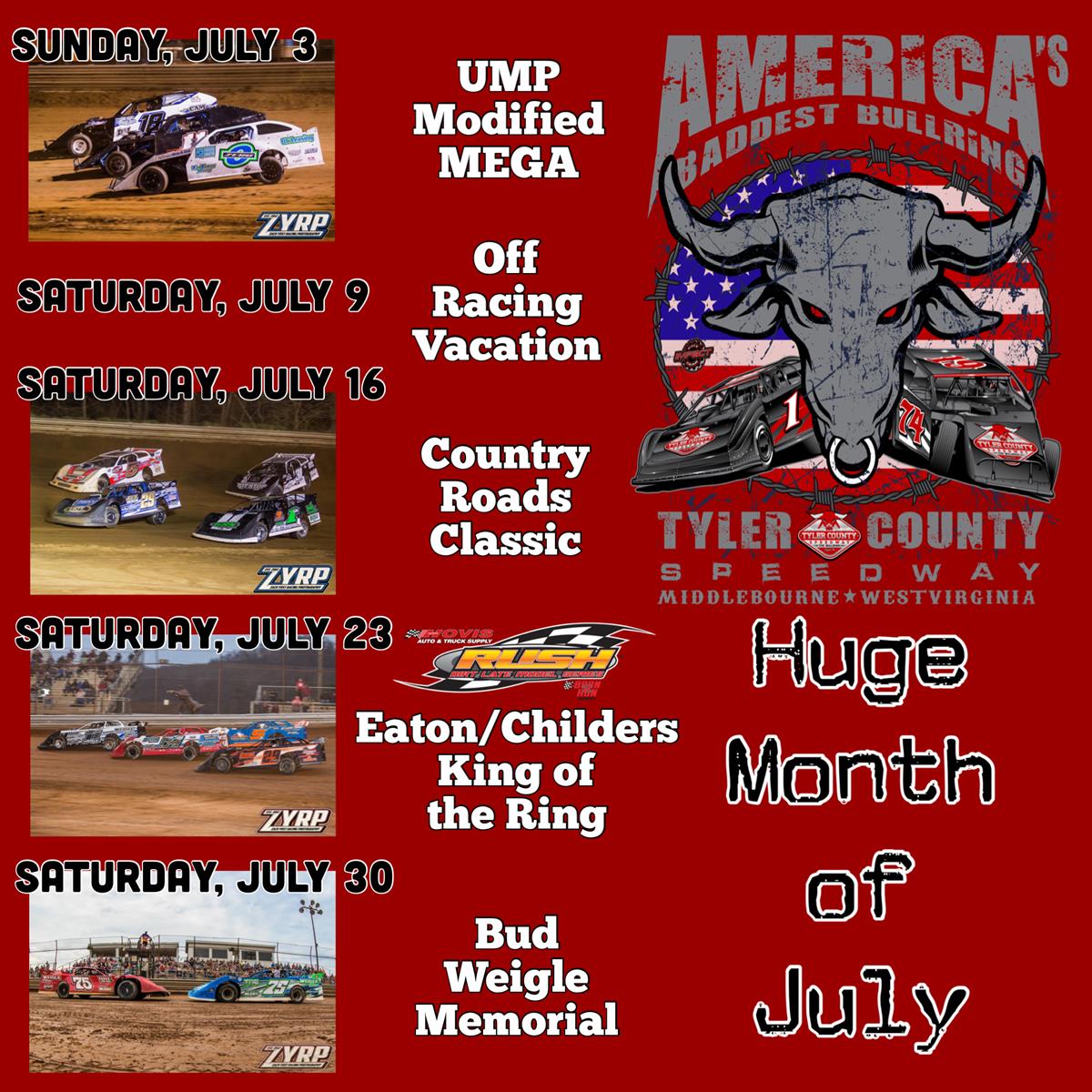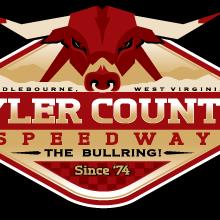 6/29/2022
Tyler County Speedway
---
Bullring to Take a Mid-Summer Vacation on Saturday, July 9th; Big Month of July Coming Up at Tyler County Speedway
While three months of edge of your seat excitement are in the books at America's Baddest Bullring we still have two more months of insane action not to be missed. As we enter the month of July, and temps begin to rise so does the intensity level of some upcoming events on the 'Bullring' schedule of events. Starting this Sunday Night, July 3rd we welcome the best open wheel modified racers on the planet for the UMP Modified MEGA paying $3,000 to win along with the Buckwheat Memorial for Mini Wedges. The 'MEGA' never disappoints with past winners such as Jacob Hawkins, Eddie Carrier, Taylor Cook, Florida's Jeff Matthews and Daniel Hill.
Due to some scheduling conflicts with some other area events and staff issues the Tyler County Speedway will take a mid-summer vacation on Saturday Night, July 9th, canceling the Patriot 200 for 2022. The Street Stocks scheduled for this night will now join the Bud Weigle Memorial card on Saturday, July 30th, with th 'MERICA 100 Enduro Race now joining the July 16th schedule.
The Tyler County Speedway will return on Saturday Night, July 16th for the 'Country Roads Classic' weekend featuring the Steel Block Late Model Series. Strap in for the Steel Block Late Model invasion with $1,500 to win up for grabs as the best Steel Block pilots hit up the Mountain State for a doubleheader weekend of action with neighboring Ohio Valley Speedway on Friday, July 15th.
On July 23rd, the Tyler County Speedway will make history as the 'Bullring' will welcome Pennsylvania's RUSH Late Model Tour to town for the first time in track and series history. The 20th Annual Eaton/Childers King of the Ring will see drivers from 6-7 different states doing battle in the $3,000 to win Tour event not to be missed.
We close out the busy month of July with the 10th edition of the Bud Weigle Memorial as we kick off the 60th Annual Tyler County Fair. A track favorite event in honor of past speedway promoter and Fairboard President. A busy month of July is in store before heading down the homestretch in August as our attention begins to turn to the 3 day 54th Annual Hillbilly 100 weekend slated for Sept. 2-4th featuring the Lucas Oil Dirt Car Series.
Tyler County Speedway is located 3 ½ miles south of Middlebourne, WV on State Route 18 at the Tyler County Fairgrounds approximately an hour from Wheeling, Clarksburg & Parkersburg. Featuring a spacious scenic campground along the Middle Island Creek with hookups, picnic shelters, playgrounds, shower and bathroom facilities among the many facility amenities to enhance the racing experience at West Virginia's premier venue for motorsports. For complete more information, visit www.tylercountyspeedwayonline.com or call the track at 304-771-5661 or 304-771-6874 or on race day at 304-758-2660. Like Tyler County on Facebook at www.facebook.com/thebullringwv and follow them on Twitter @The_Bullring.
---
Submitted By: Dan Patterson
Back to News