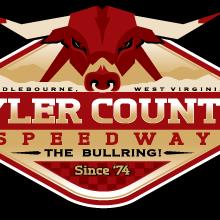 6/26/2022
Tyler County Speedway
---
Brian Probst, Sonny Leek and Jacob McDaniel Score on Kings of Karnage Night at Tyler County Speedway
Another big crowd would beat the heat and enjoy a family fun night of excitement at America's Baddest Bullring. From Monster Trucks to Demo Derby to Racing Action, Saturday Night's show had a little something for everyone. While the Monster Truck Racing League would excite the kids big and little with high flying freestyle it was Brian Probst, Sonny Leek, Jacob McDaniel, Cruz Thomas, Erickson Smith, Kris Lute and David Fulton taking West Virginia University of Parkersburg checkered flags.
It was current point leader Brian Probst grabbing his 5th win of the season in the Sigler Fabrication EDGE Hotmod division. The driver of the Dudley Racing sharp looking #33 machine would hold off Tom Sigler, Jeff Gorrell, Daniel Muldrew and Danny Thomas in the very competitive division.
It was the 'Alma Outlaw' Sonny Leek picking up his first ever feature win in the Middlebourne Galaxy Food Center Sportmod feature. The young gun and pilot of the 8up machine would turn back Steven Dotson, Pat Garrett, Wayne Francis and Tyler Spencer to secure the popular win.
Continuing his dominating season at Tyler County Speedway, it was Jacob McDaniel in the Dual Threat Sports Cards 4 Cylinder main event. After mechanical failure parked McDaniel at sister track Ohio Valley Speedway on Friday Night on the white flag lap, Saturday Night's 12 lap event was all McDaniel. Following McDaniel to the pay window was Bill Tennant, Travis Corbin, Joey Price and April Tennant.
In the Mini Wedge division it was Cruz Thomas and Erickson Smith garnering hardware sponsored by Thompson Racing. Thomas would lay claim to his 6th win of the season ahead of Owen Sobota and Kyndi Glover. In the Senior division it was Erickson Smith picking up win #2 ahead of Wyatt Demoss and point leader Leah Brightwell.
Kris Lute and David Fulton would crash and bash their way to a first place trophy in the Kings of Karnage Demolition Derby action.
Join us next Sunday Night, July 3rd for the UMP Modified MEGA paying $3,000 to win as the best open wheel racers converge on the high banks of the 'Bullring'. Plus regular racing in all other classes along with the 2nd Annual Buckwheat Memorial for the Mini Wedge division. Enjoy a Fourth of July weekend at America's Baddest Bullring next Sunday Night!
Tyler County Speedway Results for Saturday, June 25th
Sigler Fabrication EDGE Hotmod Feature: Brian Probst, Tom Sigler, Jeff Gorrell, Daniel Muldrew, Danny Thomas, Zack Robinson, Steve Magyar, Eddie Probst, JJ Arnold, Josh Sigler, Allen Clark, Tim Spencer, Dave Mackey, Natalie Hibbard, Kevin Dotson, Mickey Thorpe, Jason Todd, Crash Craddock, Carson Thomas, James Magyar, DNS Stanley Moore
Middlebourne Galaxy Food Center Sportmod Feature: Sonny Leek, Steven Dotson, Pat Garrett, Wayne Francis, Tyler Spencer, Toby Wilson, Randy Bise, Nic Green, Andy Taylor, Josalyn Hibbard, Charles Nixon, Russell Murphy, DQ Kendall Hodge
Dual Threat Sports Cards Feature: Jacob McDaniel, Bill Tennant, Travis Corbin, Joey Price, April Tennant, Mitch Eddy, Tim Coberly, Jake Tidd, Joe Price, Bill Doll, Adam Miller, Mike Todd, Timothy Harlan, Ryan Spencer, Jason Frazier
Junior Mini Wedge Feature: Cruz Thomas, Owen Sobota, Kyndi Glover, Bryar Glover, Eli Smith, Kameron Zegarsky, Colten Grimes, Bentley Thomas, Remi Demoss, Rowen Brightwell, Kristoff Kieper
Senior Mini Wedge Feature: Erickson Smith, Wyatt DeMoss, Leah Brightwell, Peyton Baker, Bryson Roberts, Jake Casto, Kyler Lyons, Ethan McCune
Stock Compact Demolition Derby;
1st place Kris Lute #51-50 Morgantown
2nd place Keith Pisino #10 Grafton
3rd place Brendan Negie #2B Middlebourne
Modified Full Size Demolition Derby;
1st place David Fulton #51 Barnesville, OH
2nd place Sam Myers #M9 Lewisville, OH
3rd place Alex Stephen #A13 Woodsfield, OH
---
Submitted By: Dan Patterson
Article Media
Back to News