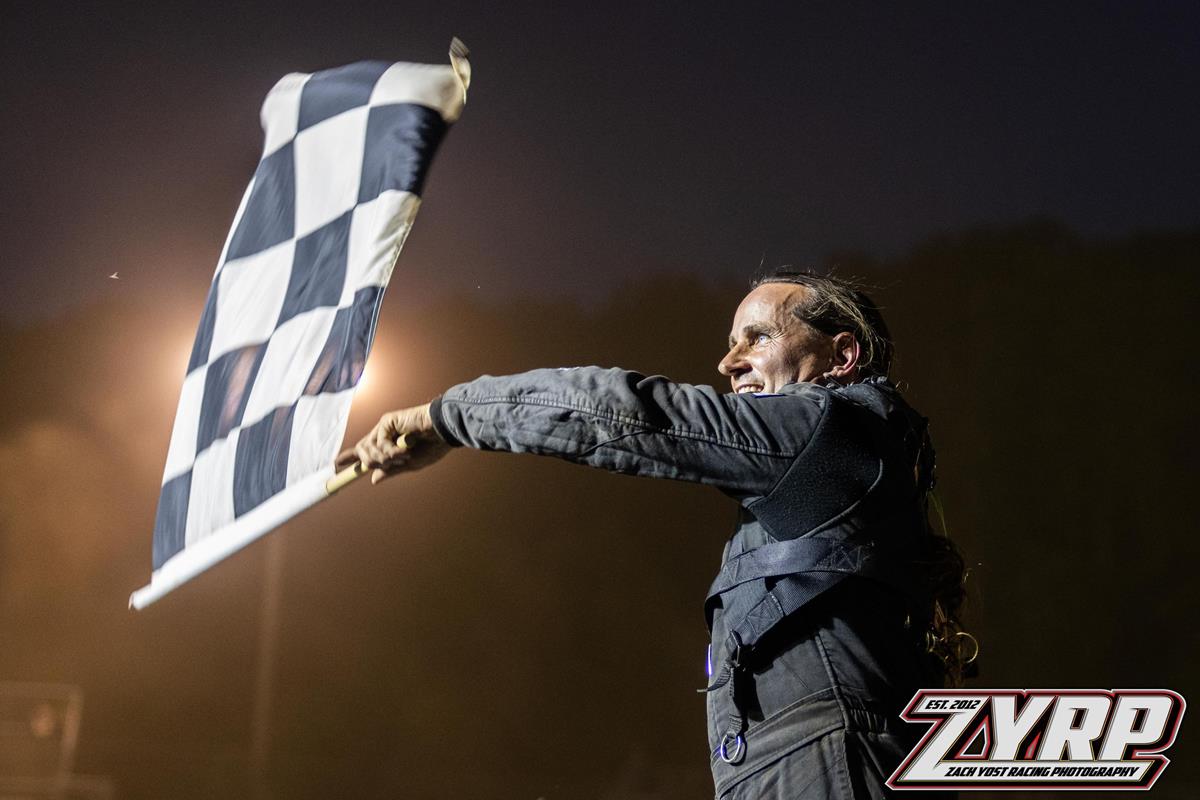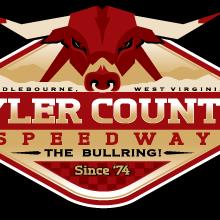 6/19/2022
Tyler County Speedway
---
'Fast Freddie' Carpenter, Danny Thomas and Steve Magyar Collect First Feature Wins of Season at Tyler County Speedway
Tyler County Speedway, a steadfast Saturday Night tradition would present a rare Friday Night show against a few odds. After a harsh Thursday Night storm that knocked out power to pit tower, scales and transponder system, the old adage the show must go on and our great staff with cooperation of the racers put on another great show without a hitch. Several first-time feature winners would make their way to the West Virginia University of Parkersburg Victory Lane including Freddie Carpenter, Danny Thomas and Steve Magyar. Donnie Dotson, Kendall Hodge, Jacob McDaniel, Cruz Thomas and Leah Brightwell would also garner wins to add to their 22' resume.
In the Stutler Motorsports Super Late Model main event it was the fastest ponytail in racing, 'Fast Freddie' Carpenter of Parkersburg, WV picking up his first win of the season at the 'Bullring' and becoming the 7th different feature winner in as many events. It would not be easy for Carpenter as the likeable driver would hold off a pesky Brian Baumberger to collect the popular win. Following Carpenter in the Stutler Motorsports/ Pro Tech Auto Kryptonite and Baumberger were last week's winner Shawn Jett, Kyle Thomas and Travis Brown.
Danny Thomas of Friendly, WV who has been consistently fast all season would put it together on Friday Night to collect his first feature win of the season in the very competitive Jenkins Auto Parts UMP Modified division presented by J&R Excavating. Thomas would hold off a bevy of talented shoes behind him to park it in the West Virginia University of Parkersburg Victory Lane. Following Thomas to the pay window were point leader Chad Smith, Kurt Rogers, Doug Carson and Kenny Johnson. Thomas wheels the Wable Ford/ Dew Drop Inn/ Thomas & AJ Logging Stealth Chassis.
Going back to back would be Donnie Dotson of West Union, WV in the McClinton Chevrolet Mitsubishi RUSH Late Model division. The veteran wheelman would blast off his front row starting spot and head for the sunset as Dotson would lay claim to his 3rd feature event of the year. Following Dotson was Brandon Weigle, Kyle Thomas, George Casto and Lucas McDonald.
It was all 'Big Daddy' Steve Magyar of Wileyville, WV picking up his first victory in the Sigler Fabrication EDGE Hotmod main event. Magyar would drive the Traymark LLC, Schreff's Hometown BBQ/ Headley's Meats/ D&S Auto & Truck Repair/ Auto Zone Bandit Chassis to the win ahead of Eddie Probst, Jeff Gorrell, Tom Sigler (from the tail) and Crash Craddock.
The 'Flattop Flyer' Kendall Hodge and current point leader would garner his 4th trip to the West Virginia University of Parkersburg Victory Lane at Tyler. Hodge would turn back all challenges enroute to the checkered flag besting Steven Dotson, Ryan Payne, Cruz Vandall and Sonny Leek.
Continuing his great season at the 'Bullring' was Belpre, Ohio's Jacob McDaniel as the driver of the 22 machine would roll to his 6th win of the season at Tyler County Speedway. Following McDaniel across the line were Mitch Eddy, Mike Tennant, Ryan Spencer and Mike Todd.
Kicking off the show was the 'Youth League of Auto Racing', the Mini Wedges. In the Junior division joining dad in victory lane was Cruz Thomas ahead of Eli Smith and Colten Grimes with his first podium finish. In the Senior class it was current point leader Leah Brightwell extending her lead by picking up her 3rd win of the season ahead of Keith Powell and Wyatt Demoss.
Be sure to join us once again on Saturday Night, June 25th as America's Baddest Bullring presents a huge night of Family Fun as the Monster Trucks invade along with Demolition Derby, Kids Power Wheels Derby, and racing action in the Sportmods, Hotmods, 4 Cylinders and Mini Wedges.
Tyler County Speedway Feature Results, Friday Night, June 17th:
Stutler Motorsports Super Late Model Feature presented by Midcap Land and Timber: Freddie Carpenter, Brian Baumberger, Shawn Jett, Kyle Thomas, Travis Brown, Tyler Riggs, Mike McGinnis, Wade Sigler, DNS Steve Weigle
Jenkins Auto Parts UMP Modified presented by J&R Excavating Feature: Danny Thomas, Chad Smith, Kurt Rogers, Doug Carson, Kenny Johnson, Travis Thomas, Ryan Jones, Mitch Thomas, James Schnegg, Daniel Eddy, Brian Clegg, DNS Paul Baker
McClinton Chevrolet Mitsubishi RUSH Late Model Feature: Donnie Dotson, Brandon Weigle, Kyle Thomas, George Casto, Lucas McDonald, Ryan Hare, Jarrett Spencer, DNS Logan Reed
Sigler Fabrication EDGE Hotmod Feature: Steve Magyar, Eddie Probst, Jeff Gorrell, Tom Sigler, Crash Craddock, Josh Sigler, Zack Robinson, Kevin Dotson, Carson Thomas, Dave Mackey, Allen Clark, JJ Arnold, Natalie Hibbard, Tim Spencer, Brian Probst, Kenzie Dotson, DNS Stanley Moore
Middlebourne Galaxy Food Center Sportmod Feature: Kendall Hodge, Steven Dotson, Ryan Payne, Cruz Vandall, Sonny Leek, Nic Green, Randy Bise, Troy Frazier, Tyler Spencer, CJ Dotson
Dual Threat Sports Cards 4 Cylinder Feature: Jacob McDaniel, Mitch Eddy, Mike Tennant, Ryan Spencer, Mike Todd, DNS Timothy Harlan
Junior Mini Wedge Feature: Cruz Thomas, Eli Smith, Colten Grimes, Bryar Glover, Kyndi Glover, Rowen Brightwell, Kamerson Zegarsky, Remi Demoss Trophies sponsored by Carson Motorsports
Senior Mini Wedge Feature: Leah Brightwell, Keith Powell, Wyatt Demoss, Jake Casto, Erickson Smith, Kyler Lyons, Bryson Roberts Trophies sponsored by Carson Motorsports
---
Submitted By: Dan Patterson
Article Media
Back to News