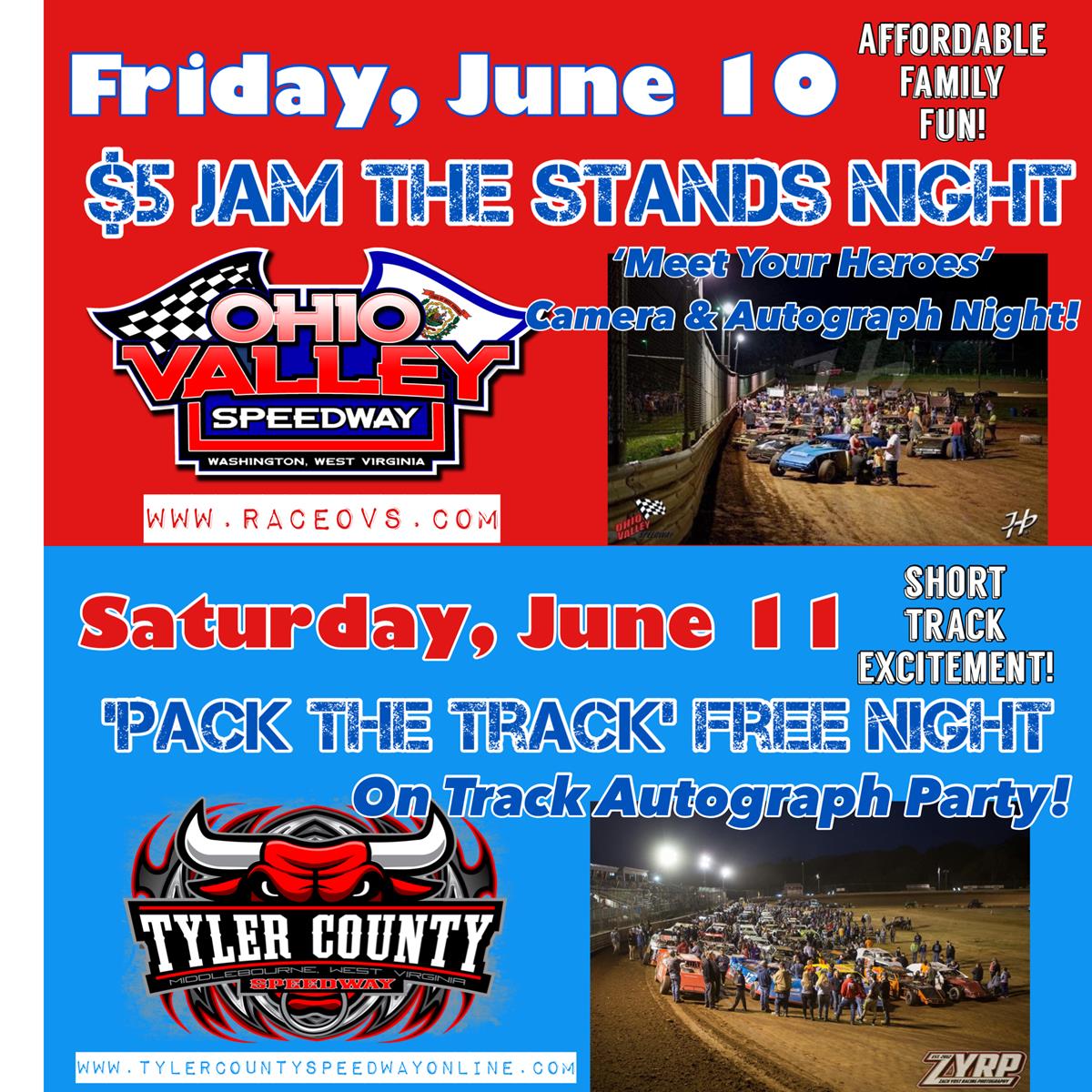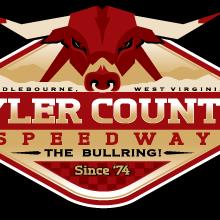 6/7/2022
Tyler County Speedway
---
DOUBLE HEADER OF AFFORDABLE FAMILY FUN AT OHIO VALLEY & TYLER COUNTY SPEEDWAY; A $5 BILL GETS YOU TWO NIGHTS OF RACING ACTION THIS WEEKEND!
While wallets may be stretched thin this summer with continued outrageous gas prices and inflation at the grocery store, the Ohio Valley Speedway and Tyler County Speedway have a deal for you. A double header of savings await you this weekend as the neighboring speedway's present 'Jam the Stands' at Ohio Valley Speedway and 'Pack the Track' Night at Tyler County Speedway.
Both management teams want to welcome and invite your family to the track to meet our racing family as we present an affordable family fun night at both speedways. Friday Night, June 10th at Ohio Valley Speedway its 'Jam The Stands' $5 Night as a crisp $5 bill will get you in the gate for a night of fun and excitement featuring the Las Trancas Super Late Models, Polymer Services UMP Modifieds, Pike Street Lanes Sportmods, Bill's Auto Salvage SCDRA 4 Cylinders and Mike's Auto Body WRA Mini Wedges.
The next night on Saturday, June 11th, America's Baddest Bullring will welcome everyone for their annual 'Pack the Track' FREE Night! Just show up and see an awesome night of racing 100% percent FREE. Invite your family, friends, neighbors and co-workers for a night of short track racing excitement on the house! A full card of Stutler Motorsports Super Lates, McClinton Chevrolet Mitsubishi RUSH Late Models, Jenkins Auto Parts UMP Modifieds presented by J&R Excavating, Middlebourne Galaxy Food Center Sportmods, Dual Threat Sport Cards SCDRA 4 Cylinders, Mini Wedges and the running of the Annual Tammy Clegg Tribute Race for Hotmods will highlight the card. Plus the rescheduled 'Joe Dirt' Enduro Race will entertain at the conclusion of the evening.
With both speedways hosting fan friendly inflation buster shows, what better time than to host an Autograph Session at both venues as race fans will be invited onto the frontstretch for 'Picture and Autograph' Night each night as well. You'll want to be sure to remember those cameras, sharpies and checkered flags to hit the track with at intermission as you get up close and personal with all your favorite racers.
Ohio Valley Speedway is a fast 3/8th mile dirt track located just south of Lubeck, WV on Rt. 68 South at Wadesville Road. For schedule, online tickets, rules or more information visit our website at www.raceovs.com and be sure to follow the 'Valley' at https://www.facebook.com/ohiovalleyspeedway for all the latest news and events or give them a call at 304-771-5661.
Tyler County Speedway is a ¼ mile highbank 'Bullring' located 3 miles south of Middlebourne, WV on State Rt. 18 at the Tyler County Fairgrounds. For schedule, news, advanced tickets and more information visit www.tylercountyspeedwayonline.com or give us a call at 304-771-5661.
---
Submitted By: Dan Patterson
Back to News