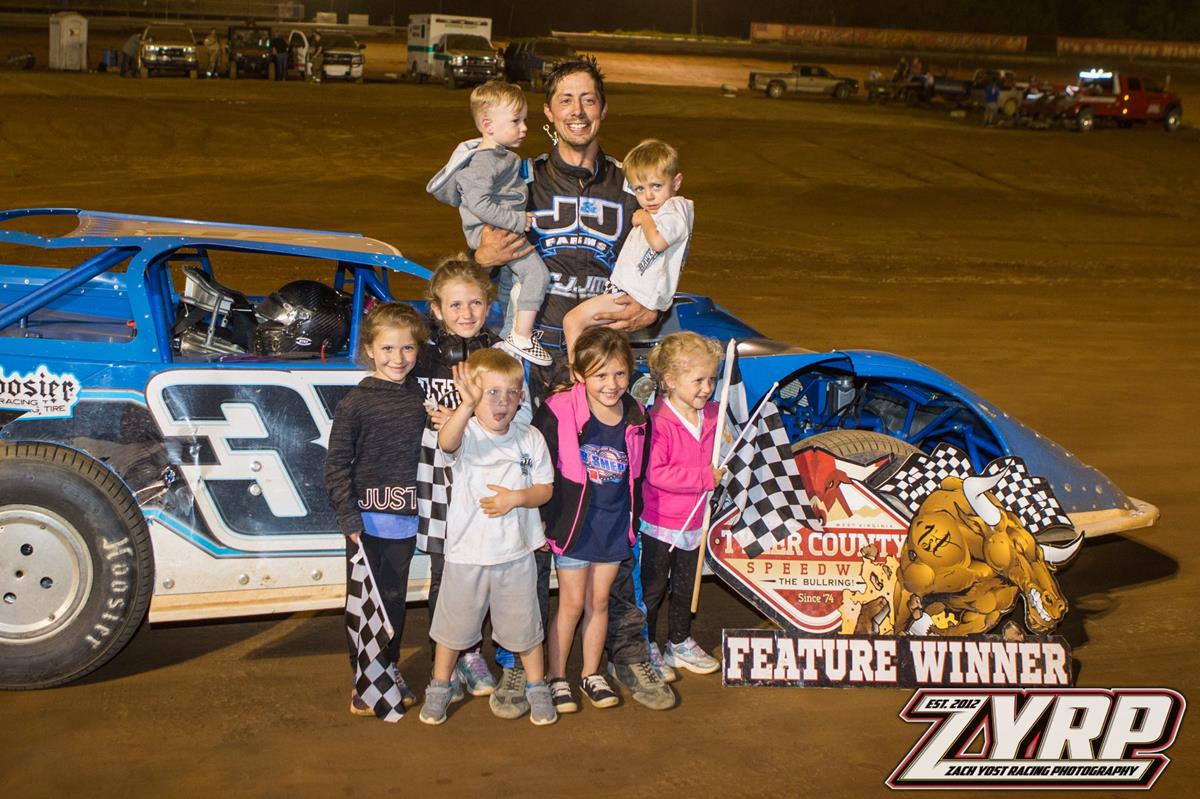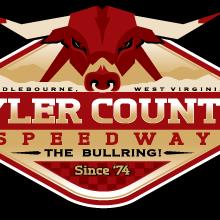 5/30/2022
Tyler County Speedway
---
Jacob Hawkins Dominates Earl Hill Memorial; Austin Holcombe Conquers Dickson Classic at Bullring
On a picture perfect night for racing, Tyler County Speedway would play host to another excellent crowd and over 140 eager racers would set out to do battle on the ultra-smooth 'Bullring'. A big night would be in store as America's Baddest Bullring would play home to the 'Legends of the Ring' featuring the 34th Annual Earl Hill Memorial, 18th Annual Dickson Classic and Sportmod Mania. Jacob Hawkins, Austin Holcombe, James Dennis, Kyle Thomas, Brian Probst, Jacob McDaniel, Erickson Smith, Keith Powell and Bryson Long would all capture West Virginia University of Parkersburg checkered flags on the marquee night.
In the Stutler Motorsports Super Late division 22 top notch late model teams would square off in the $5080 to win 34th Annual Earl Hill Memorial. Todd Brennan would set fast time and claim the $100 Fast Time bonus courtesy of Schreff's Hometown BBQ with Kyle Thomas, Jacob Hawkins and Mike Benedum grabbing heat race wins. In the 40 lap feature event it would be defending Earl Hill Memorial champion Jacob Hawkins blasting off his front row starting spot and dominate the field enroute to capturing the event in back to back seasons. While Jacob was set on kill and cruising at the front of the pack all eyes were on his older brother Jared who after a heat race flat tire would start in the 21st position on the grid. Several great battles would rage throughout the field but as Flagman Matt Amick's checkered flag would wave it was Jacob Hawkins taking the win over Jared Hawkins (from 21st), Zack Dohm, Mike Benedum and Kyle Thomas. Hawkins pilots the CJ Johnson owned J&J Farms/ CJ Johnson Motorsports/ Middletown Homes/ Megacorp Logistics/ Durham Racing Engines Rocket XR 1 machine.
A super stacked field of 32 Jenkins Auto Parts UMP Modifieds presented by J&R Excavating would take to the high banks of the 'Bullring' in the $1,500 to win 18th Annual Dickson Classic. The prestigious race in honor of Paul and Elanora Dickson would see Elm City, NC invader Austin Holcombe hold off some of the best open wheel mod racers in the region on his way to victory. Holcombe drives the Prime Electrical/ Club 69 Racecars/ Owens Construction Lethal Chassis and would best KC Burdette, Kyle Bond, Kenny Johnson and Travis Dickson to the pay window.
It was Sportmod Mania paying $1,000 to win for the Middlebourne Galaxy Food Center Sportmod division on Sunday Night. A strong field of 23 Sportmods would converge at America's Baddest Bullring with Ripley, WV's James Dennis scoring his first ever feature win at Tyler County Speedway. The driver of the Sonny's Body & Paint/ Haessley Hardwood Lumber/ Complete Truck & Trailer Service/ Octane Race Products/ Hoosier by Frye GRS by Dennis machine would cross the stripe ahead of Toby Wilson, Kendall Hodge, Sonny Leek and Marcus Collart.
In the McClinton Chevrolet Mitsubishi RUSH Late Model division it would be Pennsboro, WV's Kyle Thomas notching win #2 aboard the kH20 machine. The veteran racer would follow up his 5th place run in the Earl Hill Memorial to parking the kH20 in the West Virginia University of Parkersburg Victory Lane ahead of Donnie Dotson, AJ Spagnuolo, Paul Wilmoth Jr., and Lucas McDonald.
A strong 20 car field in the Sigler Fabrication EDGE Hotmod division would see point leader Brian Probst continue his season of dominance as the driver of the Jimmy Dudley race team would notch win #4 of the season for the veteran racer. Probst would head to the payout window ahead of Steve Magyar, Mickey Thorpe III, Santino Loretta and Eddie Probst.
In the Dual Threat Sports Card SCDRA 4 Cylinder division it was once again Belpre, Ohio Jacob McDaniel parking his sharp looking #22 machine in the West Virginia University of Parkersburg Victory Lane. The current point leader, McDaniel would lay claim to his fifth feature of the season but it would not come easy. McDaniel would manage to hold off newcomer Noah Swank, Joey Price, Quinton Beeman and Timothy Harlan Jr. to the stripe.
A huge 23 car Mini Wedge field would be split up into three features with Keith Powell and Erickson Smith picking up their first feature wins of the season in the Senior division. While in the Junior class it was Bryson Long picking up the win over Brandon Davidson and Cruz Thomas. Trophies were presented by the Hill Family in Memory of Earl Hill.
The Tyler County Speedway will be idle next Saturday Night, June 4th as we head to the West Virginia Motor Speedway for the 2-day Historic Weekend featuring the Lucas Oil Dirt Car Series. The 'Bullring' will return to action on Saturday Night, June 11th as we present our Annual 'Pack the Track' FREE Night featuring Autograph Night.
Tyler County Speedway Feature Results for Sunday, May 29th:
Stutler Motorsports Super Late Model presented by Midcap Land and Timber 34th Annual Earl Hill Memorial Feature: Jacob Hawkins, Jared Hawkins, Zack Dohm, Mike Benedum, Kyle Thomas, Derek Doll, Tyler Riggs, Brian Baumberger, Josh Baldwin, Michael Lake, Todd Brennan, Ryan Saffell, Josh Tonkin, Ed Shuman, Derek Rogers, Cody Rogers, Steve Weigle, Wayne Francis, Chuck Kimble, Robbie Scott, Travis Brown, KC Burdette
Jenkins Auto Parts UMP Modified presented by J&R Excavating 18th Annual Dickson Classic Feature: Austin Holcombe, KC Burdette, Kyle Bond, Kenny Johnson, Travis Dickson, Danny Thomas, Eddie Carrier Jr., Paul Baker, Cody Brightwell, Doug Carson, Travis Thomas, Brian Clegg, Sonny Conley, Justin Hart, Kurt Rogers, Ryan Jones, Chad Roush, Chad Smith, TJ Roush, Jarrod Willis, DNQ Brad Stone, Randy Henderson, Alicia Hammond, James Schnegg, Roland Fulmer, James Swenskie, Nick Corbitt, Daniel Eddy, Jaden Ritchea, DNS Brandon McGrady, Bobby Bagley, Mark Dickson
McClinton Chevrolet Mitsubishi RUSH Late Model Feature: Kyle Thomas, Donnie Dotson, AJ Spagnuolo, Paul Wilmoth Jr., Lucas McDonald, Michael Duritsky, Butch McGill, George Casto, Logan Reed, Ryan Hare, Jarrett Spencer
Middlebourne Galaxy Food Center Sportmod Mania Feature: James Dennis, Toby Wilson, Kendall Hodge, Sonny Leek, Marcus Collart, Steven Dotson, Tom Sigler, Brandon Francis, Zack Carr, Mike Smith, Tyler Spencer, Ryan Payne, Josalyn Hibbard, Randy Bise, Levi Nolan, Jacob Wheeler, Nick Oxley, Ron Pickens, DNQ Nic Green, Andy Taylor, Rusty Murphy, Charles Nixon, Joey Chambers
Sigler Fabrication EDGE Hotmod Feature: Brian Probst, Steve Magyar, Mickey Thorpe III, Santino Loretta, Eddie Probst, Kevin Dotson, Allen Clark, Kip Swiger, Josh Sigler, Carson Thomas, Dave Mackey, JJ Arnold, Jeff Gorrell, Crash Craddock, Tripp Perine, Tim Spencer, Kenzie Dotson, Michael Thomas, Zack Robinson, DNS James Magyar
Dual Threat Sports Cards SCDRA 4 Cylinder Feature: Jacob McDaniel, Noah Swank, Joey Price, Quinton Beeman, Timothy Harlan, Hunter Stephenson, Eric Tidd, Jason Frazier, Mike Todd, Ryan Spencer, Patrick Willbarger, DNS Mitch Eddy
Mini Wedge Senior Feature #1: Keith Powell, Cole Tasker, Leah Brightwell, Wyatt Demoss, Tanner Ritchea, Jake Casto, Kyler Lyons Trophies presented by Hill Family in Honor of Earl Hill
Mini Wedge Senior Feature #2: Erickson Smith, Blake Tasker, Addison Tasker, Peyton Baker, Coda Vance, Bryson Roberts Trophies presented by Hill Family in Honor of Earl Hill
Mini Wedge Junior Feature: Bryson Long, Brandon Davidson, Cruz Thomas, Kyndi Glover, Eli Smith, Jaxon Blatt, Bryar Glover, Josh Baldwin, Remi Demoss, Kameron Zegarsky Trophies presented by Hill Family in Honor of Earl Hill
---
Submitted By: Dan Patterson
Article Media
Back to News