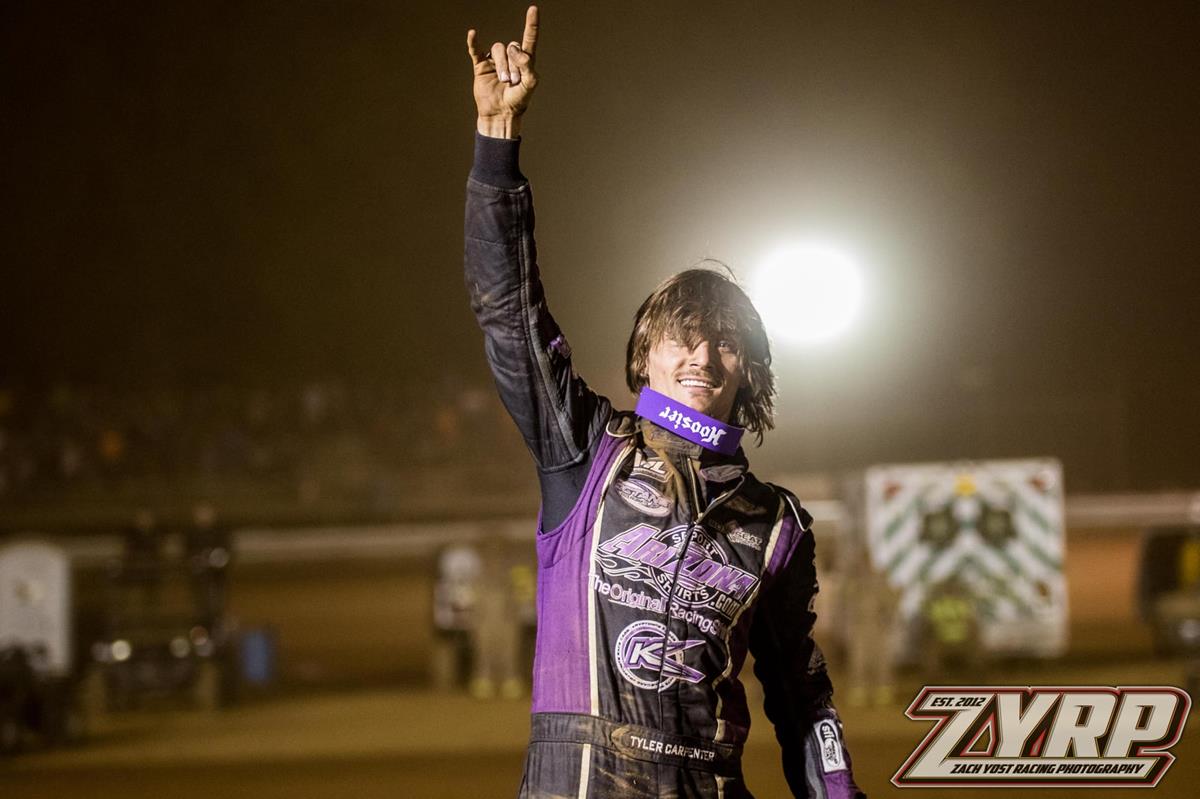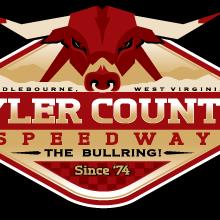 9/6/2021
Tyler County Speedway
---
Tyler Carpenter, Zack Dohm and Rich Dawson Star in Hillbilly Hundred Prelim Action
Over 300 entrants compete during the Mountain State's biggest racing weekend of the season!
The Tyler County Speedway would welcome the racing nation to America's Baddest Bullring for the 53rd edition of the famed Hillbilly 100 weekend this past Labor Day weekend. While the weekend started off great with exceptional fall like weather featuring beautiful skies and ideal temps for the first two days of action, an overnight and all-day rain would force the postponement of the final day to Friday Night April 8, 2022. A proper rescheduling date with the Lucas Oil Dirt Car Series was unattainable forcing an early 2022 date as the 'Bullring' will now setup for an epic 2022 season by opening with the 53rd edition and closing out the season with the traditional 3-day Labor Day Extravaganza, the 54th Annual Hillbilly 100, Sept. 2-4th, 2022.
A sincere thank you from Carl Short and the Hometown Racing Association to all the fans and race teams that rolled thru the pit gate to be a part of the 53rd Annual Hillbilly 100 weekend at America's Baddest Bullring. Even though the final day was postponed it is the support of the regions best fans and race teams that continue to make the Hillbilly 100 a special weekend. Featuring a plethora of race cars, fantastic side by side racing, and an old-time atmosphere second to none, we look forward to seeing everyone back in 2022 for Double Hillbilly Hundreds.
A whopping 305 entrants participated in the first two days of this years event and congrats to those that took coveted Hillbilly 100 weekend wins including:
Tyler Carpenter – Hillbilly 50 Steel Block Late Model winner (Sat.)
Zack Dohm – Brown Jug 30 FASTRAK Late Model winner (Fri.)
Rich Dawson – White Lightnin' 35 UMP Modified winner (Sat.)
DJ Cline – White Lightin' 20 UMP Modified tuneup winner (Fri.)
Jeff Gorrell – Lil' Hilly 20 EDGE Hotmod winner (Sat.)
Cruz Vandall – Moonshiner 20 Sportmod winner (Sat.)
Jacob Hughes – Sour Mash 20 SCDRA 4 Cylinder winner (Sat.)
Timothy Harlan Jr. – Ridge Runner 20 Bullring Bomber winner (Fri.)
Cruz Thomas – MWRA Junior Mini Wedge winner (Fri.)
Carson Thomas – MWRA Senior Mini Wedge winner (Fri.)
Jake Casto – WRA Young Guns winner (Fri.)
Gunner Binns – WRA Veteran winner (Fri.)
Cruz Thomas – MWRA Junior Mini Wedge winner (Sat.)
Peyton Baker – MWRA Senior Mini Wedge winner (Sat.)
Blake Tasker – WRA Young Guns winner (Sat.)
Gavin Casto – WRA Veteran winner (Sat.)
Tyler County Speedway 53rd Annual Hillbilly 100 Night #1 Friday, Sept. 3rd Results
FASTRAK Late Model 'Brown Jug 30' Feature: Zack Dohm, Brent Trimble, Kyle Thomas, Sparky Davidson, Brandon Weigle, Luke Hyre, Derrick Shaw, Hayden Jacobs, Donnie Dotson, Matt Glanden, Lucas McDonald, Nick Corbitt, Ryan Hare, George Casto III, Jarrett Spencer, AJ Spagnuola, Jim Gray
UMP Modified White Lightnin' tuneup Feature: DJ Cline, Rich Michael Jr., Paul Baker, David Stremme, Jesse Wisecarver, Kyle Bond, Chad Roush, Mark Dickson, Travis Dickson, Mitch Thomas, Coleman Evans, Doug Carson, Sonny Conley, Rich Dawson, Anthony Arbogast, Phil Jeffries, Robert Garnes, Joe Hamon, Brian Clegg, Kyle Thomas, Kurt Rogers, Tyler Carpenter, DQ KC Burdette, Chad Smith, DNQ Tyler Misner, Larry Bond, Brad Stone, Daniel Hill, Travis Thomas, Brayden Berry, Tyler Hendrix, Ron Davies, Kenny Johnson, Tommy Powell, Eddie Carrier, Robin Lashley, Ryan Jones, Dan Stalnaker, Justin Hart, Terry Parsons
Bullring Bomber Ridge Runner 20: Timothy Harlan Jr., Joey Price, Bill Doll, Mike Todd, Tim Spencer, Mitch Eddy, Scott Critchfield, Jake Tidd, Tim Coberly, Joe Price, Jacob McDaniel, Michael Wallace, Tommy Weese
MWRA Mini Wedge Junior Feature: Cruz Thomas, Arianna Henthorn, Kyndi Glover, Owen Sabota, Erickson Smith, Bryson Roberts, Bentley Thomas, Coen Thomas, Leah Brightwell (Trophy Sponsor Carter Lumber)
MWRA Mini Wedge Senior Feature: Carson Thomas, Peyton Baker, James Holmes, Natalie Hibbard, Wyatt Demoss (Trophy Sponsor Carter Lumber)
WRA Young Gun Feature: Jake Casto, Blake Tasker, Kamdin Bryan, Bryson Long, #44, Lane Pomas, Emalee Conrad, Colebyn Jarvis (Trophy Sponsor Ohio Valley Speedway)
WRA Veteran Feature: Gunner Binns, Gavin Casto, Isaac McLeish, Ethan McCune, Keith Powell, Colin Knox, Addison Tasker, Cole Tasker, James Bailey, Wyatt Cale (Trophy Sponsor Ohio Valley Speedway)
Tyler County Speedway 53rd Annual Hillbilly 100 Night #2 Saturday, Sept. 4th Results
Steel Block Late Model Hillbilly 50 Feature: Tyler Carpenter, Mason Zeigler, Jacob Hawkins, Tyler Evans, Zack Dohm, Corey Delancey, Travis Brown, Zach Milbee, Thomas Baker, Ryan Payne, Troy Frazier, Joe Brewer, Jacob Curnutte, Rick Conley, Wayne Francis, Pete Crum, Luke Hyre,, Kody Frame, Tyler Riggs, TJ Watson, Freddie Carpenter, Rex Frohnapfel, DNS Josh Tonkin, Chad Tasker, Garrett Paugh, James Crum, Matt Glanden, Wyatt Ervin, Jacob Wilkinson, Jacob Wiblin, Corey Workman, Nick Corbitt, Lucas McDonald, Caiden Black, Dustin Sprouse, Teddy Johnson, Levi Gainer, Michael Robinson, Matt Melvin, Derrick Shaw
SCDRA 4 Cylinder Sour Mash 20: Jacob Hughes, Robert Frohnapfel, Timothy Harlan Jr., Jacob McDaniel, Tyler Gill, Jeff Rankin, Jared Heiss, Josh Ayers, Joey Price, Mitch Eddy, Billy Pratt, Tim Spencer, Tommy Weese, Derik Rose, Ted Dille, Bret Ball, Joe Price, Tanya Colvin, Travis Polcyn, Mike Wallace, Mike Tennant
EDGE Hotmod Lil' Hilly 20: Jeff Gorrell, Logan Reed, Brian Probst, Tyler Spencer, Jamie Thomas, Daniel Helmick, Makenzie Dotson, Allen Clark, Santino Loretta, Steve Magyar, Crash Craddock, Eddie Probst, Mike Harter, Danny Thomas, Kevin Dotson, BJ Dennis, Josalyn Hibbard, Josh Sigler, JJ Arnold, Zack Robinson, Dusty Harper, Michael Simpson, Michael Lanham, Lou Ennis
Sportmod Moonshiner 20: Cruz Vandall, Brandon McGrady, Lance Weppler, Pat Garrett, Randy Kerns, Robin Ours, Ron Pickens, Steven Dotson, Dwight Henry, Wesley Reed, Jayson Spaur, Mike Sprouse, Kevin Criswell, Rex Frohnapfel, Zack Barr, Mike Smith, Nick Parsons, Ryan Yates, Mitch Ward, Sonny Leek, Wylie Ford, DNQ: Cody Wright, Nic Green, Jason Ammons, James Swenskie, Russell Murphy, Scott Robinson, Alec Frazier, Randy Bise, Roland Fulmer, Curtis Griffin, Tim Siddle, Dakota Carpenter, Tommy Powell, Brandon Davis, Scott Willis, Jason Todd
UMP Modified White Lightnin' 35: Rich Dawson, KC Burdette, Kurt Rogers, Rich Michael, Tyler Carpenter, Kyle Bond, Brayden Berry, Cody Brightwell, DJ Cline, Booger Garnes, Eddie Carrier, Carl McKinney, Coleman Evans, Paul Baker, Mitch Thomas, Doug Carson, Jesse Wisecarver, Chad Smith, David Stremme, Travis Dickson, Chad Roush, Kenny Johnson, Phil Jeffries, Anthony Arbogast, DNQ: Mark Dickson, Tyler Misner, Larry Bond, Derek Doll, Sonny Conley, Brad Stone, Josh Spaur, Dan Stalnaker, Roland Fulmer, Ron Davies, Lance Elson, Tyler Hendrix, Kyle Thomas, Justin Hart, James Swenskie, Robin Lashley, Joe Hamon, Dakota Carpenter
MWRA Mini Wedge Junior Feature: Cruz Thomas, Arianna Henthorn, Bryson Roberts, Leah Brightwell, Kyndi Glover, Owen Sabota, Bentley Thomas, Erickson Smith, Josh Baldwin (Trophy Sponsor In Memory of Sam Watson by t17 Race Team)
MWRA Mini Wedge Senior Feature: Peyton Baker, James Holmes, Carson Thomas, Addison Tasker, Natalie Hibbard (Trophy Sponsor In Memory of Sam Watson by t17 Race Team)
WRA Young Gun Feature: Blake Tasker, Jake Casto, Bryson Long, Dalton Wisecarver, Kamdin Bryan, CJ Craver, Lane Pomas, Walker Slayton (Trophy Sponsor Longshot Environmental Maintenance & Services)
WRA Veteran Feature: Gavin Casto, Cole Tasker, Keith Powell, Isaac McLeish, James Bailey, Maddy Dodd, Tanner Ritchea, Tyler Ritchea, Colin Knox, Wyatt Cale, Ethan McCune (Trophy Sponsor Longshot Environmental Maintenance & Services)
---
Submitted By: Dan Patterson
Article Media
Back to News