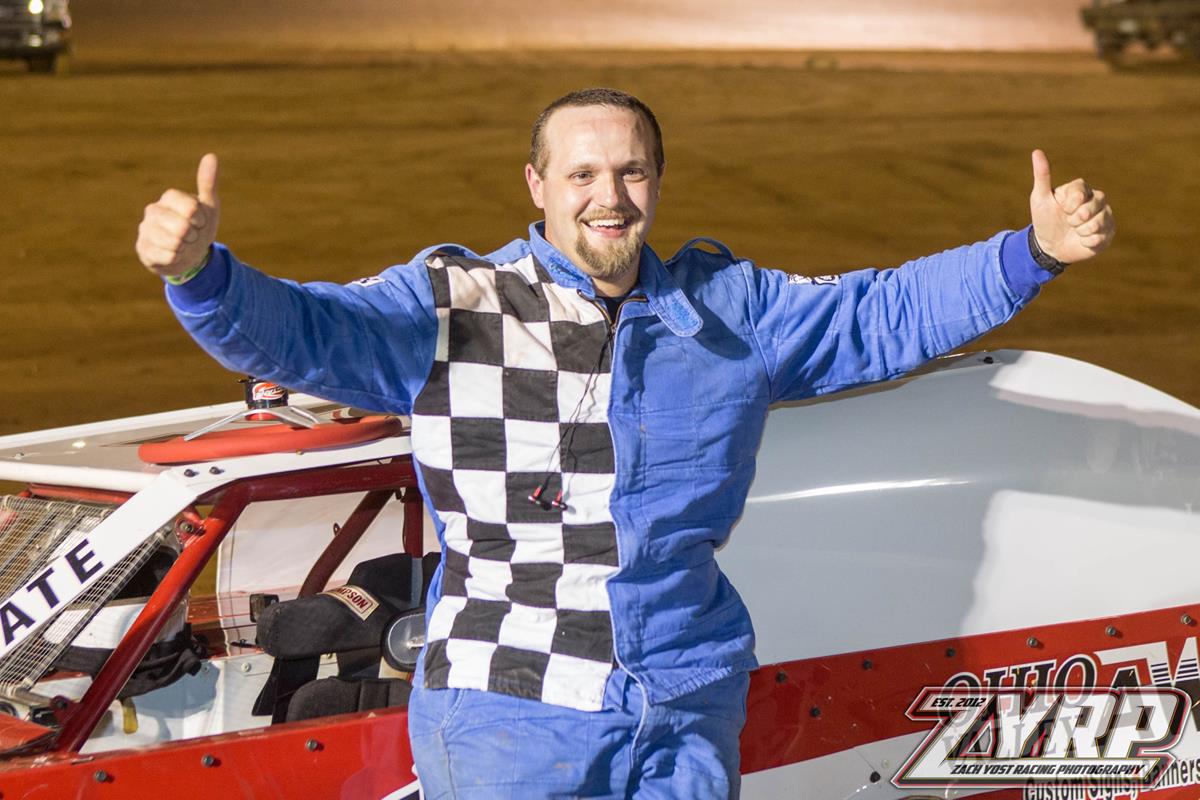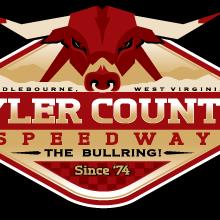 8/15/2021
Tyler County Speedway
---
Muldrew Scores Workin' Man World Championship; Hill and Berry Score Impressive Wins at Tyler County Speedway
After a week off due to the Tyler County Fair, the Tyler County Speedway would welcome 116 racers back to the 'Bullring' for another fantastic night of short track racing. It was Bullring Booster Nostalgia Night as we would welcome eleven Tyler County Speedway legends into our Bullring of Honor. Picking up wins were Daniel Muldrew in the Workin' Man World Championship, Daniel Hill, Brayden Berry, Donnie Dotson, Lance Weppler, Jason Frazier, Cruz Thomas and Wyatt Demoss would also collect West Virginia University of Parkersburg Checkered Flags.
In the night's top billing it was the Sigler Fabrication EDGE Hotmods presented by Poske Performance Parts in the $2,000 to win Workin' Man World Championship. A very clean race throughout with minimal cautions would see the Hotmods racing hard back in the pack. But at the point it was a man on a mission as Daniel Muldrew of Fairmont, WV and driver of the red 21m Big Reds Shanty/ Ohio Valley Awards machine vaulting off his pole starting spot and proceed to blister the field in convincing fashion. The likeable Muldrew would head to the pay window $2,000 richer ahead of a host of top competitors including Brian Probst, Tom Sigler, Steve Magyar and Logan Reed.
A great J&R Excavating Super Late Model main event presented by Midcap Land and Timber would see 'Fast' Freddy Carpenter blast around the 'Bullring' topside in daring fashion to overtake early leader Brian Baumberger. Once at the point Carpenter would set sail working the cushion with Shawn Jett and Daniel Hill in hot pursuit. Disaster would strike Carpenter as the leader would pull up lame with mechanical gremlins biting the Parkersburg racer turning the point over to Jett. Daniel Hill of Morgantown, WV aboard the 1 GRS machine of Dave Groves would work the bottom to perfection to overtake Jett for the race lead with just a few circuits remaining. Hill would distance himself from Jett to secure his first ever Super Late Model win at Tyler County Speedway by besting Jett, Brian Baumberger, Henry Hornsby and Tyler Stutler. Hill wheels the Jack's Recycling/ PWB Handmade/ Vandergrift Auto/ Rocket Chassis/ Team GRS XR-1.
Another great field of Jenkins Auto Parts UMP Modifieds would take the green flag with West Portsmouth, Ohio visitor Brayden Berry picking up his first feature win at the 'Bullring'. The talented Buckeye racer would hold off several challenges from previous track champion and current point leader Cody Brightwell to secure the impressive run. Following Berry to the pay window were Brightwell, Eddie Carrier, Chad Smith and Doug Carson.
In the Appalachian Mineral Title Company FASTRAK Late Model division it was point leader Donnie Dotson snaring his 4th win of the season. Dotson of West Union, WV would lead Brandon Weigle, last race winner AJ Spagnoula, Logan Hitt and Ryan Hare across the line.
It was all Marietta, Ohio's Lance Weppler once again picking up his sixth win of the season in the Middlebourne Galaxy Food Center Sportmod division. Weppler would turn back challenges from newcomer Larry Holbrook, Brandon McGrady, Mitch Ward and Wesley Reed.
Jason Frazier would notch his second win in a row in the Bullring Bomber feature over Bill Doll and Jake Tidd.
The kids of the Phillips Drug MWRA Mini Wedges would kick the evening off and in the Junior division it was Cruz Thomas strutting his throwback wrap in honor of his 'Pap' Robbie Thomas and parking the 'Taz' #7 in the West Virginia University of Parkersburg Victory Lane. Following Thomas was Leah Brightwell and Bryson Roberts. In the Senior division it was Wyatt Demoss grabbing his first ever feature win ahead of Jake Casto and point leader Carson Thomas.
Congratulations to Bill Childers, Pat Herrick, Jim & Dolly Newkirk, Bird Wilson, Mike Balzano, Robbie Thomas, Ed Probst, Ron Conley, Deak Parsons, Keith Rush and Gary Midcap for your support and achievements over the years in making the Tyler County Speedway a success and thank you to all those that shared in and supported our Bullring of Honor celebration.
Be sure to join us next Saturday Night, August 21st as the Tyler County Speedway will play host to its last regular season race before taking a week off to prepare for the 53rd Annual Hillbilly 100 weekend. On the card next Saturday will be the Season Championship in all classes along with Hillbilly Qualifiers.
Tyler County Speedway Saturday Night, August 14th Feature Results:
Sigler Fabrication EDGE Hotmods presented by Poske Performance Parts Workin Man World Championship Feature: Daniel Muldrew, Brian Probst, Tom Sigler, Steve Magyar, Logan Reed, Jamie Thomas, Santino Loretta, Jeff Gorrell, Lou Ennis, Josalyn Hibbard, Tyler Spencer, Dave Mackey, Makenzie Dotson, Caleb Thomas, Michael Simpson, Eddie Probst, Crash Craddock, Kevin Dotson, DNQ: Allen Clark, JJ Arnold, BJ Dennis, Michael Thomas, Tripp Perine, Michael Lanham, DNS Josh Sigler, Casey Richards, James Schnegg, Zack Robinson
J&R Excavating Super Late Models presented by Midcap Land and Timber Feature: Daniel Hill, Shawn Jett, Brian Baumberger, Henry Hornsby, Tyler Stutler, Steve Weigle, Shane Hitt, Travis Brown, Freddy Carpenter, Nick Corbitt, Derek Doll, Cody Brightwell, Michael Robinson, Derek Stefanick
Jenkins Auto Parts UMP Modified Feature: Brayden Berry, Cody Brightwell, Eddie Carrier, Chad Smith, Doug Carson, Kenny Johnson, Randy Bauknecht, Paul Baker, Travis Thomas, Jamie McCloud, Kurt Rogers, Ryan Jones, Justin Hart, Jay Hearn, JJ Beimesiter, Danny Thomas, DNS Andrew McCloud
Middlebourne Galaxy Food Center Sportmod Feature: Lance Weppler, Larry Holbrook, Brandon McGrady, Mitch Ward, Wesley Reed, Sonny Leek, Steven Dotson, Randy Bise, Scott Robinson, CJ Dotson, Jacob Wheeler, Russell Murphy, Roland Fulmer, Justin Robinson, DNS Dave Wright, James Swenskie, Randy Kerns, Jason Todd, Cameron Miller
Appalachian Mineral Title Company FASTRAK Late Model Feature: Donnie Dotson, Brandon Weigle, AJ Spagnuola, Logan Hitt, Ryan Hare, Lucas McDonald, Ryan Payne, Troy Frazier, Jim Gray, Geoge Casto III, Hayden Jacobs
Bullring Bomber Feature: Jason Frazier, Bill Doll, Jake Tidd, Mike Todd, Michael Frazier, Tim Spencer, Mike Mason, Tim Harlan Jr., Adam Miller, Joey Price, Mitch Eddy, Landon Swiger
Phillips Drug MWRA Junior Feature: Cruz Thomas, Leah Brightwell, Bryson Roberts, Josh Baldwin, Kyndi Glover, Coen Thomas, Erickson Smith, Bentley Thomas (Trophy Sponsor Hyre's Well & Pump Service)
Phillips Drug MWRA Senior Feature: Wyatt Demoss, Jake Casto, Carson Thomas, Natalie Hibbard, Peyton Baker, Kyler Lyons (Trophy Sponsor Hyre's Well & Pump Service)
---
Submitted By: Dan Patterson
Article Media
Back to News