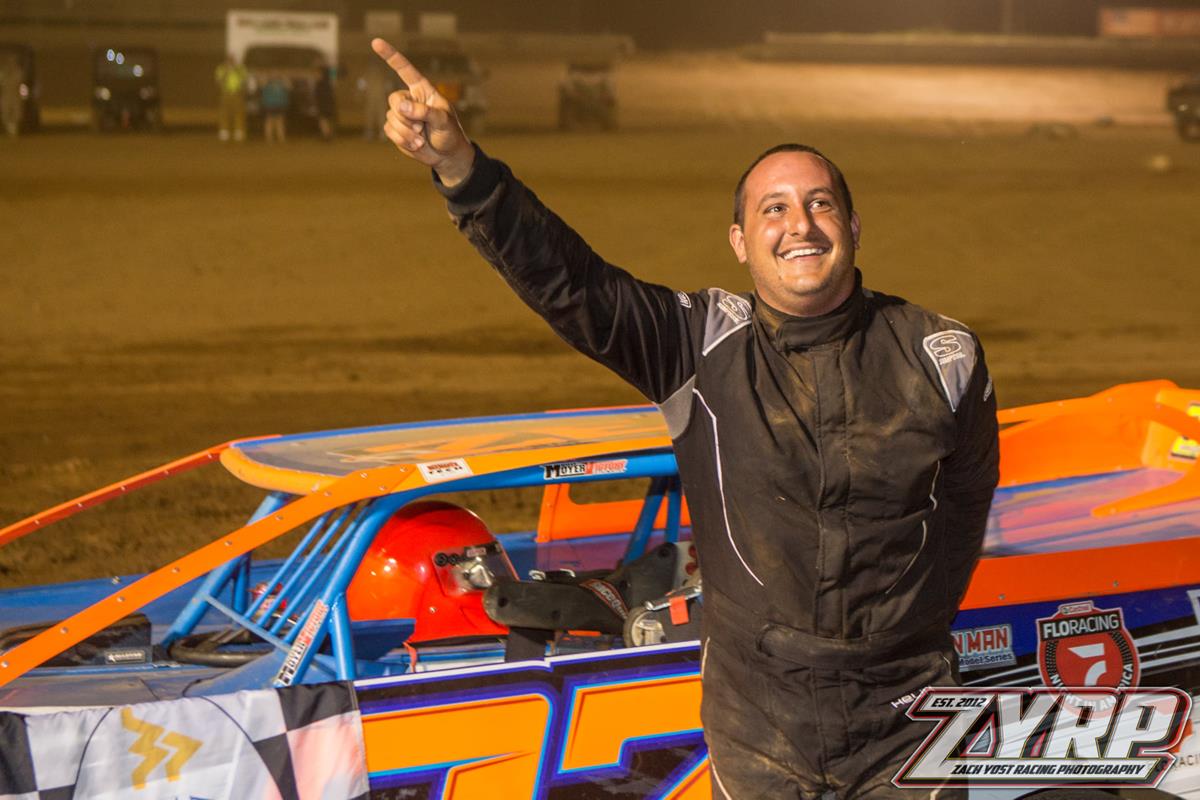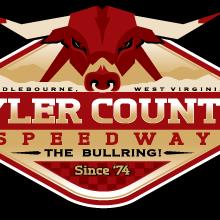 7/25/2021
Tyler County Speedway
---
New Winners Grace Victory Lane at Tyler County Speedway
The Tyler County Speedway would play host to Round #2 of the RT 2 Rumble OVS/Bullring Challenge Series on a hot and steamy Saturday evening at America's Baddest Bullring. Another fantastic night of action would welcome racers and fans alike with several new faces parking it in the West Virginia University of Parkersburg Victory Lane making for a very memorable night. Gracing the winners circle was Brian Baumberger, Donnie Dotson, Danny Thomas, Lou Ennis, Pat Garrett, Bill Doll, Leah Brightwell and Carson Thomas.
In a night where the 'Bullring' would play host to several new feature winners no story was more enjoyable to witness than seeing Brian Baumberger claim his first feature win in the Super Late Model division. A track favorite and loyal competitor who has been close on many occasions would finally park his sharp looking #32 in victory lane to a very appreciate crowd. A great race throughout, and at the early stages it was Baumberger applying pressure to early race leader Derek Doll. At the races midpoint the leader would loop his machine in turn four turning the point over to Baumberger. Once out front Baumberger would stay poised hitting his marks lap after lap and hold off a severe challenge by perennial winner Shawn Jett to secure the popular victory. Baumberger would pilot the Greg Baumberger owned Accu-Force Shock Service/ Tye Twarog Racing/ Glessner Group/ Billy Moyer Victory Circle race car and would lead Jett, Doll, Steve Weigle and Travis Brown to the payout window.
Staying on theme, Friendly, WV's Danny Thomas would put his #7 machine in the West Virginia University of Parkersburg Victory lane for the first time in the Jenkins Auto Parts UMP Modified division. A perennial track champion and winner in other classes, Thomas would be fast all night long in the Dew Drop Inn/ Wable Ford/ Jenkins Auto Parts/ FSC Stealth machine and would hold off a hard charging Cody Brightwell at the stripe for the win. Thomas would vault to the lead early and look poised for a run-away but meanwhile Brightwell was working around Paul Baker for the runner-up spot. Once Brightwell took the bridesmaid spot away from Baker he would set his sights on Thomas and would began to reel in the race long leader. With the laps winding down and Thomas entering lap traffic, Brightwell closed in a hurry and as the duo came up on traffic exiting turn 4 at the checkered it was Thomas narrowly holding off Brightwell by 00.485 at the line in a thrilling race. Following the pair across the line was Paul Baker, Brian Clegg and Sonny Conley.
Defending FASTRAK track champion and West Union's own Donnie Dotson would snare his third feature win of the season in the Appalachian Mineral Title Company FASTRAK A-Main. Dotson would maintain his current point lead with the win and following the #15 machine across the line was AJ Spagnuola, Brandon Weigle, Hayden Jacobs and Derek Rogers.
Wheeling, WV's Lou Ennis would put the Ohio Valley Awards x85 machine in victory lane in the Sigler Fabrication EDGE Hotmod class presented by Poske Performance Parts. A long time coming for Ennis as the likeable racer would hold the point in a caution marred event to secure his first win of the season ahead of Jeff Gorrell, Caleb Thomas, Brian Probst and James Schnegg.
In the Middlebourne Galaxy Food Center Sportmod division it was the 'Marshall' Pat Garrett returning to Victory Lane for the first time since back in the old street stock days after race winner Lance Weppler was DQ'd after post-race inspection. Garrett of Newport, Ohio would take the West Virginia University of Parkersburg checkered flag aboard the Mike Bush owned Mac Tools/ Century 21 of Marietta, OH/ Salon 31 black #3 ahead of Wesley Reed who continues to stalk the point, Steven Dotson, Brandon McGrady and Robin Ours rounding out the top five.
On a night of first, Bill Doll aboard the 08 machine would also notch his first win of the season in the Bullring Bomber division by holding off point leader Jake Tidd, Jason Frazier, Mike Todd and Timothy Harlan.
While it was a night filled with first time winners, Leah Brightwell wanted no part in that theme as the young racer would take her very impressive 7th win in a row in the Phillips Drug MWRA Junior Mini Wedge class over Cruz Thomas, Josh Baldwin, Kyndi Glover and Arianna Henthorn. In the MWRA Senior class it was point leader Carson Thomas besting Jake Casto and Wyatt Demoss to grow his points lead.
Be sure to join us next Saturday Night, July 31 as we kick off the 58th Annual Tyler County Fair highlighted by the 9th Annual Bud Weigle Memorial in memory of long-time track promoter, paying $2,000 to win for Late Models plus racing in all other classes.
Tyler County Speedway Results, Saturday Night, July 24th
J&R Excavating Super Late Model Feature: Brian Baumberger, Shawn Jett, Derek Doll, Steve Weigle, Travis Brown, Cody Rogers, Derek Stefanek, Danny Ruza, Tyler Stutler
Jenkins Auto Parts UMP Modified Feature: Danny Thomas, Cody Brightwell, Paul Baker, Brian Clegg, Sonny Conley, Travis Thomas, Randy Bise, Brad Stone, Codi Eaton, Jeff Fornash, Ryan Jones, James Swenskie, Robin Lashley, Tom Sigler, Cody Henthorn, Chad Smith, DNS Doug Carson
Appalachian Mineral Title Company FASTRAK Late Model Feature: Donnie Dotson, AJ Spagnuola, Brandon Weigle, Hayden Jacobs, Derek Rogers, Sparky Davidson, Ryan Hare, George Casto, Lucas McDonald, Nick Corbitt
Middlebourne Galaxy Food Center Sportmod Feature: Pat Garrett, Wesley Reed, Steven Dotson, Brandon McGrady, Robin Ours, Mitch Ward, Dave Wright, Sonny Leek, Tommy Powell, Bill Sigmon, Jacob Wheeler, Michael Thomas, CJ Dotson, Charles Nixon, DNS Troy Frazier, Justin Robinson DQ Lance Weppler
Sigler Fabrication EDGE Hotmods presented by Poske Performance Parts Feature: Lou Ennis, Jeff Gorrell, Caleb Thomas, Brian Probst, James Schnegg, Eddie Probst, Josalyn Hibbard, Mickey Thorpe, Mackenzie Dotson, JJ Arnold, Josh Sigler, Santino Loretta, Steve Magyar, Jamie Thomas, James Magyar, BJ Dennis, Tyler Spencer, Allen Clark, Andy Taylor, Daniel Muldrew, DNS Mickey Thorpe Jr., Michael Lanham
Bullring Bomber Feature: Bill Doll, Jake Tidd, Jason Frazier, Mike Todd, Timothy Harlan, Dalton Goode, Landon Swiger, Mitch Eddy, Matthew Borman, Tim Coberly, DNS Eric Tidd
Phillips Drug MWRA Mini Wedge Junior Feature: Leah Brightwell, Cruz Thomas, Josh Baldwin, Kyndi Glover, Arianna Henthorn, Bentley Thomas, Owen Sabota, Bryson Roberts, Erickson Smith
Phillips Drug MWRA Mini Wedge Senior Feature: Carson Thomas, Jake Casto, Wyatt Demoss, Peyton Baker, Natalie Hibbard (Trophy Sponsor Hare Racing)
---
Submitted By: Dan Patterson
Article Media
Back to News