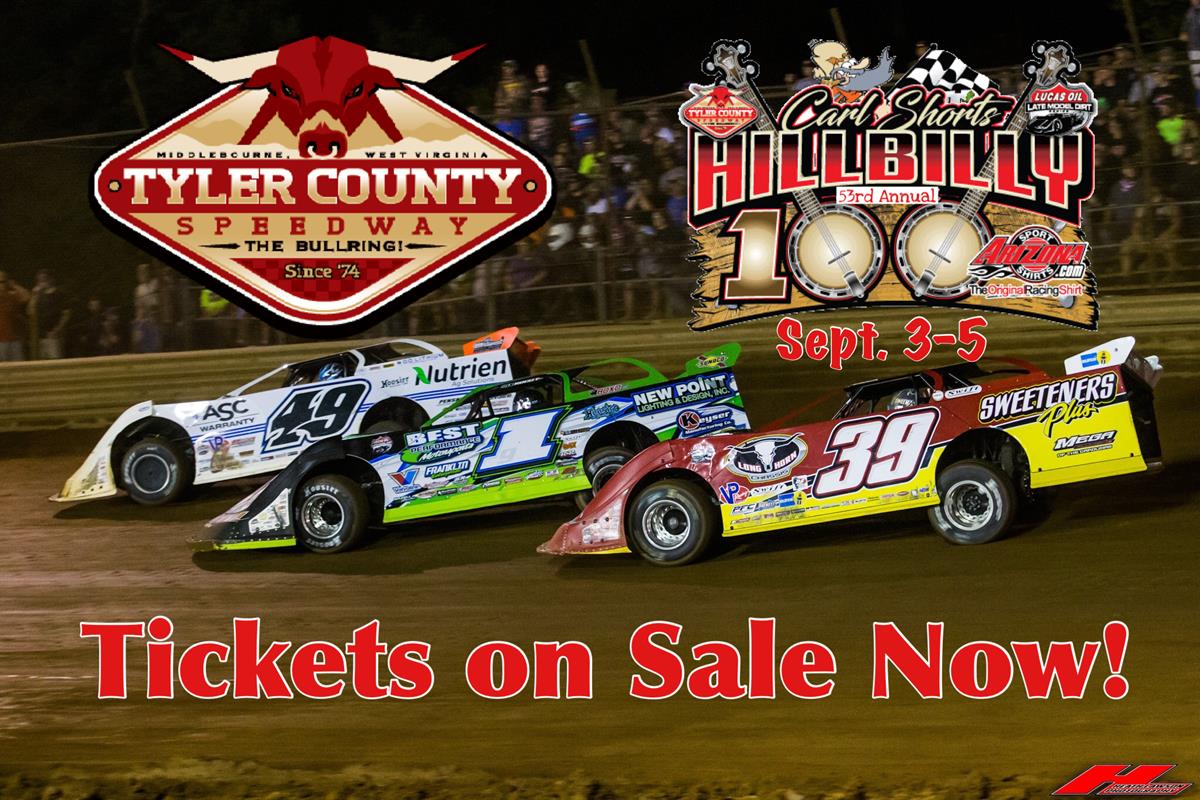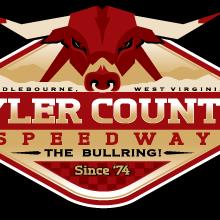 7/21/2021
Tyler County Speedway
---
53rd Annual 'Hillbilly Hundred' Advance Tickets and Reserve Seats on Sale Now
(Middlebourne, WV) After a tumultuous 2020 racing season that left many of racing's 'Crown Jewels' on the shelf due to the Covid Pandemic, the 'Granddaddy' of all dirt late model majors, Carl Short's 53rd Annual Hillbilly Hundred returns once again at America's Baddest Bullring this Labor Day Weekend, Sept. 3-5th.
As is tradition and as the summer starts to wind down in the great state of West Virginia it can only mean one thing that the Mountain State is about to welcome many race fans back home to the tradition laden weekend known as the Hillbilly Hundred. It'll be almost heaven as the Tyler County Speedway will roll out some West Virginia hospitality for the states biggest Motorsports event at one of the raciest joints in all of motorsports.
Make plans to attend the oldest dirt late model major event as Hall of Fame Promoter Carl Short and the Hometown Racing Association, promoters of the Tyler County Speedway, in conjunction with the Lucas Oil Dirt Car Series and Arizona Sport Shirts are excited to present the 'Granddaddy' of all Dirt Late Model major events, the 53rd Hillbilly Hundred this Labor Day Weekend.
The stars of the nationally known and premier traveling circuit the Lucas Oil Dirt Car Racing Series will return to the Tyler County Speedway with $30,000 dollars and a one-of-a-kind championship trophy going to the winner of the 53rd Annual Hillbilly 100. The 2019 version would see local Josh Richards of nearby Shinnston, WV catapult his name into the record books by securing his first Hillbilly title in front of the hometown crowd.
While the campground will be open all week long, the action will kick off in earnest on Thursday Night, Sept. 2nd with early Pit Parking and Will Call/ Tickets on Sale from 4-7pm along with plenty of Hillbilly extra curriculars happening throughout the campground. The on-track action gets underway on Friday Night, Sept. 3rd with the FASTRAK Late Models taking center stage in a $3,000 to win 'Brown Jug 30' complete show. Plus the UMP Modified will run a complete show for $1,200 to win in a 'White Lightnin' tune-up race along with the Bullring Bombers running a complete show in the running of the 'Ridge Runner 20'. Plus its preliminary night for the EDGE Hotmods and Sportmods along with Open Practice for the Super Late Models and Steel Block Late Models at the conclusion of Friday Nights action.
On Saturday Night, September 4th the legendary 'Hillbilly 50' will highlight the action with a $5,000 first prize on the line in the 50 lapper plus a guaranteed starting spot in the Hillbilly Hundred. Plus the best UMP Modified racers will return for a $5,000 payday in the 'White Lightnin' 35'. Plus rounding out Saturday's program will be a complete show of SCDRA 4 Cylinders paying $700 to win in the 'Sour Mash 20' along with Lil' Hilly 20 and 'Moonshiner 20' feature events for the EDGE Hotmods and Sportmods.
Then on Sunday, September 5th the 53rd edition of the Hillbilly Hundred will take center stage featuring the Lucas Oil Dirt Car Series paying $30,000 to win along with the Ohio Valley Roofers Legends Car Series 'Billy Bob 20' complete show.
Be a part of West Virginia's biggest motorsports event and the most talked about weekend of the racing season. You can assure that you'll be a part of the excitement by purchasing your tickets in advance, and save money by doing so! Featuring one of the best deals in all motorsports as advance 3-day ticket prices are just $60 for adults, with children 7-12 years of age only $15 (Kids age 6 & under are admitted free!) Advance three day pit passes are just $75. Secure online ticket sales are available through the Tyler County Speedway website @ www.tylercountyspeedwayonline.com or contact the speedway ticket office at 304-771-5661.
Save Money by getting your 2021 Hillbilly Tickets in Advance: 3 day GA just $60, 3 day Kids (7-12) just $15 with 3 day Pit Passes just $75!
Gate Prices: Friday, Sept. 3: $15 general admission adults, $5 youth (ages 7-12); FREE kids (ages 6-and-under); $30 pit pass, $65 3-day general admission; $15 3-day youth (ages 7-12); $80 3-day pit pass.
Saturday, Sept. 4: $25 general admission adults, $5 youth (ages 7-12); FREE kids (ages 6-and-under); $40 pit pass
Sunday, Sept. 5: $35 general admission adults, $10 youth (ages 7-12); FREE kids (ages 6-and-under); $50 pit pass
Reserve seating is also available as the top 4 rows of the grandstands can be purchased for the weekend at just $10 for the weekend on top of ticket price. Race fans can reserve their seat or purchase tickets with credit card by contacting the Tyler County Speedway ticket office at 304-771-5661. Checks or money orders may be sent to Tyler County Speedway, PO Box 475, Middlebourne, WV 26149 as well.
Make sure you're a part of the history & excitement as the Tyler County Speedway celebrates 53 years of Mountain State Motorsports tradition and excellence with the running of the 2021 'Hillbilly Hundred'!
---
Submitted By: Dan Patterson
Back to News