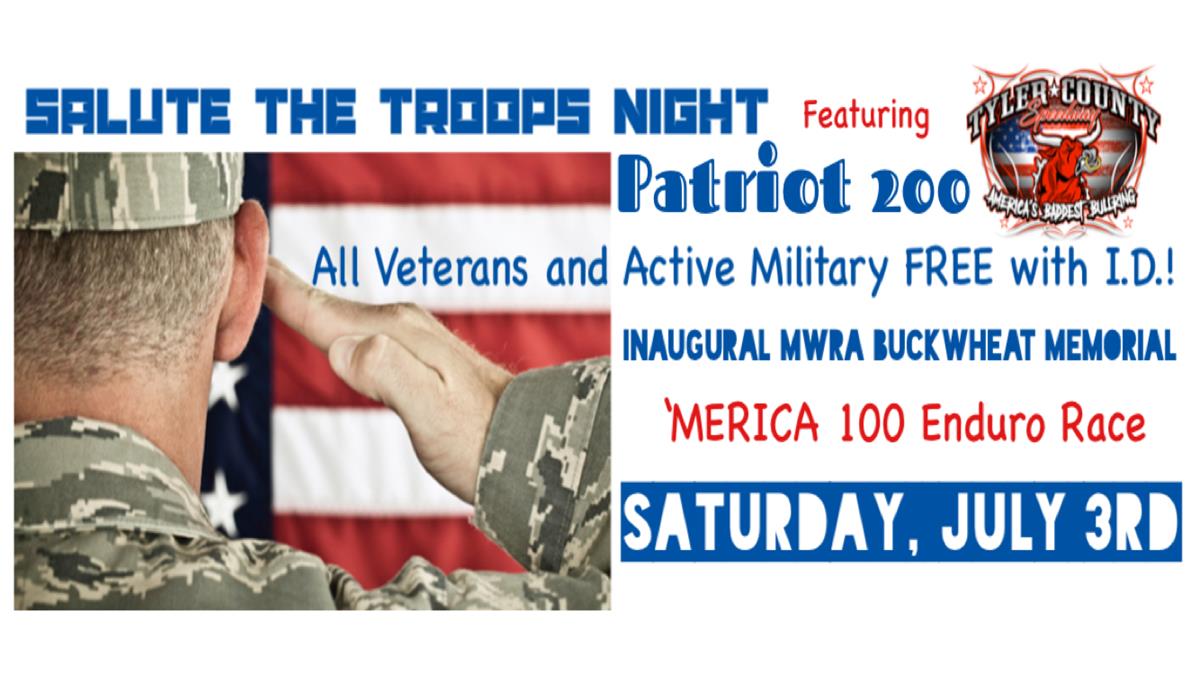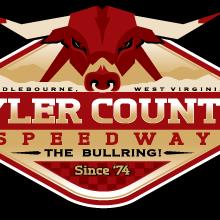 7/2/2021
Tyler County Speedway
---
Salute the Troops 'Patriot 200' Up Next at America's Baddest Bullring
After a packed house converged on Tyler County Speedway last Saturday Night for the Monster Truck Invasion, the Bullring will look to get back to another huge night of short track racing entertainment this week. On the docket this Saturday Night, July 3rd will be the 'Salute the Troops' Night featuring FREE admission to all Veterans and Active Military with I.D. Just our way of showing our support to those brave men and women who go above and beyond keeping us safe so that we can enjoy our weekends sitting at a dirt track.
The always popular 'Patriot 200' will highlight the evening featuring over 200 Feature Laps in all your favorite Tyler County Speedway divisions including the J&R Excavating Super Late Models presented by Midcap Land and Timber, Appalachian Mineral Title Company FASTRAK Late Models, Jenkins Auto Parts UMP Modifieds, Middlebourne Galaxy Food Center Sportmods, Sigler Fabrication EDGE Hotmods presented by Poske Performance Parts, Bullring Bombers, Phillips Drug MWRA Mini Wedges and the return of the Street Stocks back to the 'Bullring' as part of the Qualifying/Feature Only Format.
Also on the can't miss Independence Weekend slate of action and kicking off the action will be the Inaugural 'Buckwheat' Memorial for the Phillips Drug MWRA Mini Wedges in honor of the late PJ 'Buckwheat' Wright. A former Mini Wedge racer and great friend of the Tyler County Speedway and many that support it weekly.
We aren't done yet as we close the show with the always fun and entertaining Enduro Race as we present the 'MERICA 100 $500 to win Enduro that will keep the fans on the edge of their seat.
About Tyler County Speedway: Gates open at 4pm with Mini Wedges getting underway at 6pm, Drivers Meeting 6:30pm and Hotlap/Qualifying getting underway at 6:45pm. General admission is $15 with kids 10 and under FREE with Pit Admission priced at $30 with kids 5 and under FREE.
Visit the official Tyler County Speedway website at www.tylercountyspeedwayonline.com for all the news, schedule and ticket info for the season and 'LIKE' us on Facebook at www.facebook.com/thebullringwv/, follow us on Twitter @The_Bullring. Contact the track by calling 304-771-5661 or 304-771-6874 or on raceday @ 304-758-2660.
---
Submitted By: Dan Patterson
Back to News