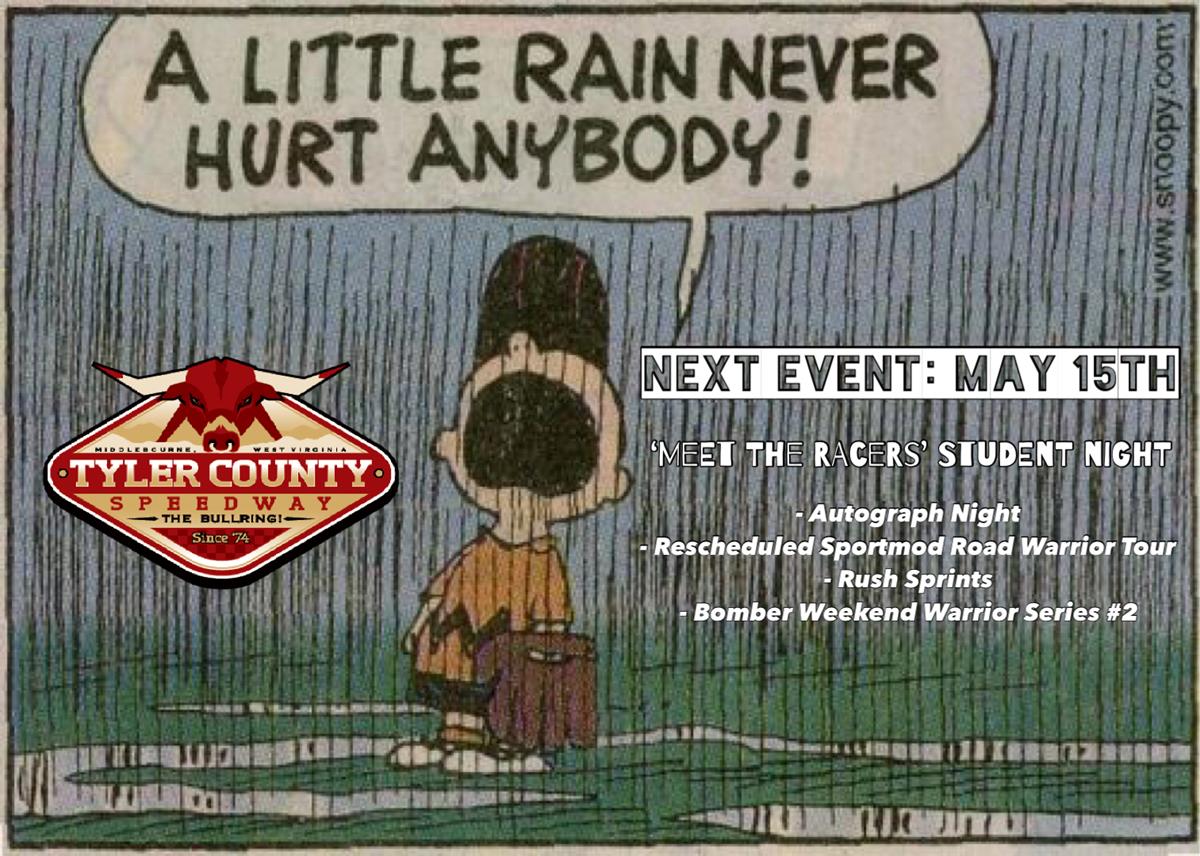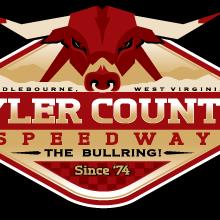 5/8/2021
Tyler County Speedway
---
Weeklong Wet Weather Puts Damper on Bullring
After a week filled with more rain than the entire month of April, the management of America's Baddest Bullring have unfortunately made the difficult decision to cancel the racing action scheduled for Saturday Night, May 8th.
With over three inches of rain falling throughout the week leaving saturated grounds and persistent rain showers on Friday and lingering into the overnight hours, have left track staff unable to properly prep the racing surface to the standards of Tyler County Speedway.
Also with unseasonably cool temps forecasted for Saturday thus not allowing for proper drying of the facility the Tyler County Speedway felt it was best to cancel the first leg of the RT2 Rumble scheduled with the Ohio Valley Speedway. The next scheduled RT2 Rumble weekend is scheduled for July 23-24th. The opening race of the Sportmod Road Warrior Tour will now take the green flag next Saturday Night, May 15th.
Be sure to join us next Saturday Night, May 15th for 'Meet the Racers' Student Night as we celebrate the next generation of race fans as the Bullring offers FREE admission to all high school and college students with school I.D. Plus be sure to bring your sharpie, camera and smile as fans are welcome to the frontstretch at intermission for 'Meet the Racer' Autograph Night'.
Also a full night of action will await in the J&R Excavating Super Late Models presented by Midcap Land and Timber, Appalachian Mineral Title Company FASTRAK Late Models, Jenkins Auto Parts UMP Modifieds, the rescheduled Middlebourne Galaxy $800 to win Road Warrior Tour for Sportmods, Sigler Fabrication EDGE Hotmods presented by Poske Performance Parts, Round #2 of the Bullring Bomber Weekend Warrior Series paying $500 to win and the last visit in 2021 by the RUSH Sprints.
Visit the official Tyler County Speedway website at www.tylercountyspeedwayonline.com for all the news, schedule and ticket info for the season and 'LIKE' us on Facebook at www.facebook.com/thebullringwv/, follow us on Twitter @The_Bullring. Contact the track by calling 304-771-5661 or 304-771-6874 or on raceday @ 304-758-2660.
---
Submitted By: Dan Patterson
Back to News