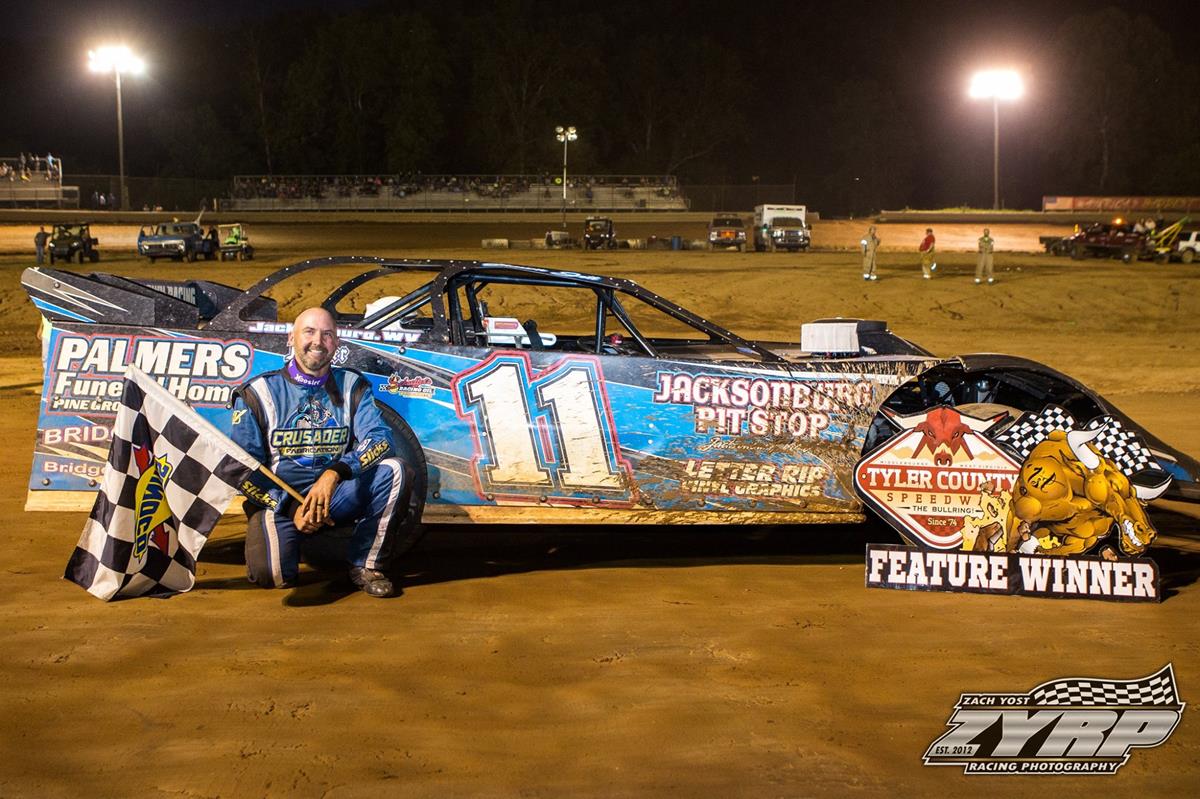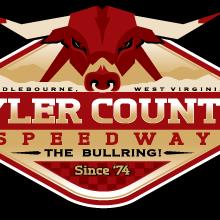 6/21/2020
Tyler County Speedway
---
Shawn Jett Snares First Super Late Model Feature Win at Tyler County Speedway
Another beautiful night at the 'Bullring' would see 118 racers head to Middlebourne, WV along with another great crowd and lots of great racing action presented by the Hometown Racing Association. Those gracing the West Virginia University of Parkersburg Victory Lane included Shawn Jett, Daniel Hill, Kyle Lukon, Danny Thomas, Kendall Hodge, Tanya Colvin, Jake and George Casto.
In the J&R Excavating Super Late Model division it would be multi time track champion Shawn Jett picking up his first ever Super Late Model feature event. Jett a winner in just about every division at the Tyler County Speedway over the years from Pure Stocks, FASTRAK Late Models and most recently UMP Modifieds made the jump in 2020 to the Super Late division aboard the Sam Irvin owned Rocket. Five races in and the Salem, WV racer was on a rail and would hold off a hard charging Derek Doll at the line to secure the win. Jett pilots the Pit Stop/ Palmers Funeral Home/ J.A.M Oil & Gas/ Irvin XR1 Rocket #11 and would take the 'Phillips Drug' Checkered Flag ahead of an impressive field including Doll, Shane Hitt, Colten Burdette and newcomer Zach Hill. Another stout field of late models at the 'Bullring' and Jett would become the 5th different feature winner in five events during the 2020 season.
Another hefty field of 23 UMP Modifieds would see Daniel Hill continue to call the West Virginia University of Parkersburg Victory Lane home as the Morgantown, WV racer would park it for the 3rd time this season. A strong run by the 10s of Chad Smith would cross the line in the 'Bridesmaid' position while KC Burdette would see his four race win streak snapped but would still see a solid third place run. Rounding out the top five were Cody Brightwell and Kyle Bond.
Kyle Lukon of Burgettstown, Pennsylvania would go back to back in the Appalachian Mineral Title Company FASTRAK division. The talented racer aboard the Phil Lukon owned #184 Rocket sponsored by Race 1/ Frankland/ Tru-Form would arrive in the West Virginia University of Parkersburg Victory lane ahead of AJ Spagnuola, Kyle Thomas, Brandon Weigle and Donnie Dotson.
The 'Flattop Flyer' Kendall Hodge would make a clean sweep on the weekend by grabbing feature wins at Ohio Valley Speedway on Friday and the 'Bullring' on Saturday. The likeable Davisville, WV racer would snare the Phillips Drug Checkered Flag ahead of a feisty Rex Frohnapfel, Matt Yost, John Thomas and Tyler Parrish.
Defending track champion and last weeks feature winner Danny Thomas of Friendly, WV would nab the Sigler Fabrication EDGE Hotmod main event presented by Poske Performance Parts. Thomas would wrestle the early lead away from Brian Probst and go on to the win driving the Wable Ford/ Dew Drop Inn/ CPS General Contractor/ JW Tire/ Precision Tree Service & Dumpster Rentals/ Fred's Repair 7JR. Following Thomas across the stripe was Brandon McGrady, Steve Magyar, Thomas Sigler and Daniel Muldrew.
Tanya Colvin of Pennsboro, WV would secure her first Outlaw Detailing and Auto Bullring Bomber main event of the season. The talented Colvin would shake off the early season gremlins and would cruise to the win in the #T47 Mick Baker tuned Chevy Cobalt ahead of an ever growing division of 15 racers with a racey Kenny Harris and previous feature winner James Close rounding out the top three.
It was a Casto Brothers sweep in the Jenkins Auto Parts MWRA Mini Wedges. A nice field of fourteen youngsters would be split up into two groups with the younger Jake Casto taking the checkers ahead of Cruz Thomas and Karsyn Powell in the Junior class, while older brother George would take the win over a very fast Allen Clark and Keith Powell in the Senior division.
Join us next Saturday Night, June 27th for another exciting action packed night of racing. The originally scheduled Monster Truck show for next weekend has been rescheduled for Late July or Mid-August. Look for a revised 2020 Tyler County Speedway schedule this week.
Tyler County Speedway, Saturday June 20 Feature Results
J&R Excavating Super Late Model Feature presented by Midcap Land and Timber: Shawn Jett, Derek Doll, Shane Hitt, Colten Burdette, Zach Hill, Henry Hornsby, Todd Brennan, Logan Hitt, Sonny Conley, Chad Smith, TJ Enos, Danny Ruza, Steve Weigle, Tyler Jones, Lance Elson, Kyle Thomas
Advance Auto Parts UMP Modified Feature: Daniel Hill, Chad Smith, KC Burdette, Cody Brightwell, Kyle Bond, Paul Baker, Randy Bauknecht, Chad Roush, Jamie McCloud, Jeff Fornash, Travis Thomas, Cody Henthorn, Ronnie Schmitt, Randy Kerns, Dusty Boley, Ryan Jones, Doug Carson, Brock Moskey, DNS Charlie McCloud, Justin Hart, Jim Ruckman, Kurt Rogers, Codi Eaton
Appalachian Mineral Title Company FASTRAK Late Model Feature: Kyle Lukon, AJ Spagnuola, Kyle Thomas, Brandon Weigle, Donnie Dotson, Troy Frazier, Lucas McDonald, Ryan Hare, Tiffany Jackson, Thomas McCarty, Caiden Black, Jarrett Spencer, Cyle West, Hayden Jacobs, Sparky Davisson, Trey Watson, Ryan Payne, Tyler Riggs, Scott West
Sportmod Feature: Kendall Hodge, Rex Frohnapfel, Matt Yost, John Thomas, Tyler Parrish, Chris Thomas, Tim Siddle, DNS Heath Schultz
Sigler Fabrication EDGE Hotmods presented by Poske Performance Parts Feature: Danny Thomas, Brandon McGrady, Steve Magyar, Thomas Sigler, Daniel Muldrew, Josh Sigler, Jeff Gorrell, Jamie Thomas, Lou Ennis, Mike Harter, Josalyn Hibbard, Robert Jones, Ron Craddock, Logan Reed, Kevin Dotson, Tyler Spencer, Sonny Leek, JJ Arnold, Zack Robinson, DNS James Schnegg
Outlaw Detailing and Auto Feature: Tanya Colvin, Kenny Harris, James Close, Landon Swiger, Billy Pratt, Eric Tidd, Brett Weekley, Tim Coberly, Dalton Goode, Ethan Drain, Michael Pratt, Sierra Gutierrez, Michael Frazier, DNS Katelyn Tidd, Anthony Hamner
Jenkins Auto Parts Junior MWRA Feature: Jake Casto, Cruz Thomas, Karsyn Powell, Wyatt Demoss, Kyler Lyons, Remington Demoss, Arianna Henthorn, Peyton Baker
Jenkins Auto Parts Senior MWRA Feature: George Casto, Allen Clark, Keith Powell, Carson Thomas, Natalie Hibbard, Ralen Arnold
No slides found, please add at least one Slide Template to the choosen language.
Tyler County Speedway Photos
---
Back to News