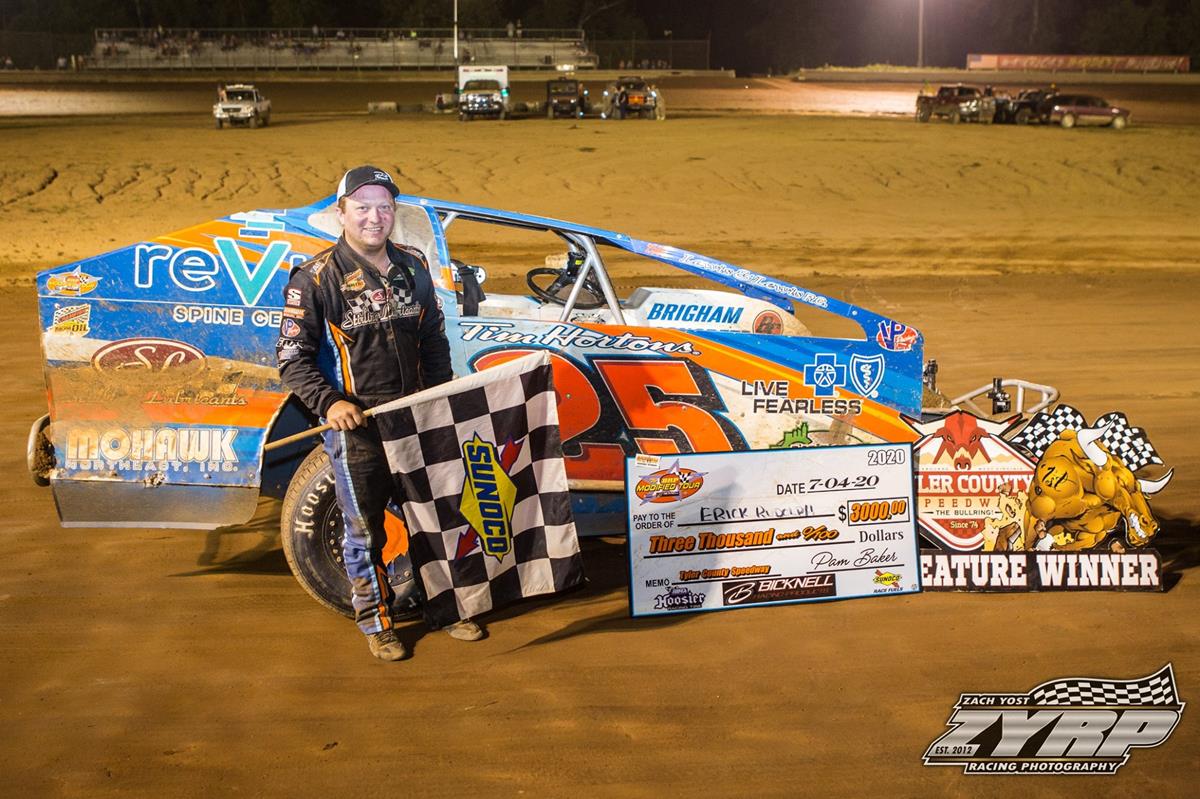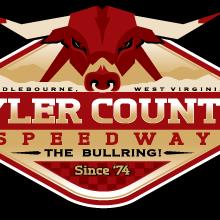 7/6/2020
Tyler County Speedway
---
Erick Rudolph Wins BRP Big Block Modified Tour Event at Tyler County Speedway
Travis Brown, Doug Carson, Garrett Paugh, Daniel Muldrew, Peyton Baker Win First of Season
A wild and crazy night at the 'Bullring' that would see sweltering heat, a power outage and full moon fever all in full force. But through it all some great racing would see Pennsylvania's BRP Big Block Modified Tour roll into town for their 2020 lone appearance in the Mountain State. Twenty six teams would swell the pit area with a familiar face gracing the West Virginia University of Parkersburg Victory Lane. Erick Rudolph of Ransomville, NY would pick up his third career BRP Big Block win at Tyler County Speedway. Rudolph would follow up his Friday Night win at the Lernerville Speedway with a drive from the 7th starting position and hold off a last lap shootout with Rex King Jr. to secure the win. Following Rudolph and King Jr. across the line was Rex King Sr., Jim Rasey and Brad Rapp.
In an emotional roller coaster of a season for the Irvin Brown Race Team, Super Late Model driver Travis Brown would be back on the track for the first time after a nasty crash early in the season. There would be no rust as Brown would debut his new 'In Memory of Garrett Watson' ride and park the Jacksonburg Pit Stop/ Boston Hill Angus/ Palmers/ Octane/ Hayhurst Law/ Colonial Life/ Hometown Gas #31199 to the Phillips Drug Checkered Flag in the J&R Excavating Super Late Model main event presented by Midcap Land and Timber. An emotional win as the likeable racer from Jacksonburg, WV would pick up his first win of the season and become the 6th different Super Late Model winner this year. A tremendous battle for 2nd place would wage the entire races duration with Steve Weigle eventually claiming runner-up credentials ahead of Derek Doll, Kyle Thomas and Shawn Jett.
In the Advance Auto Parts UMP Modified main event Doug Carson of Sistersville, WV would park his 22DC machine in the West Virginia University of Parkersburg Victory Lane for his first career feature win at the Tyler County Speedway. It would not come easy as the driver of the Carson Motorsports entry would vault from his front row starting spot and drive a very steady mistake free race on his way to holding off Chad Smith, Rich Michael Jr., teammate Cody Brightwell and Jeff Fornash.
First time visitor this year, Garrett Paugh of Elkins, WV aboard the Roys RV Supercenter/ Romans Trucking & Excavating/ Talbott Funeral Home/ Jones Fire Sales XR1 Rocket would notch the win in the Appalachian Mineral Title Company FASTRAK Late Model feature event. Following Paugh across the stripe was a very entertaining and cushion blasting Brandon Weigle, Hayden Jacobs, Kyle Thomas and Trey Watson.
The 'Flattop Flyer' Kendall Hodge would snare his 3rd feature win of the season in the Sportmod division over Matt Yost and Shawn Vanhorn.
A strong field of 26 Sigler Fabrication EDGE Hotmods presented by Poske Performance Parts would see challenging feature event conditions for the division as the pesky fog would roll in during the main event. Picking up the shortened feature win would be Daniel Muldrew of Fairmont, WV driver of the #21m Ohio Valley Awards machine besting Steve Magyar, Danny Thomas, Kevin Dotson and Logan Reed.
The fog would roll in and take the checkered flag before the Bullring Bomber main event, setting up a Double Feature for the ever-growing division next Saturday Night.
The Little League of Auto Racing would kick off the night and in the Jenkins Auto Parts MWRA Junior Mini Wedge feature it would be Peyton Baker picking up his first ever feature win. Following Baker to the trophy line was Jake Casto and Kyler Lyons. In the Jenkins Auto Parts Senior class the familiar George Casto would win ahead of Carson Thomas and Keith Powell.
Be sure to join us next Saturday Night, July 11th as the Tyler County Speedway will host the RUSH Sprint Car Series along with racing in all other classes.
Tyler County Speedway, July 4th Feature Results
BRP Big Block Modified Feature Finish: Erick Rudolph, Rex King Jr., Rex King Sr., Jim Rasey, Brad Rapp, Chad Brachmann, Garrett Krummert, Dave Murdick, Phil Vigneri III, Rick Regalski, Ricky Richner, Chris Rudolph, Paul Kit, Ralph McBride, Mark Frankhouser, Rodney Beltz, Randy Chronister, Steve Slater, Ryan Riffe, Kevin Hoffman, Steve Barr, Tom Glenn, Eric Gabany, Shawn Kozar, Jeremiah Shingledecker, Dillon Barr
J&R Excavating Super Late Model presented by Midcap Land and Timber Feature Finish: Travis Brown, Steve Weigle, Derek Doll, Kyle Thomas, Shawn Jett, Brian Baumberger, Lance Elson, Derek Stefanik, Tyler Jones, Kurt Burge, DNS Chuck Kimble
Appalachian Mineral Title Company FASTRAK Feature Finish: Garrett Paugh, Brandon Weigle, Hayden Jacobs, Kyle Thomas, Trey Watson, Tyler Riggs, Donnie Dotson, Ryan Hare, Wylie Ford, Thomas McCarty, Jarrett Spencer, Kyle Lukon, Scott West, DNS Logan Zarin, Ryan Payne, Cyle West
Advance Auto Parts UMP Modified Feature Finish: Doug Carson, Chad Smith, Rich Michael, Cody Brightwell, Jeff Fornash, Travis Thomas, Brian Clegg, Cody Henthorn, Codi Eaton, Brad Clark, Jim Ruckman, Kyle Lukon
Sigler Fabrication EDGE Hotmod presented by Poske Performance Parts Feature Finish: Daniel Muldrew, Steve Magyar, Danny Thomas, Kevin Dotson, Logan Reed, Josh Sigler, Tim Pennell, Jeff Gorrell, Thomas Sigler, Dave Mackey, Mike Harter, Brian Shaffer, James Schnegg, Jamie Thomas, Brian Probst, Mackenzie Dotson, Lou Ennis, Kenny Isner, DNS Tyler Spencer, Crash Craddock, Josalyn Hibbard, Brandon McGrady, Mickey Thorp, Santino Loretta, Sonny Leek
Sportmod Feature Finish: Kendall Hodge, Matt Yost, Shawn Vanhorn, Mike Todd, Chris Thomas
Outlaw Auto Detailing and Auto Bullring Bomber Feature (Fogged Out) Double Features 7/11/20, starting lineup: Timothy Harlan, Billy Bunnell, CJ Dotson, Jason Frazier, Michael Frazier, Tim Coberly, Katelyn Tidd, Dalton Goode, Scott Critchfield, Eric Tidd, Tim Harlan, Sierra Gutierrez, Anthony Hamner, Billy Pratt, Tanya Colvin, Brett Weekley
Jenkins Auto Parts MWRA Mini Wedge Junior Feature Finish: Peyton Baker, Jake Casto, Kyler Lyons, Bryson Roberts, Cruz Thomas, Karsyn Powell, Arianna Henthorn, Bentley Thomas
Jenkins Auto Parts MWRA Mini Wedge Senior Feature Finish: George Casto, Carson Thomas, Keith Powell, Natalie Hibbard, Allen Clark, Ralen Arnold
---
Back to News