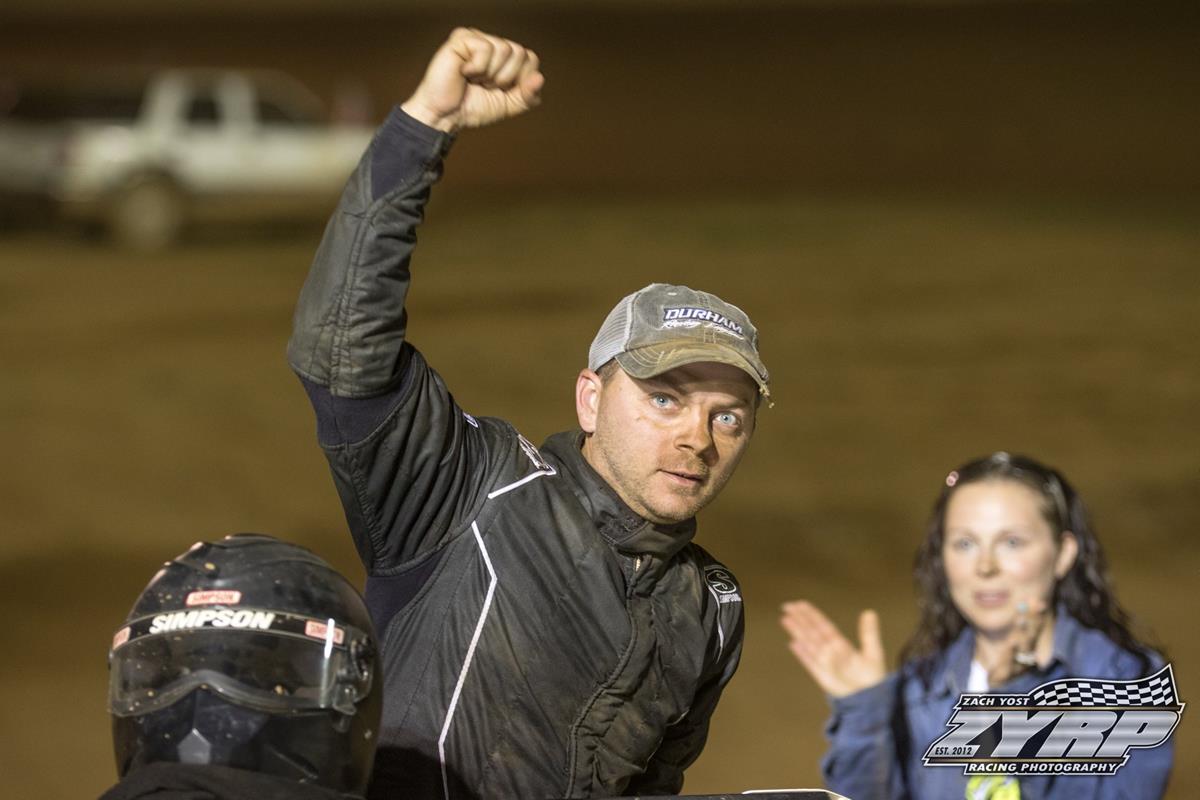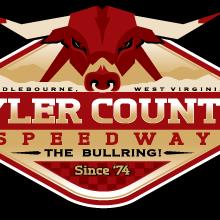 7/12/2020
Tyler County Speedway
---
Kyle Thomas Becomes 7th Different Super Late Model Winner at Tyler County Speedway
A terrific night of racing would welcome race fans back to the 'Bullring' on Saturday, July 11th. The RUSH Sprint Cars would make a stop along with the Grassroot Grand Prix for the EDGE Hotmods and Double Bullring Bomber main events would be some of the evening's highlights. An awesome racing surface and timely ran show would greet the 100 plus entries and eager fans.
Another strong field of J&R Excavating Super Late Models presented by Midcap Land and Timber would arrive at America's Baddest Bullring for battle on Saturday. In keeping with the theme of the 2020 season in the ultra-competitive division Kyle Thomas of Pennsboro, WV would pick up the popular win and become the divisions 7th different winner in as many races. It would not be easy for the defending track champion and third starting Thomas as last week's winner Travis Brown would set the early pace. Heavy pressure on Brown from Derek Doll throughout the event would see a great race up front. Meanwhile Thomas was searching the speedway for the fastest way around and would find something around the 'Bullrings' topside. As the lead trio would enter lap traffic, Thomas would blast the cushion and make a bold and winning move through traffic to go on and pick up his first trip to the West Virginia University of Parkersburg Victory Lane. Thomas is sponsored by Powell n' Son Farms/ TC Repair/ Dodd's Sporting Goods/ The Pizza Box/ Ed Wilson Manufacturing/ Hyre Well n' Pump Services/ Punisher Race Car and would be followed across the line by Derek Doll, Shawn Jett, Derek Stefanick with a great run and Sonny Conley rounding out the top five.
The RUSH Sprint Cars would make their first visit of the 2020 season to the 'Bullring'. Stoneboro, PA's Jeremy Weaver would celebrate his 19th birthday in style as the youngster would utilize an exciting last lap pass win over Gale Ruth Jr to secure his 2nd Equipment Rental Options Weekly Series victory of 2020. Weaver would pilot the Washington House/Les Frickshun/ Frankland Rear End/ H&H MFG/ Super MFG/ J&J Sauer Muscle Products/ Slippery Rock Materials/ S&W Auto/ Lakeview Fertilizer #41 to the Phillips Drug Checkered Flag over Gale Ruth Jr., Brian Woodhall, Zach Morrow and Brian Hartzell.
In the Appalachian Mineral Title Company FASTRAK Late Model division it would be Shinnston, WV's AJ Spagnuolo garnering his first Phillips Drug Checkered Flag in 2020 at the 'Bullring'. Spagnuolo drives the American Garage Door LLC/ A1 Lawn Care/ Spags Racing/ Rocket machine and would finish ahead of Kyle Lukon, Kyle Thomas, Brandon Weigle and Hayden Jacobs.
The West Virginia University of Parkersburg Victory Lane would feature a familiar face in the Advance Auto Parts UMP Modified division as Morgantown, WV's Daniel Hill would park his Bobby Hill Racing #8 machine there once again. Hill would lay claim to his 4th victory of the season ahead of Chad Smith, Cody Brightwell, Doug Carson and Kyle Lukon.
Another full house of Sigler Fabrication EDGE Hotmods would partake in the $500 to win Grassroots Grand Prix with defending track champion Danny Thomas of Friendly, WV picking up the win over Logan Reed, Ryan Payne, Steve Magyar and last week's winner Daniel Muldrew. Thomas chauffeurs the Wable Ford/ Dew Drop Inn/ CPS General Contractor/ JW Tire/ Precision Tree Service & Dumpster Rentals/ Fred's Repair LG2.
Wiley veteran Dwight Henry of Marietta, Ohio would drive the Dwight's Garage/ Jeff's Auto Repair/ Antill's Enterprises #60 Shaw car to the win in the Sportmod division. Following Henry across the stripe was Jason Ammons, Brandon Davis, Zack Barr and Mike Todd.
A pair of Outlaw Auto Detailing and Auto Bullring Bomber features would entertain race fans with Clarksburg, WV's Billy Bunnell picking up the fogged-out feature from the previous week over Tanya Colvin from the tail and Tim Coberly. In feature race #2 it was all Tanya Colvin of Pennsboro, WV capping a great night with feature win #2 on the season ahead of Bunnell and Jason Frazier.
In the MWRA Mini Wedge division it would be Carson Thomas of nearby Alma picking up his first Phillips Drug checkered flag of the summer ahead of Allen Clark and Ethan McCune. Jake Casto would grab his 4th win of the season besting the likes of Peyton Baker and Bryson Roberts across the line.
Be sure to join us next Saturday Night, July 18th as the Tyler County Speedway will present the 26th Annual Topless 50 for Super Late Models. The fan favorite event returns next Saturday Night!
Tyler County Speedway Feature Results, Saturday July 11th
J&R Excavating Super Late Models presented by Midcap Land and Timber Feature: Kyle Thomas, Derek Doll, Shawn Jett, Derek Stefanick, Sonny Conley, Steve Weigle, Brian Baumberger, Tyler Stutler, Troy Frazier, Ed Shuman, Chad Smith, Kurt Burge, Michael Robinson, Travis Brown, Donnie Dotson, Tyler Jones
Rush Sprint Car Feature: Jeremy Weaver, Gale Ruth, Brian Woodhall, Zach Morrow, Brian Hartzell, Steve Pedley, Matt Sherlock, AJ Macquarrie
Advance Auto Parts UMP Modified Feature: Daniel Hill, Chad Smith, Cody Brightwell, Doug Carson, Kyle Lukon, Nick Corbitt, Brian Clegg, Travis Thomas, Brad Clark, Jim Ruckman, Paul Baker, Kurt Rogers, Cody Henthorn, DNS Justin Hart
Appalachian Mineral Title Company FASTRAK Feature: AJ Spagnuola, Kyle Lukon, Kyle Thomas, Brandon Weigle, Hayden Jacobs, Donnie Dotson, Luke Hyre, Wylie Ford, Jarrett Spencer, Ryan Hare
Sigler Fabrication EDGE Hotmod presented by Poske Performance Parts Feature: Danny Thomas, Logan Reed, Ryan Payne, Steve Magyar, Daniel Muldrew, Tom Sigler, Kevin Dotson, Jeff Gorrell, Josh Sigler, James Schnegg, Lou Ennis, Tyler Spencer, Mike Harter, Ron Craddock, Dave Mackey, Jamie Thomas, Kip Swiger, Mackenzie Dotson, Zack Robinson, Robert Jones, DNS Brian Probst
Sportmod Feature: Dwight Henry, Jason Ammons, Brandon Davis, Zack Barr, Mike Todd, Matt Yost, John Thomas, Richard Britton
Outlaw Detailing and Auto Bullring Bomber Feature: Tanya Colvin, Billy Bunnell, Jason Frazier, Michael Frazier, Tim Coberly, Katelyn Tidd, Scott Critchfield, Billy Pratt, Ethan Drain, Sierra Gutierrez, CJ Dotson, DNS Timothy Harlan, Tim Harlan, Dalton Goode
Outlaw Detailing and Auto Bullring Bomber Makeup Feature: Billy Bunnell, Tanya Colvin, Tim Coberly, Michael Frazier, Scott Critchfield, Sierra Gutierrez, Jason Frazier, Katelyn Tidd, Tim Harlan, Timothy Harlan, Eric Tidd, CJ Dotson, Dalton Goode, DNS Anthony Hamner, Billy Pratt, Brett Weekley
Jenkins Auto Parts Senior Mini Wedge Feature: Carson Thomas, Allen Clark, Ethan McCune, Keith Powell, George Casto
Jenkins Auto Parts Junior Mini Wedge Feature: Jake Casto, Peyton Baker, Bryson Roberts, Karsyn Powell, Arianna Henthorn, Wyatt Demoss, Remington Demoss, Cruz Thomas
---
Back to News