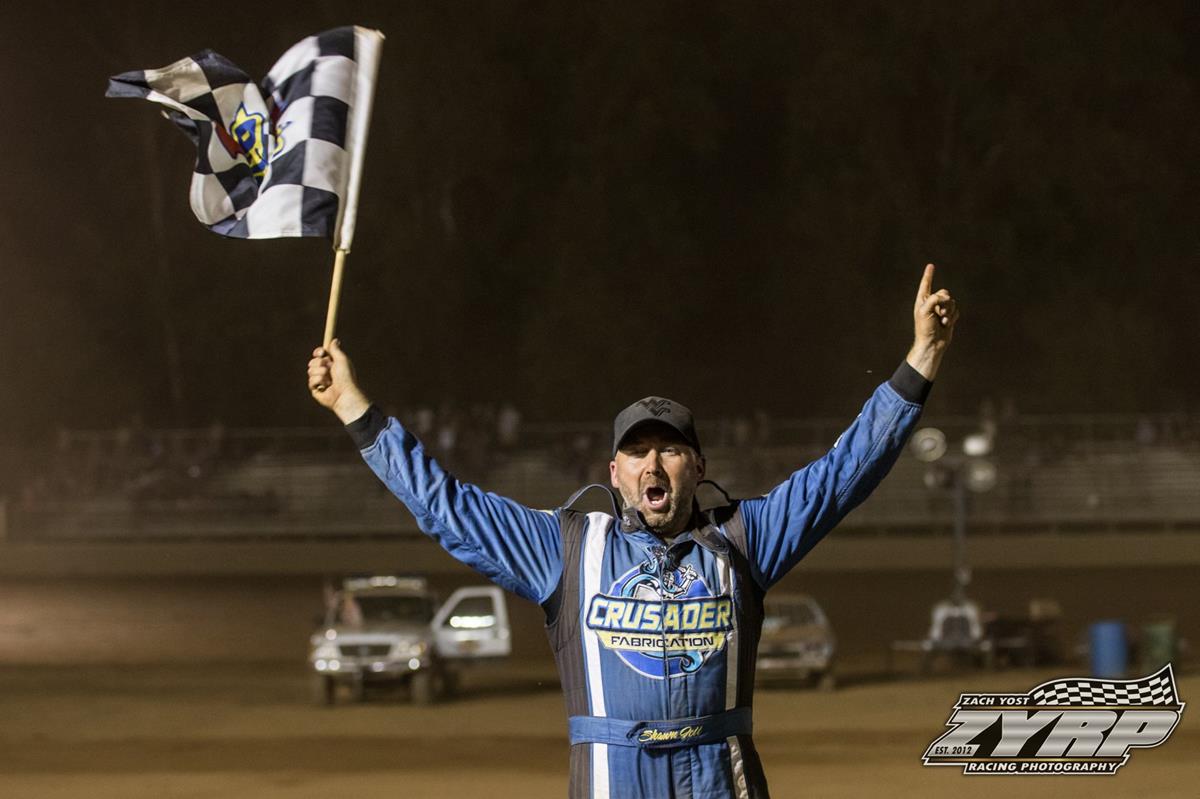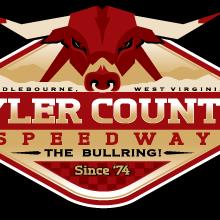 7/26/2020
Tyler County Speedway
---
Shawn Jett and Jeremy Weaver Star on Bud Weigle Memorial Night at Tyler County Speedway
Another sweltering Saturday Night at America's Baddest Bullring would see the traditional Bud Weigle Memorial on tap along with the return visit of the Rush Sprint Cars and Autograph Night. Great racing action throughout would see young Jeremy Weaver pick up his second straight RUSH Sprint win at the Bullring. Shawn Jett would become the first repeat winner of the season in the J&R Excavating Super Late Model division while Logan Reed and Billy Pratt would notch season first Phillips Drug Checkered Flags in their respective divisions.
In the J&R Excavating Super Late Model division presented by Midcap Land and Timber a classic battle was shaping up at the events onset. Kyle Thomas would vault to the lead with Shawn Jett in hot pursuit. Jett and Thomas would begin a side by side battle for the lead when Thomas would come up lame with car trouble sending the lead to Jett. Once at the point, the Salem, WV driver would roll to his second win of the season aboard the Sam Irvin owned Pit Stop/Palmers Funeral Home/ J.A.M. Oil and Gas Rocket Chassis. Following Jett across the line was Chuck Kimble who was crushing the cushion in thrilling fashion enroute to a runner-up finish, Travis Brown, Chad A. Smith and Derek Stefanik.
The RUSH Sprint Car Series would make there second voyage to the Tyler County Speedway with the same result as young Jeremy Weaver of Stoneboro, PA would follow up his Friday Night win at Lernerville Speedway with his second victory of the season at the 'Bullring'. Folllowing the impressive Weaver was Brandon Blackshear in his first appearance at the speedway, Zack Morrow, Gale Ruth and Steve Pedley.
A strong field of Advance Auto Parts UMP Modifieds would take the green flag with defending and current Tyler County Speedway point champion and point leader Cody Brightwell going back to back and picking up his 3rd win of the season. Following the checked-out Brightwell in the Carson Motorsports #79 was Chad Smith, Nick Corbitt, Kenny Johnson and Rich Michael Jr.
Trey Watson of Weston, WV would capture his second FASTRAK Late Model main event of the season. The driver of the Appalachian Mineral Title Company/ Watson Repair Service/ Watson Signs & Tees/ Sam Watson Trucking/ Highlines Rig Specialist would best veteran Donnie Dotson, AJ Spagnuola, and a pair of youngsters in Luke Hyre and Hayden Jacobs.
In the race of the night, the Sigler Fabrication EDGE Hotmods would see Logan Reed of Pennsboro, WV take his first Phillips Drug Checkered Flag of the season by outdueling Danny Thomas and a hard charging Thomas Sigler. A great back and forth battle between Reed and Thomas would see the pair spar back and forth swapping the lead on multiple occasions but with the checkered dropping it would be Reed garnering the popular win. Following Reed across the line were Thomas, Sigler, Jamie Thomas and Sonny Leek. Reed pilots the sharp looking #37 B-N-B Ranch/ Paramount Energy Consulting/ LFR Racing/ Throwing Dirt Chassis/ Jenkins Auto/ Shaw chassis machine.
Billy Pratt of Smithburg, WV would pick up his first Bullring Bomber main event of the season. Following Pratt across the line and into the West Virginia University of Parkersburg Victory lane was Tim Coberly, Dalton Goode, Billy Bunnell and Sonny Felter.
In the Advance Auto Parts MWRA Mini Wedge division it would be the Casto Brothers show once again as the dynamic duo would park there 19 machines in the West Virginia University of Parkersburg Victory Lane. Following George Casto across the line in the Senior division was Carson Thomas and Keith Powell while Brother Jake Casto would best Cruz Thomas and Bryson Roberts in the Junior division.
Tyler County Speedway will be off next Saturday Night, Aug. 1st but will return to action on Saturday Night, August 8th.
Tyler County Speedway Saturday Night, July 25th Feature Results
RUSH Sprint Car Series Feature: Jeremy Weaver, Brandon Blackshear, Zack Morrow, Gale Ruth, Steve Pedley, Brad Church, Matt Sherlock, Brian Hartzell, Nolan Groves, Frank Wilson
J&R Excavating Super Late Model Feature presented by Midcap Land and Timber: Shawn Jett, Chuck Kimble, Travis Brown, Chad A. Smith, Derek Stefanik, Troy Frazier, Brian Baumberger, Tyler Jones, Kyle Thomas, Danny Ruza, Tyler Stutler, Steve Weigle
Advance Auto Parts UMP Modified Feature: Cody Brightwell, Chad Smith, Nick Corbitt, Kenny Johnson, Rich Michael, Doug Carson, Kurt Rogers, Cody Henthorn, Ronnie Schmitt, Travis Thomas, Jim Ruckman, Don Conley, Rick Schmitt, Paul Baker, Randy Bauknecht, Justin Hart, Dwight Henry, Brian Clegg, Chris Thomas
Appalachian Mineral and Title Company FASTRAK Late Model Feature: Trey Watson, Donnie Dotson, AJ Spagnuola, Luke Hyre, Hayden Jacobs, Kyle Thomas, Ryan Hare, Jarrett Spencer, Tiffany Jackson, Brandon Weigle
Sigler Fabrication EDGE Hotmod Feature presented by Poske Performance Parts: Logan Reed, Danny Thomas, Thomas Sigler, Jamie Thomas, Sonny Leek, Makenzie Dotson, Jeff Gorrell, Tyler Spencer, Lou Ennis, James Schnegg, Robert Jones, Josh Sigler, BJ Dennis, Kevin Dotson, Steve Magyar, Kip Swiger, Mike Harter, Mick Baker, DNS Zack Robinson, JJ Arnold, Ethan Springer, John Magyar, Josalyn Hibbard, Crash Craddock, Amy Thorpe, Frankie Tichnell
Outlaw Detailing and Auto Bullring Bomber Feature: Billy Pratt, Tim Coberly, Dalton Goode, Billy Bunnell, Sonny Felter, Ethan Drain, Katelyn Tidd, Michael Pratt, Eric Tidd, Scott Critchfield, Timothy Harlan, Tanya Colvin, Tim Harlan, DNS Michael Frazier
Jenkins Auto Parts Senior MWRA Feature: George Casto, Carson Thomas, Keith Powell, Allen Clark, Natalie Hibbard
Jenkins Auto Parts Junior MWRA Feature: Jake Casto, Cruz Thomas, Bryson Roberts, Wyatt Demoss, Peyton Baker, Arianna Henthorn, Remington Demoss, Bentley Thomas
No slides found, please add at least one Slide Template to the choosen language.
Tyler County Speedway Photos
---
Back to News