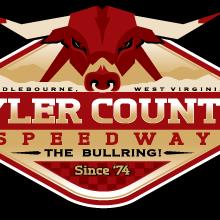 8/9/2020
Tyler County Speedway
---
Danny Thomas Triumphs in Tammy Clegg Tribute Race at Tyler County Speedway
A picture perfect night of racing at America's Baddest Bullring would see great weather, a timely ran program, pristine racing surface and a great field of cars for the Annual Tammy Clegg Tribute race. Picking up feature wins were Danny Thomas, Shawn Jett, Cody Brightwell, Kendall Hodge, Billy Pratt, George Casto and Jake Casto.
In the nights main event it was Friendly, WV racer Danny Thomas picking up the Tammy Clegg Tribute race in the Sigler Fabrication Edge Hotmods presented by Poske Performance Parts. The defending and current point leader in the competitive division would set his 7 machine on go while racing a flawless race and once again pick up the Phillips Drug checkered flag ahead of Jeff Gorrell, Logan Reed, Steve Magyar and Tom Sigler.
Shawn Jett driving the Sam Irvin owned #11 would notch his third consecutive J&R Excavating Super Late Model main event. The current point leader would set sail around the 'Bullring' on a very fast track and cruise to the West Virginia University of Parkersburg Victory Lane ahead of an impressive Tyler Evans, Derek Doll, Travis Brown and Brian Baumberger.
Also snagging the hat trick for consecutive wins was defending UMP Modified track champion Cody Brightwell notching his 3rd Advance Auto Parts UMP Modified feature win in a row and 4th on the season. It would not be easy as the popular local racer would have to work his way around the 10s of Chad Smith in the races early stages before setting his sights on race leader Randy Bauknecht. Bauknecht would set a blistering pace around the cushion of the 'Bullring' with Brightwell in tow. A late race caution would set up a dash to the finish with Bauknecht losing the handle coming out of turn 4 ending his fine run. With Brightwell at the point the driver of the 79 machine would pick up the Phillips Drug checkered flag ahead of Chad Smith, Paul Baker, Doug Carson and Brian Clegg.
A nice field of Sportmods would take the green at the Tyler County Speedway with current point leader Kendall Hodge grabbing his 4th victory of the season. The 'Flattop Flyer' would best Dwight Henry, Robin Ours, Brandon McGrady and Santino Loretta across the line.
In a wild Bullring Bomber main event, 19 racers would take the green with Billy Pratt securing his second win of the year ahead of Katelyn Tidd, Shandy Skinner, Tim Coberly and Sierra Gutierrez.
In the Little League of Auto Racing, the Jenkins Auto Parts MWRA Mini Wedges it was George Casto besting Allen Clark, Carson Thomas and Natalie Hibbard in the Senior Division. In the Junior class it was Jake Casto picking up the Phillips Drug Checkered Flag ahead of Cruz Thomas and Bryson Roberts.
Be sure to join us next Saturday Night, August 15th for another exciting night of action at Americas Baddest Bullring as only two regular season point nights remain. Racing in all classes.
Tyler County Speedway Results from Saturday, August 8th
Sigler Fabrication EDGE Hotmods presented by Poske Performance Parts Tammy Clegg Tribute: Danny Thomas, Jeff Gorrell, Logan Reed, Steve Magyar, Tom Sigler, Sonny Conley, Daniel Muldrew, Jamie Thomas, Lou Ennis, James Schnegg, John Magyar, Crash Craddock, JJ Arnold, Dave Mackey, Kevin Dotson, Makenzie Dotson, BJ Dennis, Sonny Leek, DNS Josalyn Hibbard, Eric Keller, Ethan Springer, Frankie Tichnell, Andy Taylor, Mike Harter
J&R Excavating Super Late Model presented by Midcap Land and Timber Feature: Shawn Jett, Tyler Evans, Derek Doll, Travis Brown, Brian Baumberger, Chuck Kimble, Tyler Stutler, Derek Stefanik, Ricky Conley, George Klintworth
Advance Auto Parts UMP Modified Feature: Cody Brightwell, Chad Smith, Paul Baker, Doug Carson, Brian Clegg, Cody Henthorn, Ronnie Schmitt, Travis Thomas, Jim Ruckman, Randy Bauknecht, Doug Crall, Josh Cramer, Jeff Fornash, DNS Rick Schmitt
Sportmod Feature: Kendall Hodge, Dwight Henry, Robin Ours, Brandon McGrady, Santino Loretta, Matt Yost, Shawn VanHorn, Mike Todd, Ashley Simonton, Rex Frohnapfel, Richard Britton, John Thomas, Roland Fulmer, Cody Brightwell, DNS Chris Thomas, Zack Barr
Outlaw Detailing Bullring Bomber Feature: Billy Pratt, Katelyn Tidd, Shandy Skinner, Tim Coberly, Sierra Gutierrez, Timothy Harlan, Michael Frazier, Jay Todd, Ethan Drain, Joe Felter, Tim Harlan, Travis Allen, Joe Heckert, Michael Pratt, Eric Tidd, Scott Critchfield, Tanya Colvin, Billy Bunnell, DNS Adam Miller
Jenkins Auto Parts Junior Mini Wedge Feature: Jake Casto, Cruz Thomas, Bryson Roberts, Bentley Thomas, Peyton Baker, Arianna Henthorn, Wyatt Demoss, Remington Demoss
Jenkins Auto Parts Senior Mini Wedge Feature: George Casto, Allen Clark, Carson Thomas, Natalie Hibbard
---
Back to News