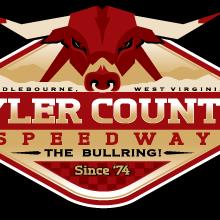 8/17/2020
Tyler County Speedway
---
52nd Annual Hillbilly 100 at Tyler County Speedway Postponed Until Labor Day 2021
MIDDLEBOURNE, WV – The Hometown Racing Association and Legendary Promoter Carl Short have made the difficult decision to postpone the 52nd Annual Hillbilly Hundred slated for Labor Day Weekend at Tyler County Speedway due to the ongoing (COVID-19) coronavirus pandemic. The reschedule date for the Mountain State tradition and oldest dirt late model major Event is set for September 3-5, 2021
"We are deeply saddened and extremely disappointed to make this difficult decision. In the end, we felt as a team it was in the best interest to the community, our speedway and the Hillbilly 100 event experience at Tyler County Speedway to not be forced to make unpopular modifications to allow the event to continue in a COVID 19 climate" stated promoter John Watson. The unappealing forced modifications would include limited attendance, limited camping, purse modifications and the cancellation of many of the Hillbilly extra curriculars that make the Hillbilly Weekend experience one of the best in short track racing.
The Hometown Racing Association has met the challenges of 2020 head on by upgrading the bleachers and additional facilities at the 'Bullring'. The management team has worked alongside local and state officials to ensure that the current racing season could go on with all the normalcy possible. After consultation with all involved, the consensus felt the ability to properly social distance at a mega event such as the Hillbilly 100 would limit the ability to adhere to CDC and State (COVID-19) guidelines pertaining to mass gatherings and render a satisfying Hillbilly Hundred experience impossible.
"The well-being and safety of our patrons, staff and the community continue to be our number one priority. We appreciate everyone's understanding during these challenging times and look forward to having everyone back to Americas Baddest Bullring once again to celebrate a West Virginia Racing Tradition like none other next Labor Day Weekend" promoter Carl Short summed up.
We look forward to the 2021 version of the Nation's Oldest Dirt Late Model Major Event returning bigger and better than before. "It's a real shame as we have worked extremely hard during the offseason to finish up our massive bleacher project to help make the Hillbilly 100 a more fan friendly experience but will now have to wait another year. Don't worry however as the improvements will continue as just last week we poured concrete in our pavilion area and have another new set of bleachers to be erected in turn 1" claimed Watson.
Tyler County Speedway will be offering a refund to any 2020 ticket purchase or you may just roll over to the 2021 event. Just give us a call at 304-771-5661 to let us know how you would like to handle your 2020 tickets.
Tyler County Speedway has worked diligently to make Americas Baddest Bullring as safe as possible throughout the 2020 racing season and will look forward to finishing our season on a strong note. Be sure to join us this week for the running of the Season Championship/ Dickson Classic on Saturday Night, August 22nd. Look for an upcoming announcement regarding the running of the annual Earl Hill Memorial as well.
No slides found, please add at least one Slide Template to the choosen language.
Tyler County Speedway Photos
---
Back to News