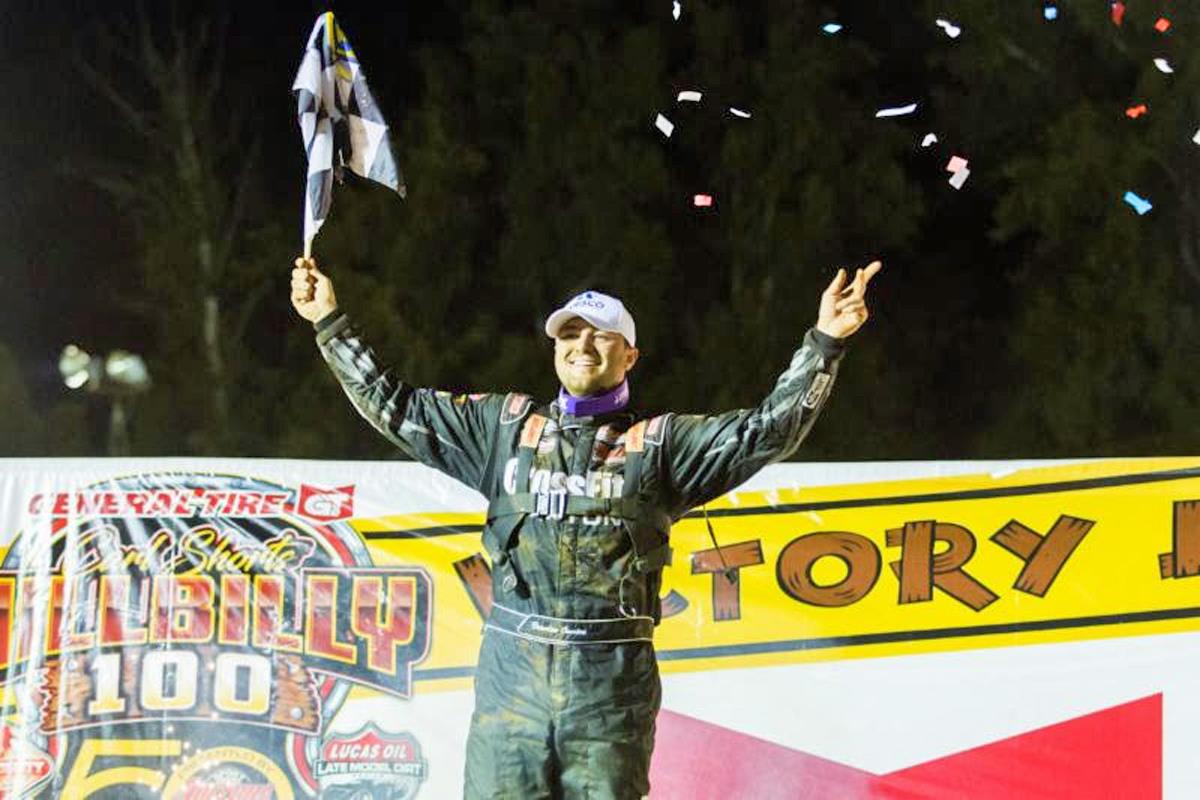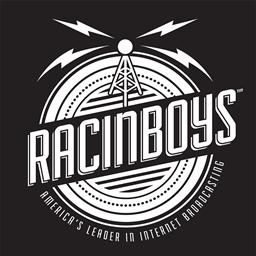 ---
Brandon Overton wins 'Hillbilly Hundred' at Tyler County Speedway
By Lucas Oil Late Model Series PR (Middlebourne, WV) -- Brandon Overton won the richest one-day prize in dirt late model racing history, capturing the 50th Annual General Tire Hillbilly Hundred at Tyler County Speedway on Sunday night.
The 27-year-old took the lead from home-state favorite, Jared Hawkins on lap 70 and led the rest of the way to the $50,000 payday. Hawkins managed to hold off Mason Zeigler for second. Zeigler came home in third with Jimmy Owens and Gregg Satterlee completing the top five drivers.
Overton received congratulations from his crew after a hard-earned victory as he entered Lucas Oil Victory Lane. "I can't quite shaking. We just had the worst two nights of racing I think I have ever had. Last week at Mansfield we didn't even make the race. It's just a miserable feeling. We ran some regional races and did pretty good and we thought we were going to come up here and show everybody what we are made of. We got beat down pretty quick. There are just different parts of the country where you need to race different. Last night we were about to get lapped and to come back tonight and win, this is great."
"I am glad to have the support of everybody behind me. I am thankful for Billy Franklin for giving me this opportunity. Billy hasn't said one thing. We have run terrible the last two nights and hasn't said nothing. That's why I love to drive for him. I would rather be on the upside than the downside with this deal. I didn't know what was going to happen after the Dream, but it couldn't have ended up any better than it has," Overton added.
Hawkins, who had the capacity crowd rooting for him, nearly pulled off the win. "Early on in the race I was just feeling out the car and where I could run it best. I just tried to maintain a good pace and take care of my stuff. I was just trying to be there at the end. I guess I needed to move up on him [Overton]. He just got up on the wheel and got it done. I love racing with these Lucas Oil guys. It's a lot of fun to do that. Thanks to all of the fans for coming out and thanks to Tim Logan for giving me a shot at driving his car."
Zeigler, who currently leads the Rookie of the Year chase, came home in third. "I didn't do well in qualifying and it put us behind. I think if we would have started up front we would have been even better. It is what it is. I am happy for those two guys who ran up front. Congratulations to Brandon on the win. It was good to see the top three being Rocket Chassis. Brandon was really good. I think we could have run second. I got up on Jared [Hawkins], but that was about it."
The winner's Rocket Chassis is powered by a Vic Hill Racing Engine and sponsored by: Franklin Enterprises, BCI Asphalt, Textron Off-Road, Big Dog Tree and Stump, R.W. Powell Construction, Franklin Fence Company, Big A's Custom Graphics, Bozard Ford Lincoln, and Wade's Body Shop.
Completing the top ten finishers were Tyler Erb, Jonathan Davenport, Scott Bloomquist, Don O'Neal, and Dennis Erb Jr.
Lucas Oil Late Model Dirt Series
Race Summary
Sunday, September 2, 2018
50th Annual General Tire Hillbilly Hundred
Tyler County Speedway - Middlebourne, WV
Miller Welders Time Trials
Fast Time Group A: Jared Hawkins / 12.507 seconds (overall)
Fast Time Group B: Tyler Erb / 12.576 seconds
Eibach Springs Heat Race #1 Finish (15 Laps, Top 4 Transfer): Jared Hawkins, Gregg Satterlee, Don O'Neal, Ricky Thornton Jr., Travis Brown, Darrell Lanigan, Brian Baumberger, Greg Oakes, Dylan Bledsoe, Ronnie Mayle, Steve Sabo-DNS
FK Rod Ends Heat Race #2 Finish (15 Laps, Top 4 Transfer): Scott Bloomquist, Chris Garnes, Mason Zeigler, Bobby Pierce, Tim McCreadie, Tyler Carpenter, Eddie Carrier, Jr., Cody Rogers, Steve Weigle, Sonny Conley
Simpson Performance Products Heat Race #3 Finish (15 Laps, Top 4 Transfer): Tyler Erb, Jimmy Owens, Kyle Bronson, Dennis Erb, Jr., Robbie Scott, Jonathan Davenport, Derek Doll, Colten Burdette, Steven Roberts, Kyle Thomas, Derek Stefanick
QA1 Heat Race #4 Finish (15 Laps, Top 4 Transfer): Mike Benedum, Brandon Overton, Josh Richards, Earl Pearson, Jr., Brandon Sheppard, Zack Dohm, Tim Dohm , Austin Hubbard, T.J. Salango, Devin Moran
Penske Racing Shocks B-Main #1 Finish (15 Laps, Top 3 Transfer): Tim McCreadie, Tyler Carpenter, Darrell Lanigan, Eddie Carrier, Jr., Greg Oakes, Steve Weigle, Travis Brown, Cody Rogers, Dylan Bledsoe, Ronnie Mayle, Brian Baumberger, Sonny Conley-DNS, Steve Sabo-DNS
FAST Shafts B-Main #2 Finish (15 Laps, Top 3 Transfer): Brandon Sheppard, Jonathan Davenport, Robbie Scott, Tim Dohm , Colten Burdette, Austin Hubbard, Derek Doll, Kyle Thomas, T.J. Salango, Steven Roberts, Derek Stefanick, Zack Dohm-DNS, Devin Moran-DNS
Lucas Oil Feature Finish (100 Laps):
FINISH START CAR # DRIVER NAME HOMETOWN EARNINGS
1 8 76 Brandon Overton Evans, GA $50,000
2 1 11H Jared Hawkins Fairmont, WV $15,000
3 11 25Z Mason Zeigler ® Chalk Hill, PA $9,800
4 6 20 Jimmy Owens Newport, TN $6,800
5 5 22 Gregg Satterlee Indiana, PA $4,700
6 2 91 Tyler Erb New Waverly, TX $3,000
7 20 49 Jonathan Davenport Blairsville, GA $3,400
8 3 0 Scott Bloomquist Mooresburg, TN $2,800
9 9 5 Don O'Neal Martinsville, IN $2,500
10 14 28 Dennis Erb, Jr. Carpentersville, IL $2,300
11 23 22G Greg Oakes Franklinville, NY $1,500
12 10 40B Kyle Bronson ® Brandon, FL $1,450
13 22 18S Robbie Scott Shinnston, WV $1,425
14 4 25B Mike Benedum Salem, WV $1,400
15 21 14 Darrell Lanigan Union, KY $2,075
16 12 1R Josh Richards Shinnston, WV $2,350
17 15 32 Bobby Pierce Oakwood, IL $2,025
18 16 1 Earl Pearson, Jr. Jacksonville, FL $2,100
19 18 1S Brandon Sheppard New Berlin, IL $1,275
20 13 20RT Ricky Thornton Jr. Sedgwick, KS $1,250
21 17 39 Tim McCreadie Watertown, NY $1,925
22 7 42 Chris Garnes Evans, WV $1,200
23 19 28C Tyler Carpenter Parkersburg, WV $1,200
24 24 87 Derek Doll Greenwood, WV $1,200
25 25 17d Zack Dohm Cross Lanes, WV $1,200
26 26 57 Kyle Thomas Pennsboro, WV $1,200
Race Statistics
Entrants: 42
Lap Leaders: Jared Hawkins (Laps 1 – 69); Brandon Overton (Laps 70 – 100)
Wrisco Feature Winner: Brandon Overton
Margin of Victory: 1.760 seconds
Cautions: Kyle Thomas (Lap 36); Tyler Carpenter (Lap 44); Don O'Neal (Lap 59); Debris (Lap 73); Ricky Thornton Jr. (Lap 75); Brandon Sheppard (Lap 86); Josh Richards (Lap 92)
Miller Welders Fast Time Provisionals: Greg Oakes, Derek Doll
Hillbilly Qualifier Provisionals: Zack Dohm, Kyle Thomas
Optima Batteries Hard Charger of the Race: Jonathan Davenport (Advanced 13 Positions)
Midwest Sheet Metal Spoiler Challenge Point Leader: Jonathan Davenport
Allstar Performance Power Move of the Race: Mike Benedum
Sunoco Race for Gas Highest Finisher: Jared Hawkins
Hot Rod Processing Rookie of the Race: Mason Zeigler
COMP Cams Engine Builder of the Race: Vic Hill Racing Engines
Ohlins Shocks Chassis Builder of the Race: Rocket Chassis
Outerwears Crew Chief of the Race: Grant Pearl (Brandon Overton)
Fastest Lap of the Race: Tyler Erb (Lap #4 – 13.2556 seconds)
STEEL-IT Most Laps Led: Jared Hawking (69 Laps)
Dirty Girl Racewear Farthest Traveler: Ricky Thornton Jr.
PFC Brakes Pole Award: Jared Hawkins
Time of Race: 44 minutes 40 seconds
Lucas Oil Championship Point Standings:
POS CAR # DRIVER NAME HOMETOWN POINTS EARNINGS
1 49 Jonathan Davenport Blairsville, GA 7185 $237,008.79
2 1R Josh Richards Shinnston, WV 6965 $157,839.67
3 0 Scott Bloomquist Mooresburg, TN 6895 $202,852.58
4 1 Earl Pearson, Jr. Jacksonville, FL 6725 $342,814.50
5 39 Tim McCreadie Watertown, NY 6535 $120,200.00
6 20 Jimmy Owens Newport, TN 6530 $117,333.49
7 32 Bobby Pierce Oakwood, IL 6475 $169,532.90
8 5 Don O'Neal Martinsville, IN 6440 $114,858.79
9 22 Gregg Satterlee Indiana, PA 6040 $110,268.95
10 14 Darrell Lanigan Union, KY 6005 $92,072.00
11 25Z Mason Zeigler Chalk Hill, PA 5930 $80,764.97
12 71 Hudson O'Neal ® Martinsville, IN 5825 $121,325.00
13 28 Dennis Erb, Jr. Carpentersville, IL 5780 $62,962.31
14 40B Kyle Bronson ® Brandon, FL 5695 $76,425.00
Points are unofficial until Close of Business on the Tuesday following Race Day
---
Submitted By: Kirk Elliott
Back to News