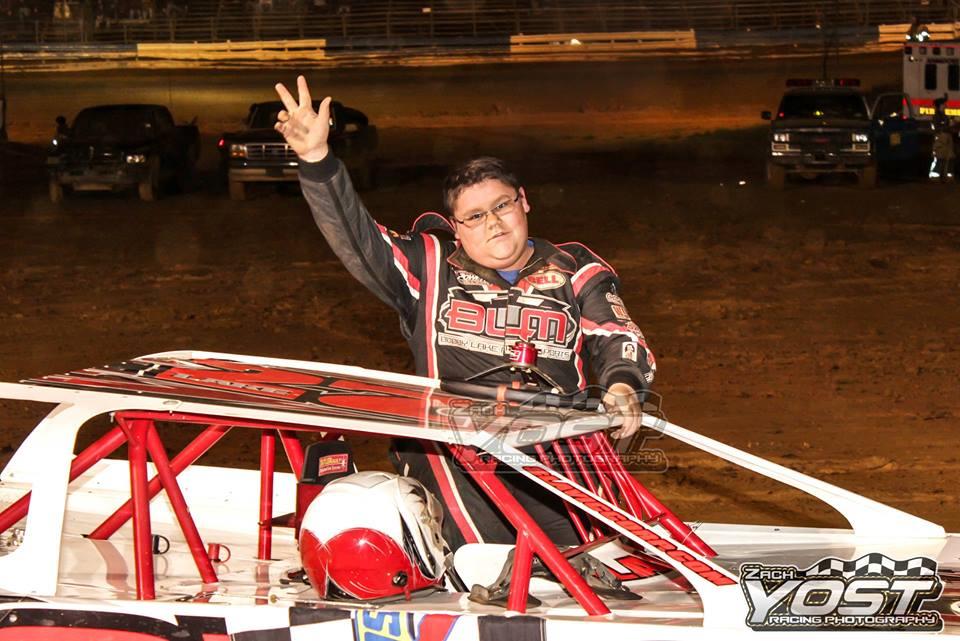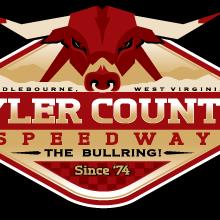 4/25/2016
Tyler County Speedway
---
Lake, Barley & Wilson Star on Bridgeport Equipment Night at the Bullring
(Middlebourne, WV) Night #3 of the 2016 racing season at the Tyler County Speedway would see a bulging pit area of nearly 140 cars take to the high banks of the 'Bullring'. It was Bridgeport Equipment Night at the speedway as all area 4H & FFA members were greeted to a thrilling night of edge of your seat motorsports entertainment.
In the J&R Excavating Super Late Model main event presented by Midcap Land & Timber it was Uniontown, PA's 14 year old Michael Lake aboard the Bobby Lake owned High Gear Speed Shop Longhorn Chassis picking up his first ever Tyler County Speedway feature win. Lake's performance would put the Pennsylvania hotshoe into the Tyler County Speedway record books by becoming the youngest driver to capture a Super Late Model feature event at the 'Bullring'. Lake would also punch his ticket into the season ending Sunoco Winners 5K Shootout becoming the third different feature winners in as many events at the competitive 'Bullring'. Following Lake across the stripe was Kyle Thomas, Derek Doll, Sonny Conley and Daniel Hill.
Aaron Barley of Mt. Hope, WV would score his second consecutive FASTRAK Late Model feature event piloting the Smoker Friendly/Twisted Tea/ Bojangle's Rocket. A star studded 22 car FASTRAK Late Model field would see Barley cross under the Peoples Bank Flagstand ahead of Troy Frazier, Danny Thomas, Ryan Payne and Gary Dalton.
A bevy of 22 Two Brothers Motorsports AMRA Modified's would take flagman Todd Gorrell's green flag and it would be the familiar unsponsored blue #20 of Sistersville, WV's Mike 'Bird' Wilson grabbing another checkered flag in his illustrious open wheel modified career. Wilson would hold off Shawn Jett at the line while a third and fourth battle would see James Dennis outduel Rick Venham with Donnie Nething rounding out the top five.
Once again a double feature format in the Gear 2 EDGE Hotmods presented by Poske's Performance Parts would see a repeat of last Saturday's action with Middlebourne, WV Hotmod veterans Mick Baker and Travis Thomas picking up wins. Baker would chauffer the TW Auto Detailing Gear 2 Graphics Orange #47 ahead of Martin Lamm and Brian Clegg in feature #1. It was defending track champion Travis Thomas aboard the Sigler Fabrication/ Jackson Trucking/ Big Daddy Auto Body #18 finishing ahead of Lou Ennis and Darren Glover in Feature #2.
A battle of 99's would see Tyler Riggs of New Matamoras, OH outduel last week's feature winner Daniel Eddy to secure his first feature win of the 2016 season. Riggs and Eddy would outlast Josh Baldwin, Ryan Saffell and Zak Kimbrew for the win.
Perennial track champion Donnie Wamsley would secure victory #1 of the early season campaign in the 4 Cylinder division by beating Scott Critchfield and Sambo Cokeley.
Splitting twin MWRA Mini Wedge main events was Tristen Borkoski ahead of Philip Bubeck and Caiden Black in the Advanced Division while Presley Wilt would snare the Beginner Division ahead of George Casto III and Trenton Baker.
Join us next Saturday Night, April 30th for FAST FOUR FAMILY FUN Night at the 'Bullring' as families will enjoy fast affordable fun the entire family will enjoy including (4) tickets, (4) Soda's, (4) Dog's, and (4) Popcorns for just $40, a $20 savings. A full night of action in the J&R Excavating Super Late Models presented by Midcap Land & Timber, FASTRAK Late Models, Two Brothers Motorsports AMRA Modifieds, Gear 2 Graphics EDGE Hotmods presented by Poske's Performance Parts, Chris Metz State Farm Insurance Modlites presented by Cedar Run Farms, 4 Cylinders and MWRA Mini Wedges. Gates open at 4pm, MWRA starts at 6pm, hotlaps/qualifying to follow. General admission priced at $10, children 10 and under free, with pit pricing at $30. For more information visit us online at www.tylercountyspeedwayonline.com.
Saturday, April 23rd Bridgeport Equipment Night at the Bullring Feature Results
J&R Excavating Super Late Models presented by Midcap Land & Timber Feature Results: Michael Lake, Kyle Thomas, Derek Doll, Sonny Conley, Daniel Hill, Freddy Carpenter, Steve Weigle, John Mollick, Travis Brown, Richard Frazier, Brian Baumberger, James Watson
FASTRAK Feature Results: Aaron Barley, Troy Frazier, Danny Thomas, Ryan Payne, Gary Dalton, Michael Duritsky, Ryan Montgomery, Shane Greco, Henry Hornsby, Andy Spooner, Todd Chicklo, Tyler Stutler, Brandon Weigle, Joel Prosser, Jim Cochran, Shane Minnix, Eddie Starkey, Brian Swank, Andy Brown, Jamie America, DNS: Billy Brown, Chuck Kimble
Two Brothers Motorsports AMRA Modified Feature Results: Bird Wilson, Shawn Jett, James Dennis, Rick Venham, Donnie Nething, Jeff Fornash, Kurt Burge, Ryan Leckrone, Chad Smith, Kevin Dotson, Marc Martin, Del Cunningham, Jim Ruckman, Aaron Clark, Doug Crall, JE Stalder, Justin Hart, Mike Baldwin, Brad Clark, Mark Deitch, Ron Deitch, Rex Frohnapfel
Chris Metz State Farm Insurance Modlites presented by Cedar Run Farms Feature Results: Tyler Riggs, Daniel Eddy, Josh Baldwin, Ryan Saffell, Zak Kimbrew, Ryan Baker, Joe McFee, Brandon Fluharty, Troy Collins, Sam Richards, Reece Shelton, Terry Williams, Scott Sole, Cody Anderson, Alex Robinson, Dylan Keplinger, Nick Keller, Kolbe Kimbrew, Kenny Harris, Kevin Dotson DNS: John Cogar, Mitch Ward, Gabe Phillips
Gear 2 Graphics EDGE Hotmods presented by Poske's Performance Parts Feature # 1 Results: Mick Baker, Martin Lamm, Brian Clegg, Cody Brightwell, James Magyar, Tim Pennell, Jay Smarr, John Thomas, Tom Sigler, Chad Smith, Heath Schultz, Roland Bell, Stevi Magyar, Matt Yost, Cody Todd, DNS Wylie Ford
Feature # 2 Results: Travis Thomas, Lou Ennis, Darren Glover, Chris Thomas, Casey Ash, Mackenzie Dotson, Mike Harter, Brian Shaffer, Jeff Gorrell, Lindsey Smarr, Tiffany Jackson, Steve Magyar, Daniel Muldrew, DNS Brian Butler, Josh Gump
4 Cylinder Feature Results: Donnie Wamsley, Scott Critchfield, Sambo Cokeley, Steve Frazier, Mike Frazier, Wesley Tennant, Ethan Drain, Robert Frohnapfel
MWRA Mini Wedge Feature Advanced: Tristan Borkoski, Philip Bubeck, Caiden Black, Lucas Zombotti, Seth Richards, Dalton Anderson, Tyler Tennant, Levi Jones, Donny Wamsley
Beginner Feature: Presley Wilt, George Casto III, Trenton Baker, Noah Bubeck, Landon Marple, Allen Clark, Blake Basham, Nevaeh Bolin DNS: Gage Stalder, Ethan McCune, Zach Wigal
Back to News