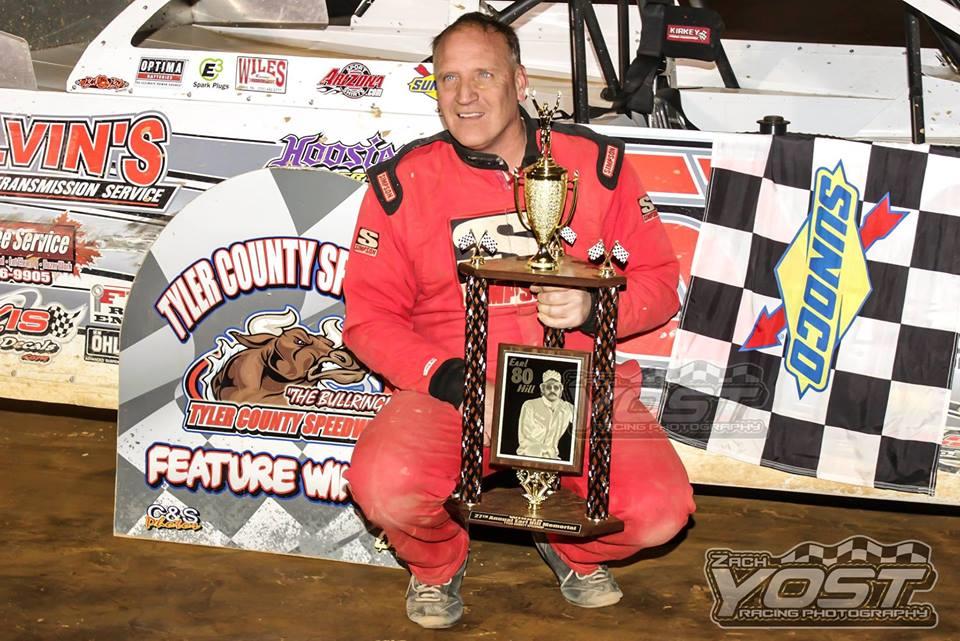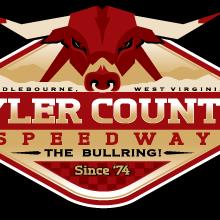 4/18/2016
Tyler County Speedway
---
Tim Dohm Picks Up 27th Annual "Earl Hill Memorial"!
Middlebourne, WV) Tyler County Speedway rang in the 2016 racing season in grand fashion as the 'Bullring' presented a double header weekend. Beautiful summer like weather would greet eager racer fans as the bulging pit area would see over 230 race cars invade the Middlebourne, WV oval for the Thursday Thunder show and the running of the 27th Earl Hill Memorial. The action would kick off on Thursday Night, April 14th with the return of the AMRA/STARS Super Late Model Series kicking off their season with Shinnston, WV's Robbie Scott ushering in the return of the famed series with a dominating win. Also on the docket was Night #1 of the 'Heritage 101' weekend for the Renegades of Dirt Modified Tour. Some 38 open wheel modifieds would take the challenge with Jacob Hawkins of Fairmont, WV aboard the Two Brothers Motorsports entry winning a terrific modified feature that seen Hawkins wage war in a mid-race battle with Jesse Wisecarver in typical 'Bullring' fashion and hold off a hard charging Shon Flanary at the stripe for the win. Also picking up wins during the Thursday Thunder program were Pennsylvania's Mike Pegher aboard the Jerry Haseleu owned RJ1 machine in the FASTRAK Late Model division. Former track champions Travis Thomas and Mitch Ward started the season with wins in their respective Hotmod and Modlite divisions, while Robert Frohnapfel would grab the 1st 4 Cylinder main event of the season.
The ULMS Super Late Model Series would roll into town in honor of speedway legend and fan favorite Earl Hill as the speedway would play host to a stout field of 30 Super Lates. In the end it was Cross Lanes, WV's Tim Dohm aboard the familiar 6t machine besting some of the regions best to capture the 27th Annual edition of the prestigious Earl Hill Memorial ahead of Jared Hawkins, Eddie Carrier, Mike Benedum and Kyle Thomas. Beckley, WV's Aaron Barley would make his 2016 debut a good one by cashing in on his first feature win of the season in the FASTRAK Late Model feature. A strong field of 30 hotmods would take up promoter John Watson's challenge of exceeding 30 cars management would opt to run two separate features for the fastest growing class in the area. Picking up EDGE Hotmod wins were Travis Thomas doubling up on the weekend by outdueling Brian Shaffer and Lou Ennis in a fantastic three car race long battle and Mick Baker of Middlebourne would grab his first checkered flag of 2016 in the EDGE Hotmod Feature race #2. A crowd pleasing last lap pass would see young Daniel Eddy aboard the 99e garner his first Modlite feature win in thrilling fashion ahead of track champion Josh Baldwin and Mitch Ward. Scott Critchfield would snare his first 4 Cylinder main of the season while the youth league of auto racing, the MWRA Mini Wedges would kick off their season with Tristan Borkoski and George Casto III grabbing opening night wins.
Join us Saturday Night, April 23rd as the Tyler County Speedway plays host to Bridgeport Equipment Night at the 'Bullring' plus it's FFA & 4H Night (all members receive free admission). A full card of J&R Excavating Super Lates presented by Midcap Land & Timber, FASTRAK Late Models, Two Brothers Motorsports AMRA Modifieds, Gear 2 Graphics EDGE Hotmods presented by Poske's Performance Parts, Chris Metz State Farm Insurance Modlites presented by Cedar Run Farms, 4 Cylinders and MWRA Mini Wedges. Gates open at 4pm, with MWRA Mini Wedges getting underway at 6:00, general admission is just $10 with pit admission priced at $30, children 10 and under are free. For more information visit us at www.tylercountyspeedwayonline.com.
Saturday Night, April 16th Tyler County Speedway Feature Results:
ULMS Super Late Model 27th Annual Earl Hill Memorial Feature Finish: Tim Dohm, Jared Hawkins, Eddie Carrier, Mike Benedum, Kyle Thomas, Greg Oakes, Jared Miley, Kyle Hardy, Freddie Carpenter, Dave Hess, Sonny Conley, John Volpe, Brian Baumberger, Daniel Hill, Charlie Powell, Derek Doll, Dusty Hamrick, Paul Wilmoth, Keith Barbara, Michael Oakes, Bobby Rohrer, Ricky Williams DNS: Steve Weigle, Butch McGill, Cody Rogers, Darren Lewis, Robbie Scott, Travis Brown
FASTRAK Late Model Feature Finish: Aaron Barley, Tyler Stutler, Troy Frazier, Billy Brown, Joel Prosser, Danny Thomas, Ryan Payne, Michael Bland, Brandon Weigle, Andy Brown, Andy Spooner, Joe Bowie, Brian Swank, AJ Spagnoula, Henry Hornsby, Shawn Endicott, Chuck Kimble, Todd Chicklo
Hotmod Feature Finish #1: Travis Thomas, Brian Shaffer, Lou Ennis, Marty Lamm, Daniel Muldrew, Matt Yost, Brian Butler, Casey Ash, Levi Nolan, Chad Smith, Josh Gump, Michael Thomas, Heath Schultz, Mike Harter, Cody Todd
Hotmod Feature Finish #2: Mick Baker, Darren Glover, Tom Sigler, Roland Bell, James Magyar, Stevi Magyar, Doug Carson, Larry Higgins, Wylie Ford, Tiffany Jackson, Mackenzie Dotson, Jeff Gorrell, Lindsey Smarr, Steve Magyar DNS: Tim Pennell
Modlite Feature Finish: Daniel Eddy, Josh Baldwin, Mitch Ward, Ryan Saffell, Troy Collins, Joe McFee, Cody Anderson, Kolbe Kimbrew, Nick Keller, Zack Kimbrew, Scott Sole, Ryan Jones, Sam Richards, Alex Robinson, Dylan Keplinger, John Cogar, Gabe Phillips
4 Cylinder Feature Finish: Scott Critchfield, Donnie Wamsley, Sambo Cokeley, Clifford Flanigan, Wesley Tennant, Steve Frazier
MWRA Mini Wedge A Feature Finish: Tristan Borkoski, Caiden Black, Philip Bubeck, Dalton Anderson, Lucas Zombotti, Seth Richards, Caleb Nolan, Tyler Tennant
MWRA Mini Wedge B Feature Finish: George Casto III, Zach Wigal, Presley Wilt, Ethan McCune, Trenton Baker, Allen Clark, Naveh Bolin, Gage Stalder, Noah Bubeck
Thursday, April 14 Tyler County Speedway Feature Results
AMRA/STARS Late Models Feature Finish: Robbie Scott, Freddy Carpenter, Kyle Thomas, Zack Dohm, Corey Conley, Donnie Dotson, Travis Brookover, Cody Rogers, Michael Lake, Derek Doll, Tyler Carpenter, Travis Brown, Steve Weigle, Paul Wilmoth, Rick Williams, Sonny Conley, Brian Baumberger, John Brown, Daniel Hill, Steve Wilmoth
Renegades of Dirt Modified Feature Finish: Jacob Hawkins, Shon Flanary, Rich Michael, Tyler Evans, KC Burdette, Johnny Scott, Kenny Johnson, Frankie Hall, Jason Brookover, Kevin Miller, Jesse Wisecarver, John Burdette, Stormy Scott, Taylor Cook, Kyle Strickler, Joel Watson, Tyler Carpenter, Jackie Boggs, Nick Corbitt, Chad Smith DNQ: Del Cunningham, Shawn Jett, Jeff Fornash, Justin Hart, Tom Sigler, Dave Jamison, Cody Henthorn, Bob Page, Mike Baldwin, Robin Lashley, Booger Garnes, Josh Tonkin, Ernie Gingrich
Hotmod Feature Finish: Travis Thomas, Mick Baker, Darren Glover, Lou Ennis, Tim Pennell, Martin Lamm, Roland Bell, Brian Clegg, Stevi Magyar, John Thomas, CJ Dotson, Matt Yost, Wylie Ford, Steve Magyar, Cody Todd, Daniel Muldrew, Brian Butler, Roo Roo Dotson, Jordan Shaffer, Casey Ash, Josh Gump, Jeff Gorrell
FASTRAK Late Model Feature Finish: Mike Pegher, Ryan Payne, Henry Hornsby, Chuck Kimball, Danny Thomas, Cole Perine, Troy Frazier, Joel Prosser, Joe Bowie, Brandon Weigle, AJ Spagnuola, Brian Swank, Jim Cochran, Todd Chicklo, Eddie Starkey, Tyler Stutler, Andy Brown, Jamie America
Modlite Feature Finish: Mitch Ward, Ryan Baker, Zak Kimbrew, John Cogar, Brandon Shaw, Sam Richards, Kolbe Kimbrew, Ryan Jones, Scott Sole, Alex Robinson, Terry Williams, Troy Collins, Daniel Eddy, Ryan Saffell, Josh Baldwin, KC Campbell
4 Cylinder Feature Finish: Robert Frohnapfel, Heath Lattea, Steve Frazier, Jason Frazier, Sambo Cokeley, Donnie Wamsley, Wesley Tennant
Back to News